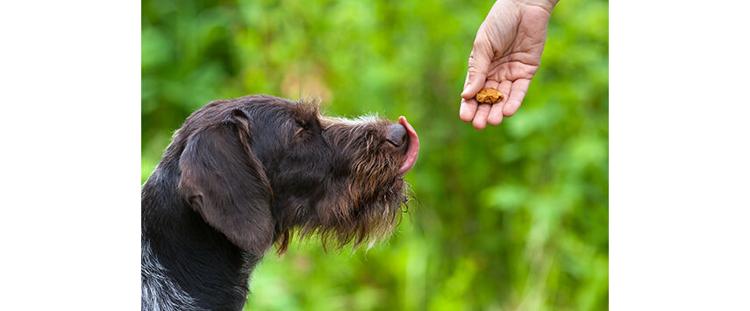 Just like parents love to sneak healthy ingredients into their kids' snacks, pet owners also love a treat that does more than just taste good; they should also have a secondary function.
"A traditional treat often has no nutritional value to a pet. A functional treat helps improve and boost a pet's overall health," explains Chelsea Gennings, vice president and co-founder of Pet Releaf.
Like the rest of the pet industry, the treat category has been significantly impacted by the humanization of pets. Introducing functional treats into your current offerings is a smart and simple way for pet retailers to stay on trend.
"Consumers in pet (and almost every other category) are seeking more natural alternatives to conventional medicine," says Joey Weichmann, national sales manager for Vital Essentials. "Manufacturers and retailers alike who can help consumers deliver this to their pets will be those that thrive in this evolving marketplace."
Trending Toward Hemp
Functional treats utilize a wide range of active ingredients to treat pets' specific ailments or support general well being—CBD, for instance, has become popular in recent years in both human and pet markets. The trendy supplement is derived from hemp and is often used to promote healing, reduce inflammation and calm pets that are suffering from anxiety and/or stress.   
"The functional treats CBD category has exploded because people now understand what CBD is and how it works," says Gennings. "With growing awareness, the questions have changed."
The biggest question on pet parents' minds when it comes to CBD revolves around safety. Retailers can help reassure customers by stocking CBD functional treats from manufacturers with transparent ingredient sourcing.
"At Pet Releaf, we take our ingredient selection very seriously. We believe that knowing where and how the hemp is grown when looking at a hemp-based treat is crucial," adds Gennings.
In addition to finding out where their hemp comes from, retailers should ask manufacturers questions that include, "Do you have the US Hemp Association seal?" "How is your hemp grown?" and "How much CBD is in your product?" when vetting potential brands.
Another misconception regarding CBD-infused treats surrounds THC, the psychoactive compound found in marijuana. While many believe that CBD products need to be THC-free to be safe for pets to consume, that's not actually the case.
"THC levels need to be extremely low and almost nondetectable, but having a completely true THC free product prohibits the entourage effect from taking place and is ultimately a less effective product," says Gennings. "Growing from a true hemp strain, like we do at Pet Releaf, would never get a dog or cat 'high.'"
Raw Health
Another major trend in the functional treat category are raw, freeze-dried treats. These types of snacks are based on the ALPHA Prey-Model Diet, which takes inspiration from wild carnivores and only uses meat, vital organs and bones.
Many freeze-dried raw treats are made with a single protein or ingredient, such as salmon skin or pig ears. Proponents of raw diets say benefits can include mental stimulation, dental health, joint support and healthy skin and coats. As an added bonus, these types of snacks are naturally gluten- and grain-free.
"Because [our] treats are minimally processed, they are high in nutritional value," says Weichmann. "Vital Essentials treats can be used as a healthy, nutritious reward with the added benefit of pure protein with real, bioavailable vitamins and minerals—just as nature intended."
However, just because raw functional treats are chock full of vitamins and nutrients doesn't mean pets should be constantly indulging. Owners still need to practice moderation, says Weichmann.
"It's not always recognized that treating in abundance can have potential effects, like weight gain," he adds. "Store associates should be able to discuss these issues while offering healthy alternatives with specific health benefits."
Targeted Treats
While many functional treats are formulated to support pets' general health, others, like those from Under the Weather, are more focused on specific conditions.
"We work extensively with veterinarians to help determine which health issues in both dogs and cats are most prevalent, then create our line of functional soft chews around those needs," says Phil Schuman, vice president of sales for the manufacturer.
By stocking products aimed at common pet health problems, like respiratory function, hairballs or urinary tracts, retailers can make it easier for customers to find the right treat for their pet.
Of course, function is just one aspect of these products. There's also the treat part of the equation. Retailers should also pay close attention to the taste when making stock selections, says Schuman.
"A common misconception is that functional treats may not taste as good as non-functional chews," he adds. "This is absolutely not true. We work very closely with our product developers to ensure superior palatability."
Functional Sales
Although pet parents are becoming increasingly aware of functional treats, the category is still relatively new. That's why retailers should ensure the products are prominently displayed in the store, "not hidden away in the corner or some special section," says Gennings.
Manufacturers also recommend organizing functional treats by health benefit. That way, customers can quickly and easily identify the right treat for their pet's needs. For example, group together treats that promote dental health or treats with fish that are high in omega 3 fatty acids for shiny coats.
Retailers also have the option of going all in by creating a separate health and wellness area. Schuman advises keeping it simple with POP and shelf talkers that clearly explain the function, value and benefit of different treats.
Functional treats also make great last minute, impulse purchases, so retailers can encourage this behavior by displaying them with, "food on strips or other types of hangers to make it easy for consumers to add to their total purchase," says Weichmann.
"From there, it's important that employees are knowledgeable about the various products, their cost and their benefits to ensure that consumers are buying the right product for their pet and their individual needs," adds Gennings.  PB