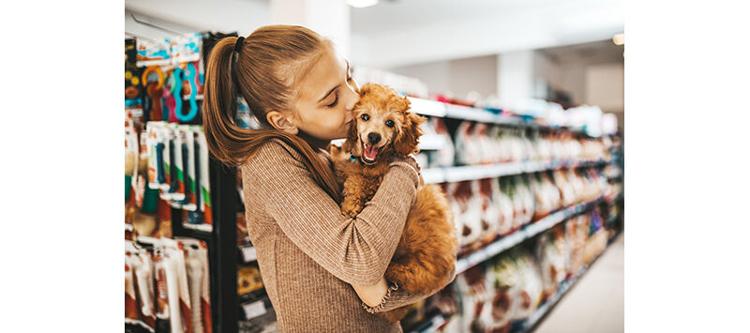 No matter what part of the country your business is located, whether you sell online, offline or both, or what type of pet products or services you offer, all retailers have some things in common with each other. Keeping this in mind, Aidan Gannon, owner of Petzlove Food n' Stuff in Lone Tree, Colo., believes that what connects pet businesses is also what keeps them apart—competition.
"In my opinion, the biggest challenge to pet retailers is the range of competition we now face," shares Gannon. "Direct-to-consumer sales from our existing brands are becoming increasingly competitive to traditional stores. Distributors—including fresh, frozen and raw subscription-only foods—are drawing top tier customers dollars out of the stores. Additionally, we also face competition from unlikely platforms that offer impulse buys and seasonal items to consumers, [such as] gas stations selling treats and chews, department stores and discount retailers selling beds, bowls and apparel and more." 
As we look ahead, the future of pet retail undoubtedly has a lot of competition, and it also has uncertainty, especially with the COVID-19 pandemic. The good news is that pets and their caretakers still need you. The catch? Buying habits have shifted, retail has changed, and what we used to know as normal is no longer immediately relevant. As a result, there is no better time than the present to discuss what the future of pet retail will look like as we continue to venture deeper into 2020 and beyond.
Forward-Thinking Inventory
At the core of any retail business is inventory, and there are a lot of great categories and products to consider as merchants strive to stand out. Among the more interesting categories are pet technology products—such as Fitbit for dogs, pet cameras and even voice assistant pet feeders—as well as design-forward pet furniture, matching fashion for owners and their pets, and even stress- and anxiety-relieving products.
Tim and Carrie Chapman, owners and operators of Pet Wants Minneapolis, believe that another category of inventory for retailers to consider is specially-crafted pet food formulas and CBD products.
"We offer two very important things to consumers, and those are great products and outstanding customer service," shares Carrie Chapman.
Expanding on this, Carrie's husband and business partner, Tim, explains that "many customers don't know what they need, but we take the time to answer their questions and identify the right products for them."
Having the right products combined with delivering strong customer care will never go out of style, but it will take some forward-thinking to make sure 2020 remains profitable for most merchants.
Incorporate Old-Fashioned Strategies
Tried and true—though never guaranteed trusted—advertising remains a relevant way for pet businesses to connect with customers. This is particularly true for those aiming to connect with local consumers who seek businesses with which they feel personally connected. In order to achieve this, Petzlove Food n' Stuff suggests immersing yourself into one targeted area instead of spreading yourself too thin.
"In a world of information overload and constant bombardment of ads on all platforms, capturing customer attention is getting harder and harder," explains Gannon. "We have found the most effective way to maximize our ROI on advertising is to target a zip code with multiple advertising opportunities, then proceed to look consistent on several mediums."
In order to achieve this, Gannon advertises on Facebook and Instagram (he suggests video is best) and participates in local coupon books and print publications. After he backed off on advertising dollars, Gannon admits he's seen a difference, as "minimizing our advertising platforms or budget has historically shown a dramatic drop off in ROI."
When incorporating an advertising investment into your business, it's essential to maintain clarity, with the ultimate goal of having a solid understanding of the return each advertising effort gains. It is also important to know where your competitors are advertising, and identify if competing directly against them with strategic efforts makes sense.
Still, the main goal should remain to gain a return on each advertising effort. Be sure to track this as you strive to increase sales based on your advertising spend. Collectively, you just may be surprised to see the return advertising rewards you with despite the costs associated with it.
Stepping Outside Your Comfort Zone
Brick-and-mortar retailer Pet Wants Minneapolis consider their business a "health-focused pet food store on wheels with our delivery service."
For other merchants, however, delivery is still unchartered territory. Yet with COVID-19 bringing chaos to normal business operations for many retailers, it has challenged them to think outside of their traditional services. Among the ways some have found sales success in response to COVID-19 is to incorporate delivery or curbside pick-up into their selling strategies.
"We have seen some retailers making up to 35 deliveries a day in response to the COVID-19 crisis, [even if] they historically had zero deliveries under their belts," says Candace D'Agnolo, founder and CEO of Pet Boss Nation. "Others have benefited from curbside pick-ups and many have incorporated both. I think too often, however, retailers over-complicate the details of these services by trying to identify delivery fees or the logistics of delivery. My advice is to simply put it out there, see where it goes and make adjustments as you learn."
Additionally, D'Agnolo explains that, "it's really an opportunity for business owners to step outside of their comfort zones," which could mean asking for help from vendors, incorporating videos into social media feeds or finally selling online (even if retailers haven't done so in the past). The main takeaway is that change is a must in order for retailers to stay profitable.
Incorporating Education
Speaking of profitable, the future will never be a clear path for any business to follow, yet having reliable resources to obtain product knowledge, industry news, consumer understanding and more are among the most valuable ways to gain clarity. To help achieve this, pet business decision makers should seek continued education opportunities to strengthen their operations and business goals.
With over 75 sessions, 85 hours and 40 speakers, SuperZoo offers a comprehensive educational experience that delivers actionable insight for pet professionals that they can apply to their businesses immediately. Combined with 1,000 plus exhibitors and nearly 1,000 new product launches, it's the perfect destination to embrace the future of pet retail. Another advantage to SuperZoo? Attendees can connect with their preferred vendors and suppliers, allowing them to better capture insight to share with their own unique customers.
"We have aimed to make our physical store and our website a place for customers to gain nutritional advice for their pets in addition to discovering fun and unique items," explains Gannon. "We push marketing materials we gain from our vendors, plus we deliver demos that educate customers and also entertains them."
For retailers to extend education to their audiences, they can incorporate animal wellness and specialized services (such as grooming and boarding) into their business model, as well as help guide customer in their purchasing decisions.
Finally, as you embrace the future ahead, consider what writer and humorist Lewis Gizzard once famously said: "Life is like a dogsled team—if you ain't the lead dog, the view never changes."
Choose to be proactive, forward-thinking and among those leaders that aren't willing to settle for the backseat. Take control of your future and decide where it will take you. PB