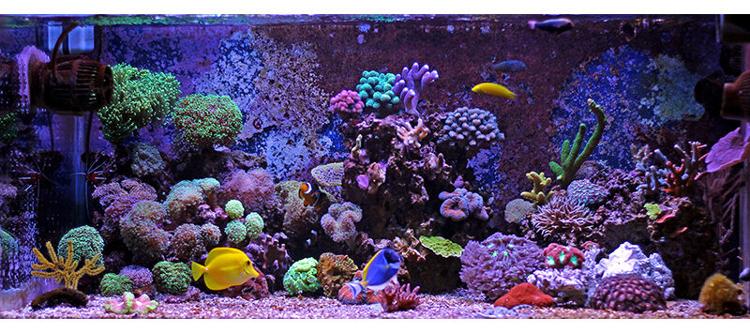 Let me say, first, that today's best filtration devices are wet/dry sumps or filters. The problem is that most tanks are not equipped with overflows. Using overflow boxes is an acceptable alternative, but not as good as the first option. These two approaches are almost impossible to use in smaller tanks, so I will primarily address the other types of filtration equipment.
Back in the day, extensive filtration might have involved stirring up one section of the substrate and netting out the resulting debris. Exhaustive filtration involved removing the aquatic animals and plants, and then sucking out all the gravel with a siphon hose. It could then be rinsed thoroughly in buckets and replaced almost sparkling new back into the tank. Believe it or not, I used this technique in my fish hatchery well into the early 1980s.
Next came the Water Witch. I first saw one of these miraculous devices back around 1966. It used a siphon hose attached to a circular core that resembled today's shop vacs. It probably held five gallons of water. Inside, a pump sucked water through it and filtered it through a cartridge before it was returned to the aquarium via another hose that ended in a return hook at the opposite end of the tank. However, since the price point was well past affordable, I had to wait for a cheaper solution.
Simple solutions would seem to be the best, but from a fishkeeper's point of view, it all depends on how much work you are prepared to do, as well as how much money you are willing to spend. Today, the old ways have all but vanished from sight. I'm talking about air-powered box filters and air-powered undergravel filters. In their own ways, these filters worked quite well, and there were only minimal costs involved in keeping them running. But there was an evolution—next came air-driven hanging box filters, then mechanical versions of the same. Yes, they were ugly, unless you blocked the view with a full hood. I liked the fact that you could see the filter box, though. I could look inside and know immediately if the filter needed to be taken down and cleaned.
The siphon tubes were large and the strainers allowed plant debris to pass through, unlike today's. A motor pulled the water up from the tank through siphon tubes and down through a filter plate that was covered with whatever filter material you chose to use. I employed a pre-cut pad on the bottom, a layer of activated bone charcoal above that, and a moderate amount of filter wool at the top. Of course, the water flowed first through the filter wool, next through the charcoal, and finally through the fine filter pad. Then the water was sucked up by the motor and returned to the tank. There was great room for innovation with these filters. You could use two or three siphon tubes of any length you wished. You could use a wide variety of filter materials—your choice. Finally, the output tube could be angled left or right and you could add an extension tube so that water would exit all the way at the opposite end of the tank.
Now, let's discuss the latest innovations in aquarium filtration. You can call them power filters, hang-on-the-back filters, bio-wheel filters, tidal filters, etc. Or you might even call them canister filters.
Canister filters are out of sight, so no ugly equipment is showing. Unless, of course, you don't have a cabinet stand. Then they are standing on the floor, balancing on a metal stand, or looking rather homeless if you put your tank on a piece of furniture. There's also the fact that you can't see how dirty they are. It's actually impossible, since you would have to open up the top to look inside. I suppose a reduction in the flow rate would be a clue, but the output is underwater, so it's hard to see. You find yourself constantly checking the flow rate by putting your hand in the tank. Have a towel handy.
There are, however, a lot of good things about canister filters. Best of all, the material inside will need to be replaced on a regular basis. You will have plenty of return business for consumables. Always keep an adequate supply of impellers, since they wear out or break quite frequently. The same applies to gaskets that help maintain a water-tight seal.
There are many different brands of canister filters, so plan your inventory accordingly. Try to stock those that the chain stores don't carry, and even avoid products sold at your independent competitors' shops. Unfortunately, canister filters are a favorite online purchase for many tank owners. You may find yourself losing sales to internet outlets, as it's next to impossible to match prices offered by these cyber sellers.
Search assiduously for the right brands of canister filters to sell. A little research can go a long way to guaranteeing success. Of course, the most important consideration is the dependability of the product. It must have a good track record and be consumer friendly when it comes to setting up the filter. Be on the lookout for plastic flanges or clips that can break if too much pressure is applied.
Power Play
Let's move on to modern power filters. In this category, there is a wide spectrum available. They range in capability from 10-gal. setups all the way up to 75-gal. aquariums. Actually, any tank that reaches four feet in length should have two power (hang-on) filters so that each end is properly filtered. I would have a special price offered for customers who buy two or more of these filters. And, once again, a handsome profit can be made selling the proprietary cartridges or filter materials. In your filter aisle, be certain to stock the filters and accessory materials side by side. Special sales should be located on prominent endcaps near heavy foot traffic.
An important thing to remember when it comes to filtration is that it's a necessity, not a luxury. Everyone must have a filter of some type. If you made a list of the most important elements of an average aquarium setup, the top three would be filtration, aeration and stable satisfactory water temperature. Most other things are secondary and that includes lighting, selection of tank mates and décor.
Consumers seem to base the type of filtration they will use on some shaky constructs. Number one is price. That's understandable, I suppose, and I am not suggesting that price should be no impediment to the choice. I am suggesting, however, that the last thing someone should be concerned with is the cost of the filtration equipment. If the filtration is inadequate, the fish could definitely suffer.
Perhaps an example will suffice. Someone with a 60-gal. tank selects a canister filter rated for a 30-gal. tank in order to save money. Three weeks go by and the tank is filthy because the filter can't keep up with the load. So, the person cleans the filter and changes 50 percent of the water. Three weeks later, the same thing happens and the customer has to clean the filter and the tank again, only this time it's necessary to change 75 percent of the water because the filter can't make bad water better. Only a water change can do that.
Now, suppose this tank owner had chosen a canister filter recommended for a 75-gal. tank. Sure, it might cost twice as much, but after not just six, but even eight or 10 weeks, the water chemistry is still acceptable and the filter is holding its own. It has lasted three times as long as the smaller unit. This proves that so-called over filtration is a good thing, as long as it is done in moderation. I consistently use this technique in tanks of 60 gal. or larger.
Finally, here's a great idea to consider. For customers who need to filter larger tanks, say 60-gal. and up, I suggest what I call the hybrid approach. Employ two filters, one power filter (hang-on) and one canister filter. Also, use the over-filter approach. Select a power filter for 50 gal. or larger and a canister filter for 60 gal. or more. In this way, the visible filter will give you visible information on just how dirty the canister filter may be. Alternate cleaning the filters, don't clean them both at the same time.
As far as I am concerned, the latest filter innovations should be bringing back the old school hang-on filters that sucked and spit. Today's hang-on filters suck and spill, and the cartridges that they employ allow too much of the collected dirt to return back to the tank. Also, there is a much greater chance that the impellers will be compromised in the products being currently sold. I believe there is much room for improvement in aquarium filtration.  PB
Edward C. Taylor has been in the pet industry for more than 40 years as a retailer, live fish importer and wholesaler, and fish-hatchery manager.