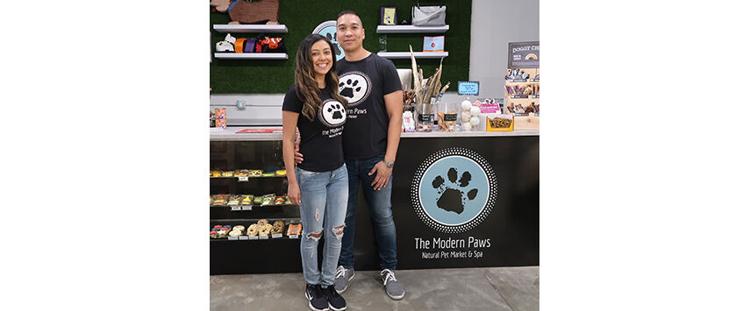 In a model that's becoming more common in today's digital-driven retail world, Ben and Lisa Prakobkit's store started out online. The couple co-founded their business—The Modern Paws—in 2015, offering same-day pet food delivery in the Tampa, Fla., area out of their own home.
The Modern Paws was born out of the Prakobkit's commitment to a health-conscious lifestyle focused on quality diet and exercise, both for themselves and their beloved pets. They started the business to share their knowledge with other pet owners and provide access to healthy, holistic food and treats. Ben and Lisa initially promoted their business by attending pet-friendly events in the area and were soon rewarded with a loyal and expanding group of customers thanks to their responsive and helpful service.
"The customer base grew tremendously in a short period of time after clients were thrilled about [our] customer service and quick same-day delivery of quality pet food," Ben says.
As their fast-growing business continued to expand in 2016, the Prakobkits were able to sublease a small portion of an urban grocery store that was looking to add unique, healthy pet products to its offerings, moving The Modern Paws firmly into the brick-and-mortar world. Continuing its trajectory of success, the business quickly outgrew the starter space. A few months later, the store moved a few blocks away to a larger, separate storefront in order to provide more options for its customers. Following another year of design, planning and construction work, The Modern Paws opened its current, custom-designed store in Tampa.
A Refined Shopping Environment
The time invested in building the store to match their specific vision has paid off for the Prakobkits—The Modern Paws won the Retailer Excellence Award for Merchandising/Store Design this year at Global Pet Expo. Ben and Lisa take an intentional approach to the layout and design of the shop, creating a space in which customers immediately feel welcomed.
"The Modern Paws was constructed to feel warm, welcoming and inviting," Ben says. "Our customers walk into our store often stunned at the decor, layout and cleanliness. Walking around the store, you will be greeted with clean, bright white, eye-level shelving units that allow great adjustability for various products. It's these small details we went above and beyond to capture so our customers would enjoy their experience with us."
In addition to its modern, streamlined look in displaying products, the store has a small core group of staff who greet customers, listen to their needs and make an effort to build close relationships with the clientele. Building this dedicated staff and ensuring they are happy is another key element that the Prakobkits see as part of the business' success.
"Not only are our customers important to the business, but our employees are also the face of our business," Lisa says. "We strive to make our employees feel appreciated and enjoy a healthy work environment. If they're happy, they will likely be an asset to your company!"
In addition to its welcoming atmosphere and reliable staff, The Modern Paws offers a spa and grooming department with a full range of grooming services available, from basic nail trims to luxury spa packages. Far from a basic functional space, the grooming area was the focus of much careful attention during the store design process to create a calming and attractive environment.
"For our grooming area, we wanted it to have a spa-like feel," Ben says. "In order to achieve our goal, we added wave tiling to the room to mimic water flowing, along with soft blue and gray tones to complement. We're embarrassed to admit we spent a great deal of time deciding on the most inviting lighting ambience!"
The Modern Paws also provides dog washing stations for customers who prefer to handle the bathing process themselves, supplied with grooming necessities and adhering to the store's clean, modern aesthetic. In keeping with its roots of appearing at pet-friendly events, the business occasionally goes on the road for quick pop-up events in the surrounding area.
All About the Experience
For the Prakobkits, the customer experience is at the core of their business. From the careful thought that goes into the store's layout and merchandising to creating a comfortable, pleasant shopping experience and their above-and-beyond approach to customer service, serving the pet parents who come into the store is always the first priority.
"We treat our customers how we would want to be treated if we were the consumer," Ben says. "Oftentimes, we go out of our way to accommodate their needs. Instead of treating our customers as a number, we treat them as friends, bringing out a special and genuine bond."
Driven by its owners' health-conscious lifestyle for both themselves and their pets, The Modern Paws' mission is to help its customers learn how to provide the best possible nutrition and create healthy lives for their own pets. The store offers a range of high-quality natural pet food brands, as well as treats, toys, health-focused products and accessories for dogs and cats.
Ben and Lisa seek to make their store a resource for their customers, offering knowledge and product recommendations on an individual basis to best suit the needs of each pet.
"One of the most rewarding things about being a pet specialty retailer is when you're able to help a customer turn their pet's life around through your recommendations," Lisa says. "Our product suggestions have helped numerous pet clients go from a poor quality of life to a thriving healthy life."
Beyond the in-store experience, the business also emphasizes engaging with their customers on social media, encouraging shoppers to tag the store in their own posts and leave reviews and comments. The Modern Paws shows that even a small, single-store operation can have the potential for national reach thanks to their e-commerce strategy. They offer a complete selection of products on their website, so their customer base stretches far beyond the Tampa area.
"We offer an e-commerce store for local and nationwide customers to easily place their orders online," Lisa says. "For our local customers, we offer same-day complimentary delivery."
As every pet specialty retailer knows, it's constant work to continue expanding and improving one's business. Ben and Lisa cite finding the time and resources every day to do everything they need and want to do as one of the biggest challenges for their business. But despite these seeming limitations, the couple is looking beyond the four walls of their store in planning for the future of the business. They have ambitious goals to continue the growth and success of Modern Paws, seeking to reach an even larger group of consumers and expand their store offerings.
"Expansion is always on the horizon for us," Ben says. "We would love to offer additional goods and services to our customers and grow our brand to a household name."  PB