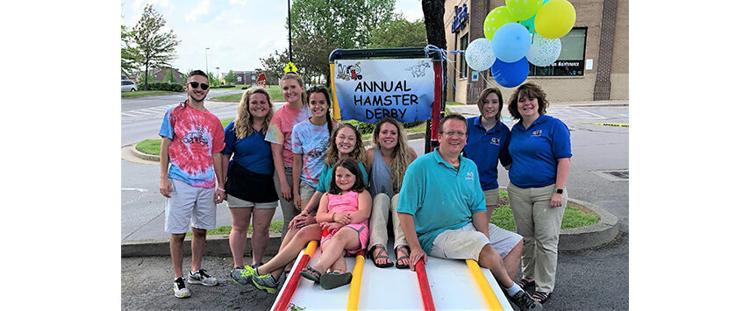 Melissa Whitton, president of Most Valuable Pets, has spent her whole career in the pet industry, starting out volunteering at veterinary clinics when she was just 12 years old. After becoming a veterinary technician and completing a degree in zoology at Auburn University, Whitton worked in pet stores, got promoted to managerial roles and finally opened her own store in June of 1993 in Lexington, Ky.
"I just always knew that Lexington needed a certain type of pet store, and it was the pet store that I had always dreamed about," Whitton says. The 4,800 square-foot single-store operation is known for its broad selection of live animals, from dogs and cats to birds and turtles, or, as the staff at Most Valuable Pets puts it, "any pet you seek to make your family complete."
The store's commitment to being a trusted live animal retailer stems from Whitton's lifelong love of animals. Her own list of pets currently includes a dog, three cats, two birds, a snake, fish and a turtle, and she describes her house as a "revolving door" of various creatures.
"I love to be surrounded by animals," Whitton says. "One of the things that is so rewarding is matching the perfect animal to the family. I think anybody can do supplies, and there's so many options for places to buy, but to bond with the animals, to learn their behaviors, to match them with a family, that's special."
She cites Most Valuable Pets' selection of live animals and the staff's level of knowledge as two of the features that make the business stand out from the competition.
"I'm very pro education, so I like for people to not only have personal experience with the animals, but we also make sure all our employees go through Pet Store Pro, and that they go to trade shows and attend the seminars there," she says. "Training and education are the most important things a retailer can do. You can't be there for every customer every time, and your employees are an extension of you."
Whitton also notes that the store is fortunate to be located near a local high school that has a veterinary program for juniors and seniors, which has helped provide a source of staff for the store with existing animal care expertise.
When looking for new employees, a demonstrated love of animals is one of the key qualities Most Valuable Pets looks for, more so than selling ability or experience in business.
Much like matching the right pets to the right homes, Whitton similarly tries to match her staff to the right roles, taking advantage of their unique strengths.
"We look for our employees' strengths and weaknesses," she says. "We don't try to make a square peg fit in a round hole. We match them to jobs that fit their strengths."
This approach is how Most Valuable Pets came to have a social media manager. When Whitton noticed how frequently one staff member was on her phone, instead of trying to discourage it, she put her in charge of the store's social media presence. The employee has been with the store for five years and has been managing the Most Valuable Pets accounts on Instagram, Facebook and Twitter, and even added TikTok to the business' social presence last year.
"We do a lot of social media marketing; that's our main source of marketing and advertising," Whitton says. "It's less expensive and it seems to reach even more people than traditional advertising."
Eco-friendly Approach
Most Valuable Pets has also set itself apart with its earth-friendly practices, recently winning the Pet Business Retailer Excellence Award for Best Eco-friendly Retailer. Whitton says that in every area, they seek to reduce, reuse or recycle whenever possible.
"We do a lot of repurposing," Whitton says. "We take old boxes, bottles, jars, broken ornaments, and we turn them into home décor for our animals or fish, or enrichment toys for rabbits, dogs and cats."
In addition to creative reuse, the store collects old newspapers and towels from customers to use in the animal cages. They have opted for more efficient water heaters and washer/dryer systems, and try to reuse wastewater from the store's grooming salon when possible. The store also switched entirely to LED lights and installed motion sensors to increase energy efficiency, which Whitton says has had the greatest single impact of all of their efforts. In addition to reducing the store's carbon footprint, the switch has also cut their electric bill in half.
"Becoming eco-friendly, a lot of people think it's a huge undertaking," Whitton says. "But really it's just taking one small step and then letting the snowball go. Don't try to do everything all at once. Just start with one step."
Most Valuable Pets also offers a wide variety of services that step outside the box. The store has a full-service grooming salon for cats and dogs, but as a live animal retailer with all kinds of creatures for sale, the business caters to the less common types of pets as well. Customers can bring in birds or small animal pets for wing or nail clipping, as well as boarding—but not for dogs and cats.
"Everything that nobody else will board, we'll board," Whitton says.
For its aquatic enthusiasts, Most Valuable Pets offers design, installation and maintenance for tanks, ponds and terrariums. The staff and certain animals will also make special guest appearances at birthdays, weddings and corporate events. For one bride's tropical wedding vision, Most Valuable Pets brought several colorful birds. In addition to being an additional revenue stream, the pet party services also serve as a great marketing opportunity for the store, introducing people to pets they may never have considered before.
"Especially with our birds, they're all hand-fed babies and they're super friendly," Whitton says. "People don't realize how friendly and affectionate a parrot can be. It definitely helps with advertising."
Although the store sells animals, it also partners with local rescues to offer pets for adoption through their store.
"We also have animals from rescues so that people have a choice," Whitton says, in keeping with the value she places on finding the right pet match for the right person. "I don't like to think that people are forced into one decision or another."
Although Most Valuable Pets faces many of the same problems that threaten most small pet specialty retailers, including ever-growing competition from internet suppliers and the possibility of legislation restricting animal sales, Whitton plans to continue building on her decades of successful experience to keep her store going strong.
"Our plans are to keep moving forward and try to keep up with this changing marketplace," she says. "We're always brainstorming and talking about new services and products we can offer, and other ways to keep the internet shopper in our store."
No matter the challenges facing her business, Whitton continues to find happiness in the animals themselves and the satisfaction of finding them homes with people who love them.
"For me, personally, the most rewarding thing is being around the animals," Whitton says. "They bring joy every day, and matching the people to the pets is so important. I want them to have perfect homes, and I want people to have a pet they will love for their entire pet's life."  PB