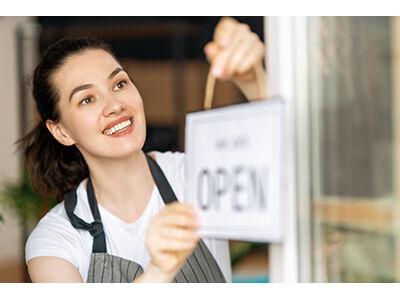 It's business, but not as usual. If you plopped someone from seven months ago into the middle of a retail store today, they'd be completely lost. Cashiers are partitioned away by thick plexiglass walls, stickers and markings adorn the floors to encourage social distancing and masks are liberally handed out to provide a critical layer of protection.
It's a scene that's foreign even to the people who've lived through the COVID-19 pandemic, and yet it's the country's new normal for the foreseeable future. Though it seems like ages ago, it's only been a few months since the U.S. locked down indefinitely and brought everyone's lives to a screeching halt. While the stay-at-home order produced a variety of visceral responses—retailer Nancy Guinn, president/owner of Virginia-based Dog Krazy, remembers "waking up and just bursting into tears" upon hearing the news, as she had just signed two leases on new properties the week before—the lockdown ultimately highlighted the resilient nature of the pet industry.
"It showed who's doing this as a hobby and who's in this to succeed," says Guinn. "Pet stores were deemed essential, yet so many closed and stayed home. I understand fear, but you have to find a way to continue through anything that is thrown at you."
From that attitude, a picture of adaptability and determination was painted. In such unpredictable, turbulent times, it's easy to succumb to the negativity surrounding society, but the pet industry proved that, once again, it can make the most of a bad situation.
"I believe our resiliency and growth throughout is a sign of the positive impact it has had," says Michael Baker, president of pet specialty distributor Pet Food Experts. "As an industry, we banded together, and I think the need to quickly adapt to the changes caused by the pandemic made us all better business owners."
Silver Linings
While most industries—namely dining and entertainment—were faced with devastating losses, pet businesses were given the green light to remain open at their discretion. Retailers across the country were amazed at how quickly and effectively their sales team, customers and support services stepped up to become sources of dependability.
"I've learned how valuable having a banker, CPA and attorney are, but most importantly, I saw what an incredible team we have at all our stores," says Guinn. "We saw which employees were here to get us through this time; we saw our customers continue to support us through the trials of going mainly online."
Though some brick-and-mortar locations found themselves with the relatively easy role of expanding or updating their existing e-commerce offerings, others were given the urgent task of creating a comprehensive online presence—a difficult feat, even for tech-savvy individuals. Luckily, all that hard work was an investment that will pay dividends well into the future.
"Consumers will continue to seek out the most safe and convenient options to shop, like online ordering, curbside pickup and delivery services," says Baker, noting that retailers who offered those three services performed 25 percent better than those who didn't. "These behaviors may wane a bit once the threat of COVID-19 is no longer imminent, but I think the routine will be ingrained in all of us and we will continue to be conscious and careful for years to come."
Al Puntillo, chief merchandising officer for Mud Bay, adds that even as the country cycles through the phases of reopening, those contact-free shopping options won't be going anywhere, meaning retailers need to offer "the best of both worlds" by creating a cohesive in-store experience and e-commerce option.
What a Great Dog! Training Facility (WAGD) in Frisco, Texas, struck this balance quickly—it wasn't allowed to offer in-house training, but it didn't want to miss out on that aspect of business entirely.
"We were able to develop and implement an e-learning program that can extend beyond COVID, not to mention [one that] is established in case of another interruption in service," says Kenna Sloan, director of business services/co-owner of WAGD. "Since we were able to reopen in-person services, we've been able to transition our online learning to a new educational platform and create a product that can compete in [outside markets]."
Sloan notes that with this online training alternative, many pet parents who come in for in-store training are opting to parallel in-person sessions with video training as a supplement to their pet's development (and WAGD's wallet).
While some stores have been offering variations of these services for some time now, others have entered uncharted waters. With no real road map to follow, retailers need to be able to work together and collaborate with each other, which experts believe can be accomplished through a retail association—an idea strongly championed by Puntillo.
"Our vision for the Independent and Neighborhood Pet Retail Association is a group centered around sharing information and building community between independent retailers," he says. "COVID-19 is a great example of a time when retailers need those things more than ever. Being able to hear from other retailers how they have handled signage, store hours, staff safety [and] hazard pay, as well as provide resources for retailers who need help, really highlights the need for a group fully focused on the needs of independent retailers."
For those retailers who have been able to adjust to the new way of retailing brought on by the pandemic, the payoff has been significant. While it might seem like a matter of common sense that sales would drop dramatically as lay-offs and furloughs happened by the thousands, that's not necessarily what happened in pet stores across the country. As people quickly stocked up on the necessities, the needs of their pets were included in that rush—after all, pets of all kinds require food, treats and other basics. In addition, sales have been driven by a suprising boost in pet ownership.
"There were a significant number of people in our community who fostered or adopted during the first weeks of the shutdown," Laura Gangloff, co-owner of Delaware-based Riverfront Pets with her husband, Clinton. "It's not a huge sample size, but pet ownership around here has definitely increased. Our community has become a little tighter. We know each other better and rely on each other a little more."
Lindsy Argenti, marketing manager for Coastal Pet Products, explains that she's optimistic the uptick in pet ownership will be permanent and, while COVID-19-level demand will probably taper out, sales for pet retailers should continue to thrive.
The Bad with the Good
All of this isn't to say that the pet industry is bulletproof—the spread of COVID-19 has created a serious situation, and many retailers have watched as their friends and colleagues boarded up their stores and walked away from their lives' passion due to circumstances out of their control.
"The purchasing habits of our neighbors fell into fairly consistent patterns until mid-March," explains Gangloff. "Now, the weekly and month to month numbers are all over the place—it makes planning very difficult. People have fewer places to go, so our neighbors will visit, but not necessarily buy."
At the same time, many customers have gone online to stock up on their pet essentials without leaving home. Although they might have ordered from a local, trusted retailer who just built an online presence, even that has had a downside, as it still means less traffic in stores and competing with major players like Chewy and Amazon on their own turf.
"The brick-and-mortar stores have to find ways, now more than ever, to differentiate from online retailers," advises Sloan. Though it can be a costly venture up front, retailers need to seriously consider taking the leap into offering additional pet-related services to give themselves an edge that can't be replicated on a computer or smart phone.
While not all services are pandemic-proof—"training and walking services virtually disappeared," notes Gangloff—Riverfront Pets was one of the few pet groomers open in the area, which helped that aspect of the business stay afloat.
The New Normal
As consumers emerge from their self-isolation into a new reality—staying six feet apart, wearing masks, sanitizing frequently—the in-store shopping experience isn't what is used to be. While they're all necessary steps, it takes away from the personal experience pet stores typically provide. It's hard to create a friendly neighborhood atmosphere during this time.
"The combination of exponential demand and a necessary reduction in efficiency due to social distancing and cleaning requirements has really challenged us to operate in new ways," explains Argenti.
As the ability to provide educational, friendly face-to-face interactions with customers are one of the most important parts of building relationships for brick-and-mortar retailers, figuring out how to provide this experience has to be a major focus.
Puntillo explains that for its part, Mud Bay is utilizing friendly, clear signage both in store and out to help educate customers on the contactless pick-up programs that are being offered, as well as reminders about the CDC guidelines for preventative measures.
"To keep things more personal, we are still offering treat samples with displays," says Sloan. "The samples are now in individual little bags, versus just a bowl to reach in. We are even more aware of greeting each customer and stepping out to help them with products from a safe distance."
Of course, the postponement of SuperZoo—one of the annual trade shows that unites the pet industry—was a devastating blow, as retailers lost an opportunity to diversify their store's portfolio, meet their manufacturer partners face-to-face, and network with their peers. However, that loss will only drive manufacturers to promote their discounts and products through other avenues.
"I think sales reps will be working harder to show us new merchandise," says Guinn, because at the end of the day, manufacturers still need to sell their products, and retailers still need up-to-date inventory. Argenti confirms this, explaining that Coastal Pet—along with a litany of other distributors—are "100 percent committed" to its retail partners.
Additionally, many trade shows and other industry events are workshopping ideas on how to host online trade shows in an attempt to virtually bring the industry together. Once perfected, this medium can be offered as an alternative to retailers who can't afford all of the costs associated with attending trade shows in person, paving the way for hybrid models.
Back to the U.S.
Though the distrust in overseas manufacturing has been simmering since the infamous pet food recall in 2007, the COVID-19 pandemic might just be the final catalyst that pulls most manufacturing back to the U.S. After all, U.S.-based manufacturers already rely on local sourcing and production methods, just as retailers have already been priortizing American-made products.
"Most of our inventory is U.S.-made and -sourced, so we didn't have any problems other than getting freezers for our new locations," says Guinn. "I personally will pay more for U.S.-made and -sourced, and most our customers feel the same."
Gangloff believes it's "too soon" to discuss this topic, and recommends focusing on the day-to-day problems. At a minimum, though, retailers should be wary of where their consumable products are coming from, as there's still some uncertainty and red flags around foreign manufacturers.
"We do avoid any food, treats or edible chews that are manufactured in China," says Sloan. "With toys and other training gear, it's hard to beat the cost of manufacturing overseas. We plan to watch consumer behavior to tell if there is a value added to products that are made in the U.S."
No matter what the future brings (or where it's manufactured), pet retailers are left with a shared experience and the confidence that no matter what happens, no matter how scary the world gets, the passion of the pet industry is unmatched.
"This business is my heart, and I'll never let it fail," says Guinn, echoing the thoughts of thousands of pet retailers. "You can't give up—you have to pivot and find a way to make it work. This has been a learning experience, and we are thankful for it."  PB