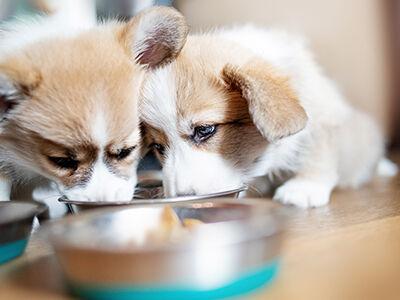 If Cole Porter were around today to update the lyrics to his classic song "You're the Top," he'd likely include the line "You're the pet food toppers!" That is because this relatively new segment has taken the pet food category by storm. Pet parents wanting to increase the nutritional value of their best-friend's meals are turning to toppers—available in freeze-dried, dry, moist and broth formulations—as an easy, creative and delicious way to jazz up ordinary dog and cat food.
According to manufacturers, pet food toppers are a valuable tool for digestion and weight loss, and offer a host of other benefits, such as aiding with hydration and regulating diarrhea and constipation, especially when consumers transition between pet food brands.
"Toppers provide an easy, nutritious way to add the benefits of raw to any diet—whether the pet parent is feeding kibble, freeze-dried raw, frozen raw or anything in between," says Jen Loesch, general manager at Sojourner Farms, based in South Saint Paul, Minn.
With their high dollar rings and impulse nature, toppers are a darling of retailers.
"Toppers are a great basket build," says Carmen Velasquez, marketing director at The Honest Kitchen, based in San Diego.
"Having toppers in a grabbable area near the checkout helps with impulse purchasing," she says, adding that The Honest Kitchen also provides retailers with merchandising vehicles for both its Proper Toppers and Bone Broths to provide additional consumer messaging.
Retailers can further spur sales by informing consumers about toppers' benefits, manufacturers note.
"Retailers should educate consumers on the health value of food toppers, that they are more than a treat, and really a nutritional way to boost any diet," says Ann Hudson, vice president of marketing at St. Louis-based Whitebridge Pet Brands, LLC, manufacturer of Tiki Pets. "The toppers ensure that your picky eater is getting the nutrients they need."
"Our toppers are liquid based and a great source of hydration for pets who many not be drinking enough water," she says, adding that retailers can promote the high-quality protein, low carbohydrates products that set Tiki Pets apart from competitors.
The company's line includes Tiki Cat Dash, billed as a unique complement to the company's Tiki Cat Food.
"Tiki Cat Dash can simply be sprinkled on top of the food for a boost of flavor and texture, or served as a treat," Hudson says. "It's 100 percent fresh-caught tuna or mackerel, hand-flaked and naturally smoked, making it a delicious treat or topper product for cats. It not only provides cats with a flavor that they will love, but is made of 80 percent pure protein from tuna or mackerel. Tiki Cat skips the carbohydrates that a cat doesn't need and gives them the nutrients that are essential for a happy, healthy life."
Pure Treats, Inc., the Vaudreuil-Dorion (Montreal), Quebec-based manufacturer of PureBites also offers toppers for the feline set, which have become a favorite with pet parents because of their limited ingredients.
"Go ahead, turn the tray around and look at our ingredients," suggests Andrea Bourne, marketing manager. The company's PureBites Mixers for cats are made with only one to two ingredients packed in water, including 100 percent Pure Wild Skipjack Tuna in Water and 100 percent Pure Chicken Breast in Water.
"Cats love the taste of PureBites because our treats are pure, locking in the aroma, texture and freshness they crave," Bourne says. "Cat parents love PureBites because our treats are rich in nutrients for a happy and healthy life. PureBites Mixers can be fed as a treat, an appetizer, a topper or a mixer."
They are also grain-free, high in protein and contain only 27 to 32 calories per tray. "Our products are ideal for cats with health issues or pets that are overweight, diabetic, have allergies, gastrointestinal disorders or are on a restricted diet," Bourne notes.
Hydration Station
Understanding the important role that proper hydration plays in the health and well being of a pet, a number of manufacturers have introduced products that are useful in adding moisture to the diet of companion animals.
Manna Pro Products, LLC, the Chesterfield, Mo.-based manufacturer of the Fruitables brand, recently introduced Fruitables Wildly Natural cat treats and Wildly Natural broth. "Our treats are all-natural with a 'puffed protein' texture that has a crisp crunch on the outside and airy texture—almost like freeze-dried treats—inside," says Mindi Tomey Brothers, director of marketing – pet. "Hydration is an issue with cats, and Wildly Natural broth adds hydration and flavor to dry food."
Primal Pet Products specializes in Bone Broth, said to offer a host of positive benefits in addition to adding moisture and functional ingredients to a pet's diet, including supporting the immune system; providing liver support; adding moisture and improving hydration; promoting healthy digestion by healing and sealing the gut; strengthening bones, skin and coat with functional collagen; reducing inflammation and joint pain; working as an appetite stimulant; and possibly reducing allergies.
"Bone Broth is a wholesome addition to any feeding regimen," says Kyle Frautnick, marketing director at Primal Pet Foods, headquartered in Fairfield, Calif. "When served on its own, added to commercial pet food—or along with any complete, balanced Primal Formula—Bone Broth adds necessary moisture and beneficial nutrients into your pet's diet. Supplementing with Bone Broth is an easy way to keep a pet hydrated and healthy."
Appropriate for both dogs and cats at all stages of life, Primal Bone Broth is shipped frozen and sold in the freezer case. "We have Primal-branded Bone Broth trays available for retailers to utilize and to create a bone broth section/destination for their shoppers," Frautnick says. "We also have marketing materials for dry foods section that can help attach a frozen bone broth product to a dry purchase. Since our frozen products are not available online anywhere, a consumer that loves our product is now finding themselves back at their local pet store for repeat bone broth purchases."
Specialized Recipes
Given the powerful role that food toppers can play in fortifying a pet's diet, it's no surprise that these products are being tailored to address specific nutritional needs. For example, the Petcurean GO! Solutions Meal Mixer line features four specialized recipes for dogs: Digestive Health Turkey Meal Mixer, Hip & Joint Support Pork Meal Mixer, Skin & Coat Care Salmon Meal Mixer and Weight Control Turkey Mixer.
The mixers are packaged in 3.5-oz. resealable bags featuring a view-through window, allowing shoppers to see the visible chunks of protein, raspberries, blueberries, pumpkin and other ingredients. The gusseted bags can be merchandised either on-shelf, from clip strips in the freeze-dried section or with the GO! Line in the kibble aisle, aided with shelf talkers.
"Each recipe is made with freeze-dried nutritional and functional ingredients, including single source primary proteins and whole fruits and veggies, that one can see," says Annabelle Immega, trade marketing manager at Chilliwack, B.C., Canada-based Petcurean. "From achy joints and tender tummies, to itchy skin and that spare tire around the middle, GO! Solutions Meal Mixers add a functional boost of nutrition to aid in supporting many of these common issues."
Petcurean GO! Solutions Meal Mixers can be added to kibble, stew or pâté, or also served as a convenient, healthy treat. "They should be fed as toppers in combination with a complete dry or wet food recipe, or as treats or snacks," says Immega. "We recommend consumers decrease the amount of dry or wet food they feed in combination with the Meal Mixers to avoid over-feeding. This decrease will be relative to the specific pet; pet parents should monitor their dog's weight and energy level carefully whenever adding or removing something from their diet and adjust accordingly."
The Sojos ProteinPlus Toppers, available in beef, lamb and turkey, feature just six total ingredients, says Loesch. "They are made with 90 percent freeze-dried meat and five select superfoods," she says. "They're an easy, nutritious way to plus-up kibble or canned, and introduce pet parents and their dogs to the awesome goodness of 100 percent raw, field-fresh ingredients."
Loesch recommends retailers merchandise Sojos ProteinPlus Toppers in the kibble aisle, as a way to introduce freeze-dried raw to shoppers. "A simple clip strip in the kibble aisle can reach a customer who might not otherwise venture into the shelf-stable dehydrated freeze-dried pet food aisle, or those curious about feeding raw but not yet ready to feed solely raw," she says.
Manna Pro's Fruitables Pumpkin and Sweet Potato purees are high in fiber and help with digestive issues, Brothers says. They include Switch, for use when transitioning to a new food; Weight Loss, clinically proven to help dogs and cats lose two percent of their body weight weekly; and Digestion Supplement, available in Pumpkin and Sweet Potato, for digestive upsets, including diarrhea or constipation, and nausea, common when recovering from illness or antibiotics.
"In addition to our canned purees, Fruitables has pourable purees and home-style pourable broths," Brothers says. "Broths add flavor and hydration to dry food, and ours are made with pet-friendly ingredients (no onion or garlic), are all-natural, ultra low-calorie and have no preservatives."
Whitebridge offers Tiki Pets Aloha Petites Flavor Booster Bisque in beef, chicken, pork and tuna flavors, with new flavors launching this fall.
"Flavor Boosters are an excellent way to add moisture and flavor, soften dry food and complete a balanced dry food diet," says Hudson. "Small dogs often have smaller teeth and jaws, and are often picky eaters compared to larger breeds, which is why we carefully craft recipes that small dog breeds will love. We include sunflower oil as an added source of healthy fatty acids and vitamin E."
The Honest Kitchen's Proper Toppers come in four recipes and two sizes. Its chicken, recipe, for example, has only five key ingredients: 90 percent free range chicken, pumpkin, apples, kale and blueberries.
"Proper Toppers can be added to any type of food, dry or wet," Velasquez says. "They work especially well with The Honest Kitchen's dehydrated foods. Customers use them to boost not only the taste, but also nutrition with the high protein and superfood content."
They also offer consumers another advantage. "We've created an absolutely delicious way to top every bowl, taking out the guess work and prep time," Velasquez says. "However, we believe that pet owners should feel empowered to add whole foods into their pet's bowl including boiled chicken, plain yogurt, diced carrots and blueberries." PB