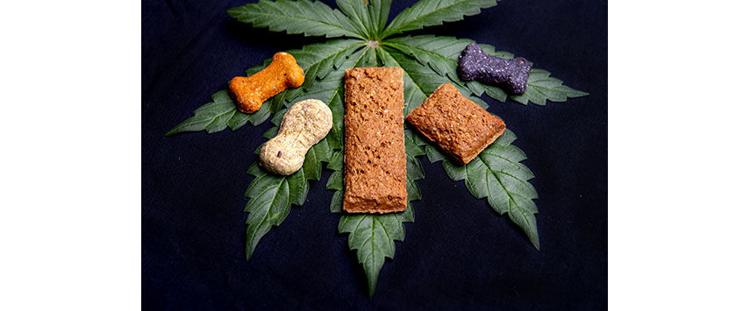 In 2018, sales of CBD pet products quadrupled to $32 million from $8 million in 2017, according to Brightfield Group, and estimates suggest that the market could grow to $1.16 billion in the U.S. alone by 2022.
In recent years, pet owners have been willing to spend big on premium pet products, and some companies are betting that CBD will become the next profit-boosting premium ingredient. CBD industry forecasters say that about 7 percent of overall CBD sales will come from pet products in the U.S., and many of these products come with ultra-premium price points. More pet owners are dipping into this growing market, and as a result, more pet retailers are, too.
What does this mean for you? Well, there are a number of things that pet retailers should be aware of when considering stocking CBD products for pets:
What is CBD used to treat?
CBD is claimed to treat a number of conditions, including anxiety, nausea, inflammation and pain, without the associated "high" of cannabis. While some studies show CBD is effective in reducing the frequency of seizures in 89 percent of dogs with epilepsy, veterinary research on CBD is still in the early stages and is awaiting further studies to fully understand CBD's impact on pet health.
Chelsea Gennings, co-founder and vice president of Pet Releaf, shared insights on exactly what makes CBD products a valuable product for our pets. She says that, "CBD hemp oil, extracted from the stalks, flowers and leaves of the hemp plant, is full of cannabinoids (natural compounds) that are only found in the cannabis plant family. CBD coming from hemp plants (and not marijuana hybrids) are extremely high in CBD and extremely low in the most well-known cannabinoid, THC. For this reason, CBD hemp oil allows you to get all the health benefits of the hemp plant without also having the psychoactive effects of THC. Furthermore, cannabinoids found in the hemp plant are the only compounds found in the natural world that have the ability to turn on your (and your pet's) Endocannabinoid System (ECS). When your ECS is turned on, it's the only time your body is able to function at optimal levels of health." 
What should pet retailers keep in mind?
Pet retailers should always do their research if they are considering stocking CBD products in their stores. CBD products are not regulated, so the quality of products varies. CBD is regarded as generally safe for pets, but that assumes it's free of contaminants and THC, the psychoactive compound in hemp and marijuana that produces a high.
"There are three things that pet owners should be mindful of when shopping for CBD products: the quality of the plant from which the CBD is derived, the process by which the CBD is extracted and the parts of the plant being processed," Gennings explains.
If you're currently stocking or wish to stock CBD products, your primary preoccupation should be pet safety, a consideration for any new product or trend you introduce in your store. Veterinarians are legally prohibited from recommending CBD, so it's the responsibility of retailers to learn about the various products and, in turn, inform your customers. You should also make sure that your team members are knowledgeable on all products you stock so that they can provide accurate information to your customers. Even if you're not considering offering these products in your store, prepare to be asked about them!
Where do you see this trend going in the future?
The CBD trend shows no signs of slowing down, and the CBD industry is capitalizing on pet owners' willingness to spare no expense when trying to help their furry family members feel as comfortable as possible.
For example, SuperZoo, the largest pet product marketplace in North America, has seen gigantic growth in this category on the show floor over the last couple of years, expanding from four exhibitors featuring CBD products in 2017 to 58 exhibitors in 2019.
In addition, 85 percent of dog owners and 38 percent of cat owners report that their pet sometimes has anxiety or stress issues, and CBD is claimed to be an effective treatment. Considering that 39 percent of dog owners and 34 percent of cat owners report that they like the idea of CBD products for their pets, it's important for retailers to do the cost-benefit analysis—and most importantly, stay fully informed as the market continues to expand.  PB
Jacinthe Moreau is president of the World Pet Association (WPA), an organization that brings the pet world together, so quality interaction and education between and among product suppliers and pet owners can create healthier, happier pets and a healthier, more productive pet industry. Founded in 1950, WPA brings thought leadership, innovative thinking and best practices to the pet industry, working to inform and educate the general public in order to ensure safe and healthy lifestyles for our animal friends.