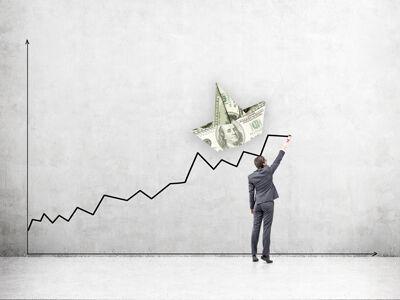 You know your rent, your monthly payroll and maybe even your electric bill off the top of your head—but if you can't tell me the following three numbers, you're not making as much money as you could be. Stop missing out. Here's what you must be tracking if you want to make a significant impact on your financial future:
Units per Transaction
Units Per Transaction—or UPT—is the average number of items your customers are purchasing per sale in a given period of time. You can monitor this on a daily basis, over a longer period, by individual locations or even by employee. (That last one is where you'll see the most success long term.)
To figure out your UPT, pull the number of items you've sold and divide it by the number of transactions over a given period. To get a sense of your current
situation, look at the last 30 days. If you sold 1,800 items in 600 transactions over the last 30 days, your store would have a UPT of 3. (1,800 ÷ 600 = 3).
If Jenny sold 200 items last week in 75 transactions, her UPT would be 2.66. If Christina sold 350 items that same week in 100 transactions, her UPT would be 3.5.
Start tracking transactions by employee, today. Knowing what a team member's UPT is will help you establish goals to set them up for success. If Jenny can commit to getting every person to bring three items to the register, increasing her UPT to 3 seems achievable. Since Christina seems more confident selling, you could make her UPT goal higher—like 5.
Average Sale
Analyzing revenue by looking at the average sale helps make increasing profit more manageable. To figure out your average sale, take the total dollar amount sold divided by the total number of sales transactions for a given period. If you sold $50,000 last month and had 1,800 transactions, your average sale is $27.77.
If your team was trained and motivated to get customers to buy just one more item, you'd see  a spike in your average sale. Using the 1,800 transactions a month example, adding $10 to every sale is another $18,000 a month—or an increase of $216,000 per year.
Through working with your team on increasing their UPT and having them add on more $10 dog toys, poop bags or bully sticks, you will increase the average sale in your retail store.
Have a grooming salon? Try this: Let's say you groom 200 dogs a month and are able to get each client to add on a $6 teeth brushing. That's an extra $1,200 per month just by asking one simple question.
Conversion Rate
Knowing the number of customers who come to your store versus the actual number who leave with a purchase provides insights on a variety of key factors—like how well you show and sell or whether you're selling what they want and need. But before you can analyze those factors, start by tracking your conversion rate.
To figure this out, count the number of people who walk into your store—or if you're a service-based business with appointments, track how many people call or inquire. This is called "footfall." Then, take the total transactions sold divided by your footfall during a given time and you'll have your conversion rate.
Let's say last week your business saw 2,000 footfalls and had 200 transactions at the register, which totaled sales of $5,500. That would make last week's conversion rate 10 percent (200/2,000 = 0.10). However, this week your store saw 2,500 footfalls and 220 transactions, which totaled sales of $6,300.
If you were looking only at sales, then you would think you had a better week. But if you look at your conversion rate, you only converted 8.8 percent of the browsers to buyers. If you were able to convert 10 percent, as you did the week before, you would have seen an extra $700 in sales—or more, depending on your average sale. So, technically, you were down. 
You can't grow what you don't measure. Start tracking your employees' UPTs, improving your average sale and converting more browsers into buyers to be fast on your way to significantly higher revenue this year! 
Candace D'Agnolo is a 15 year pet industry veteran in retail, wholesale, doggy daycare, grooming, training, dog walking. She has successfully translated her passion for pets into multiple million-dollar businesses (including a retail store sold to Marcus Lemonis and Bentley's Pet Stuff. Yes, THAT Marcus Lemonis!). She's conquered cash flow, tackled team issues, traveled the world while business ran like clockwork at home, and created a PET BOSS lifestyle instead of working like a dog in her business. But it wasn't always that way. She's turned obstacles into opportunities and created step-by-step systems for every facet of pet businesses unique challenges so you can skip the struggle and achieve your goals. Whether you're working 70-hour weeks with no paycheck, stuck with stale inventory you just can't move, or wondering where your customers are and why your employees have forgotten you're the boss, D'Agnolo can help you turn it all around. Pet Boss Nation is a coaching and consulting community that brings profits to pet businesses!
COME SEE CANDACE D'AGNOLO'S SEMINARS
$10K Weekend: The Secret Strategy to Make Money Fast
Wednesday March 21, 9:30 AM – 9:45 AM
New Products Showcase area
How to Stop Online Retailers from Stealing Your Customers
Wednesday March 21, 10:30 AM - 11:45 AM
Room W204A
From Amazon buying Whole Foods Market to PetSmart acquiring Chewy.com, and Rover.com recently getting a $65M investment—it just seems big business is growing bigger and bigger. How are you going to compete? Are you considering local delivery? Do you feel like you need an online store? Are you going to adjust your pricing? While those all might be solutions, are they the right solutions for you? The internet makes up less than eight percent of all pet product purchases, so the truth is people are still shopping brick-and-mortar. You've been letting the competition win because you're not focusing on three critical areas of business—areas you have right at your fingertips that the online sites don't even have access to! In this session, learn the three secrets to increasing your sales every month.
Business For Sale: The Secrets to Cashing in When You Are Ready to Cash Out
Wednesday, March 21, 4:00 PM - 5:15 PM
Room W204A
Even if you're absolutely in love with your pet business, at some point you'll need to exit… whether it's this year or 20 years from now and whether it's your choice or not. Don't you want to exit on your terms? Will your hard work be worth something? How much could you sell it for? Would anyone buy it?
Not only get the worksheets and formulas for pricing your business, get the insider nuggets of D'Agnolo's story of selling her boutique to Bentley's Pet Stuff, and exactly why her business was acquired when her competition was closing. In this session, learn the secrets to cashing in when you're ready to cash out.