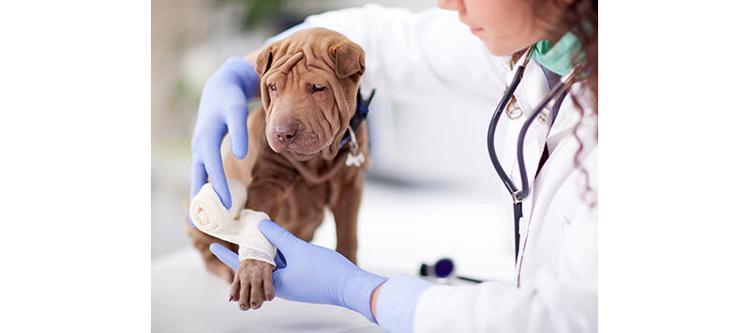 Pet parents are more invested than ever in keeping their animal companions in the best health possible. For this reason, retailers should make sure to offer a diverse range of products that tackle various aspects of pet wellness, including surgery recovery, wound care and health maintenance.
The first thing retailers need to understand is that pet recovery products have moved beyond just bandages and plastic cones. For example, All Four Paws has redesigned the latter product, transforming it into something that's easier for pets to wear while they recover from surgery or health issues.
"The versatile Comfy Cone bridges the gap between the soft and hard e-collar, giving you two cones in one," says All Four Paws' president and owner Linda Markfield.
Markfield developed the Comfy Cone, which is made from foam-backed nylon, after her dog Samson was injured. She wanted something more comfortable for him to wear than hard plastic, so his recovery could be easier and less painful. In addition to helping pets recover from injuries, it also keeps them from biting at wounds or skin affected by allergies and hot spots.
The product includes elastic loops at the neck so that a pet's collar can be threaded through, making it more difficult for them to pull it off. It also has reflective tape so that pets can be seen while walking at night. The opaque material acts as a blinder, keeping recovering pets from seeing anxiety-causing distractions. It's even reversible and can be worn over the chest and upper body to keep things like IV lines and feeding tubes in place.
Santa Monica, Calif.-based All Four Paws offers other reusable pet healthcare products. Reusability is an important trend in this category, and Markfield says these products are beneficial not only to the pet, but to the consumer as well.
"Many times the pet owner has already spent a great deal of money at the vet for their treatment, so we make each product reusable and easy-to-clean," she adds.
The Comfy Wrap is made from the same material as the Comfy Cone and can be used when the cone shape is not needed for protection. It covers the pet's torso from neck to tail, and up through the chest and neck. Its loose-fitting quality allows air to circulate and facilitate wound healing. It includes a handle so that an owner can more easily guide a pet and pockets that can hold hot or cold packs.
Another cooling product from All Four Paws is the Chill Collar, which prevents the overheating/heat exhaustion of flat-faced breeds such as Bulldogs, and oversized dogs like the St. Bernard. Using a unique design, the comfortable collar is made from soft silicone that can be filled with water and frozen. It keeps pets cool without losing its shape and can also be used to carry water on long walks.
The company also offers the Wipe It. Made from terry material, it goes over the pet's head and is great for breeds that drool or messy eaters.
"The Wipe It is machine washable and great to use when the pet is ill and vomiting or to help cover the ears from getting wet," says Markfield.
Another manufacturer that exemplifies the reusable health products movement is Suitical, a pet health company based in the Netherlands. Like the Comfy Cone, the company's products are designed to help pets recover from surgery and keep them from getting at sutures, wounds, hot spots or irritated skin. It offers items for both cats and dogs.
"Suitical products acts as a second skin, allowing pets to enjoy their day with little anxiety or disruption," says Melvin Kok, company CEO. "The snug fit, combined with the easy-to-use rear fastening, prevents the pet from wiggling out of the suit or sleeve. The breathable fabric enables air to circulate around the wound for healing, and it fully covers the affected areas to prevent biting and scratching."
Kok adds that it's important to keep wounds covered and dry so that they're less susceptible to infection. However, Suitical's products, which include the Recovery Suit and the Recovery Sleeve, aren't too restrictive. The feline suit still allows for use of the litter box while the dog version can easily pulled back and fastened for bathroom breaks.
Like the Comfy Cone, these products are designed to be innovative updates of the traditional plastic cone. Kok says that this type of healing product can cause more anxiety for injured pets.
"It would not benefit your pet if you increase that discomfort and stress level even further by restricting their ability to move, eat or drink normally," says Kok. "This is what can happen when using a traditional cone."
He adds that a plastic cone can also amplify sound, further disorienting pets. By putting a new twist on this age-old pet product, companies like Suitical and All Four Paws hope to bring safer and more comfortable products to the pet health market.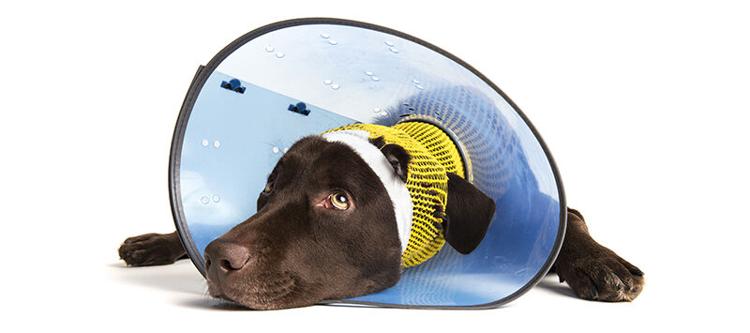 Immediate Action
In addition to changing up products designed for long-term recovery, manufacturers are also designing pet health products that deal with injuries the moment they happen. Based in Margate, N.J., Groomers Helper offers both ClotIt and the ClotIt First Aid Kit, which allow pet owners to immediately start treating injuries.
"Simply put, accidents happen," says Ed Berger, the company's CEO. "Responsible pet parents need to be prepared in the event of an emergency."
ClotIt is an all-natural, non-stinging, non-staining, hemostatic blood stop. This styptic powder can be used to halt the bleeding from grooming injuries or other incidents. It is also the central product of the ClotIt First Aid Kit.
"The ClotIt Pet First Aid Kit is the only pet first aid kit on the market that has a proven way to stop bleeding in it, and stopping bleeding is critical to saving your pet in an emergency," says Berger. "It also contains the necessary components for minor events."
This first aid kit is small and easy to transport. Berger recommends that pet owners keep it in their home or car.
There are other natural products on the pet healthcare market in addition to ClotIt. Pura Naturals Pet, which is headquartered in Lake Forest, Calif., prides itself on offering organic health products that are made in the USA.
The company looks to make it easier for pet parents to maintain their pets' health and wellness. Its Ear Cleansing System has Pura Tips made from medical-grade foam and Organic Mullen Oil Serum to clean and deodorize ears. Pura Naturals Pet's trio of Health & Soothing Balms include Paw Rescue, Nose Rescue and Healing Aid. The USDA Certified Organic balms keep noses and paws from cracking and help heal small cuts and abrasions.
Pura Naturals Pet also stays on top of current trends in the pet healthcare market by offering canine dental kits. These kits do not contain xylitol, an ingredient common in human toothpastes that's harmful to pets.
"There has been a big focus on pet dental health with chews, sprays, washes, brushes and paste promoting dental care," says Beth Sommers, the company's president and chief merchandising officer. "Our Organic Dental Solutions Kits come with a USA-made and BPA-free brush and Organic Canine Gel that's USDA Certified. We have kits for puppy, adult and senior dogs, as their needs vary as they age."
The company is also adding to its wellness selection by recently launching new products. Its new organic Ear Wash reduces excessive earwax buildup and the likelihood of ear infections.
"We've also added eco-friendly, flushable 50-pack of Unscented Eye Wipes," says Sommers. "Our ultra-gentle eye wipes have special enzymes that break down the tear stains that are protein-based."
Health Advice
With all these new healthcare products and trends, how can retailers use this growing category for a profitable advantage?
"While it's good to pull all health-related products together, there should still be added category call-outs as customers are generally seeking a product for a specific need," says Sommers. "Utilize manufacturer POP and signage. Focus each month on a specific need and promote these products. It's also beneficial for customers to know which products are natural and USDA Certified Organic."
Markfield says retailers should know a product's benefits inside and out and educate their sales teams using information provided by the manufacturer, such as video and print guides on how to use the product. She adds that retailers should emphasize the importance of patience with their customers when it comes to healthcare products.
"It is important that consumers be aware and understand that there are times a pet doesn't like wearing a recovery product and they need to be patient and understand there might be a period of time necessary for the pet to get used to the product, instead of not using it," Markfield says.
According to Berger, retailers should also explain the importance of emergency preparedness to their customers when offering pet health products.
"One of the most important things a new or seasoned pet parent should be able to do is stabilize their pet to get them to professional help in an emergency," he says. "That means having the proper tools to accomplish that."
Retailers can be the one to provide these valuable tools to their customers. By offering both short- and long-term healthcare products, they can fully capitalize on this burgeoning category. PB