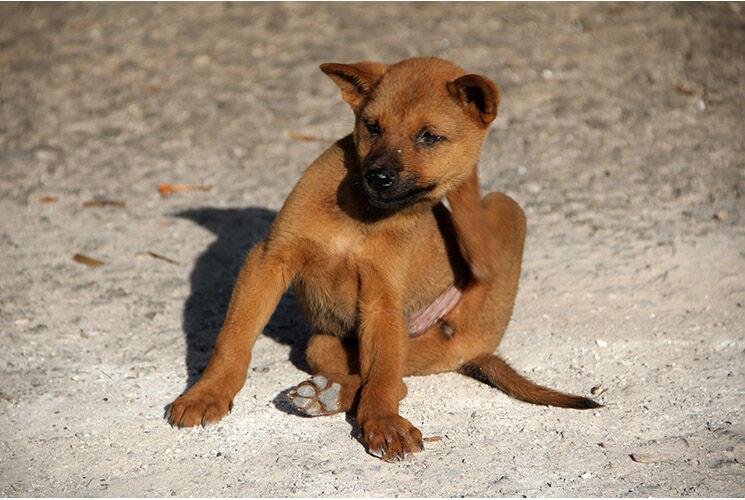 Now that spring is in full bloom, seasonal allergies are in full swing. As pet parents continue to spend more time in close proximity to their pets, the sounds of itching, scratching and biting may be even more apparent to them - and they'll want to find ways to help. 
While there is no cure for seasonal allergies, there are several treatment options available. Naturally, after consulting a veterinarian, pet parents can turn to over-the-counter medications to ease a pet's symptoms. 
As a retailer, encouraging customers to keep a regular skin, coat and ear maintenance routine is key to helping them manage their pet's seasonal allergies. Here are some products that can help address several ailments pets may experience with seasonal allergies...
Soothing Sprays: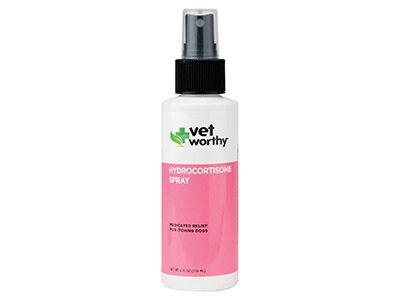 Vet Worthy's (vetworthy.com) Hydrocortisone Spray helps relieve minor skin irritations and itching. The spray can be applied directly to the dog's affected area and offers quick relief with its key ingredient, Hydrocortisone Acetate. It can provide relief from hot spots, insect bites, eczema, dermatitis and other skin irritations. The liquid, medicated relief solution is veterinarian formulated and recommended, and is made in the U.S.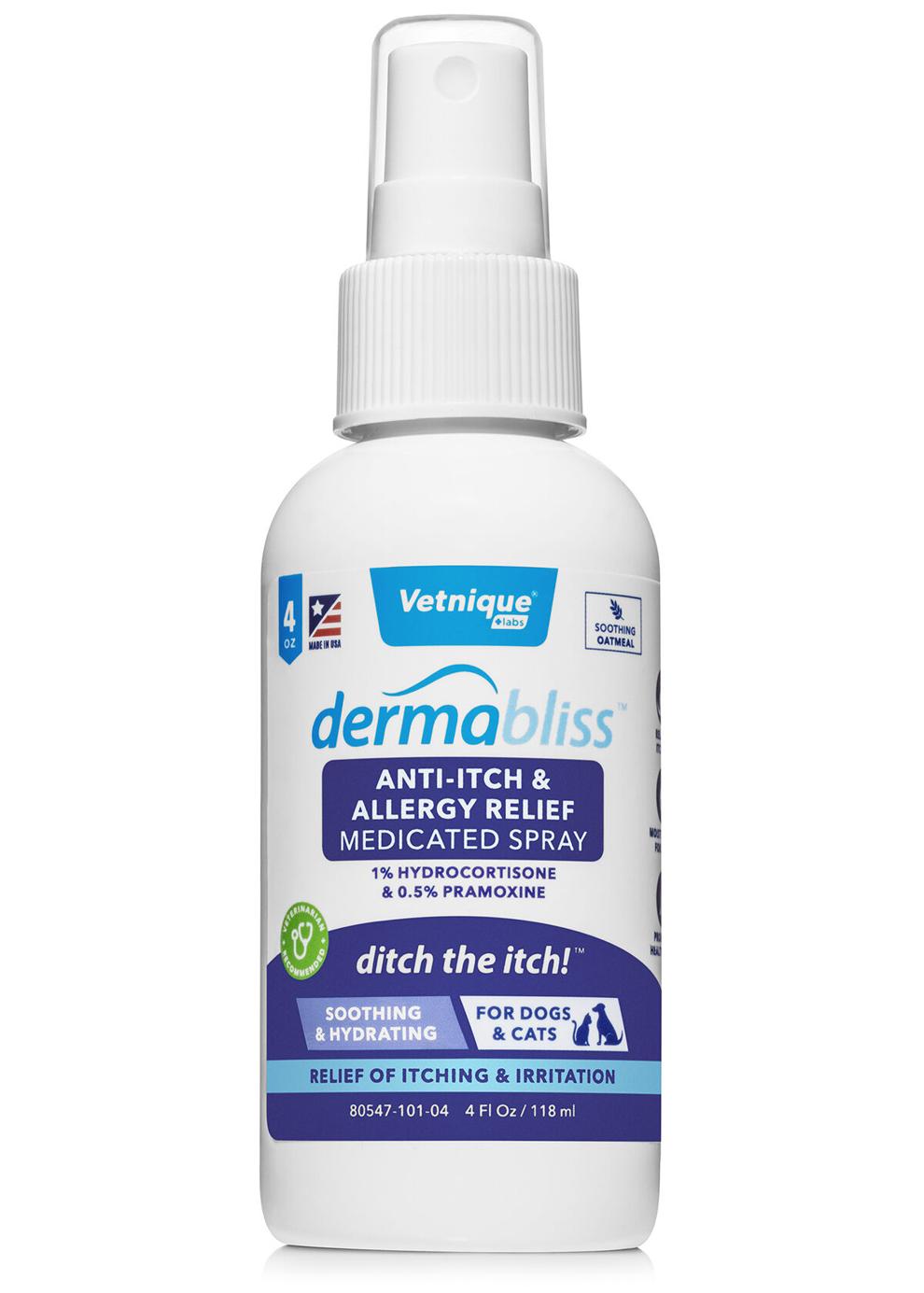 Vetnique Labs (vetniquelabs.com) Dermabliss topical dermatology products help provide pets relief from itchy, dry and infected skin. Dermabliss offers a wide range of medicated products such as shampoos, wipes and grooming sprays for a pet's specific skin and coat needs. The line uses high quality ingredients to protect and moisturize a pet's skin. These dermatological products offer a gentle yet effective solution for soothing pet's irritated skin or managing problematic bacteria, yeast or fungal infections, including hot spots.
Shampoos for Irritated Skin: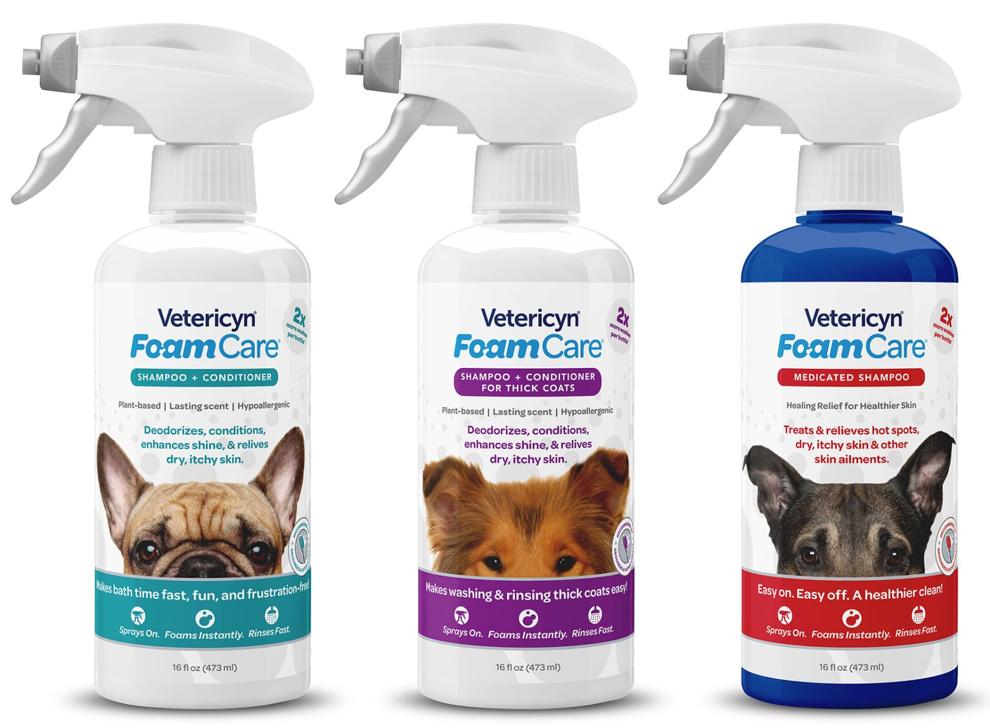 Vetericyn's (vetericyn.com) FoamCare Pet Shampoo has a non-irritating, paraben-free formula that instantly foams up to clean and condition pets. FoamCare is available in three formulas: Shampoo + Shine, Shampoo + Shine for Thick Coats, and Medicated to treat skin issues. The foaming shampoo in each formula is specifically designed to rinse out easier, giving a pet's skin and coat the best possible clean. FoamCare is hypoallergenic, paraben-free, plant-based and formulated to help pets retain essential oils.
Skout's Honor's (skoutshonor.com) Probiotic Shampoo + Conditioner (in Honeysuckle) includes active probiotics and is scientifically proven to naturally eradicate and prevent the growth of yeast and fungus on pet's skin—getting rid of itch, odor, shedding and inflammation. The products are hydrating and gentle, leaving a pet's skin clean and fresh.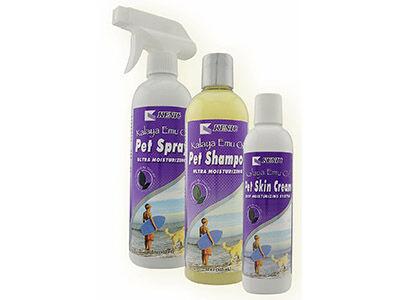 Glo-Marr's (glomarr.com) KENIC Kalaya Emu Oil Pet Shampoo is formulated with a hypoallergenic, soap and detergent-free base. The shampoo keeps follicles healthy and moisturizes a pet's skin and coat, and aids in reducing inflammation from a flea bite allergy, grass fungus and nonspecific dry, flaky skin problems. Containing no steroids or hormones, this product is available in shampoo, spray and cream. May be used on dogs, cats, ferrets and rabbits.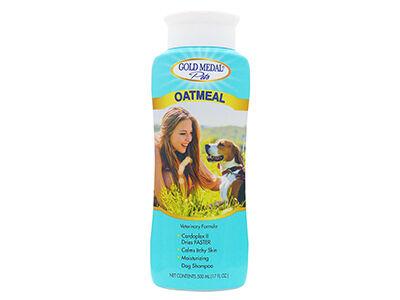 Whitebridge's (whitebridgepetbrands.com) Gold Medal Pets Oatmeal Shampoo is a mild shampoo with gentle, healing properties to soothe the dog's skin. Contains colloidal oatmeal and the Cardoplex blend of fruit acids, vitamins and proteins to help relieve itchy skin. A pet specialty exclusive available online and in-store.
For Ear Care: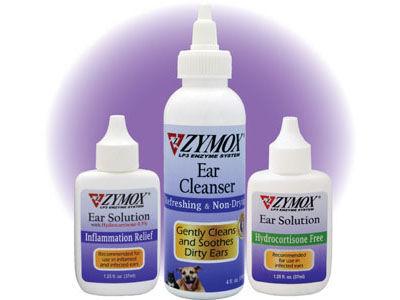 Pet King Brands' (zymox.com) ZYMOX Ear Solutions and Ear Cleanser provides relief for problematic ears without antibiotics; and are safe, non-toxic and easy to use. ZYMOX Ear Solution for irritated ears contains a patented combination of enzymes to aid in removing ear exudate and maintaining ear health. ZYMOX soothing relief comes in two formulations: without hydrocortisone and with 0.5 percent hydrocortisone for added itch relief.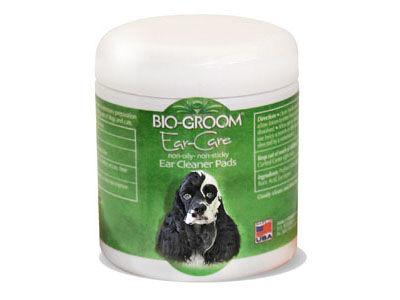 Bio-Groom's (http://biogroom.com) Ear-Care Pads are pre-moistened, 100 percent cotton pads that are a veterinary preparation specially developed for routinely cleaning and drying ears of dogs and cats. Gently cleans and dries the ear canal, and removes excessive wax build-up.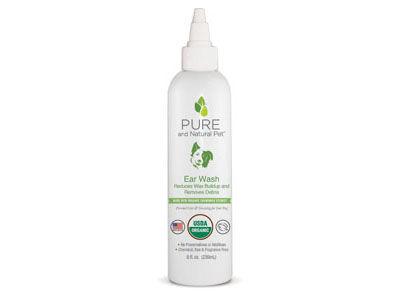 The Pure and Natural Pet (pureandnaturalpet.com) USDA certified organic 8 oz. Ear Wash cleans and soothes raw, irritated, itchy, greasy and smelly dog ears. The Ear Wash uses carefully formulated, USDA certified organic ingredients to control odor, itching, and discomfort, and remove debris and wax build-up. The formula has no chemicals or preservatives and is alcohol-free. The non-stinging Ear Wash can be used daily, or as needed.
TrueBlue (truebluepets.com) Ear Wipes are textured pads that provide an all-natural cleansing solution. The safe, pre-moistened wipes are an alternative to using ear liquids or powders. The wipes feature a botanical blend with lemon and marigold.