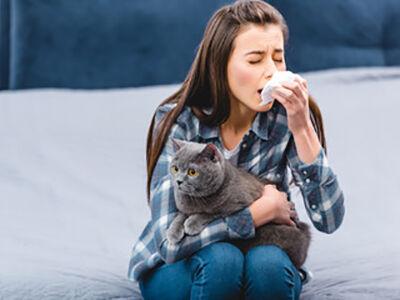 Cat owners won't let something like pesky allergies get in the way of their love for their feline friends. In fact, 84% of owners said they would ignore a doctor's advice to get rid of their cat, according to a new survey.
The survey, conducted by Human Animal Bond Research Institute (HABRI) and Purina Pro Plan, asked 2,000 cat owners in the U.S. about the impact of cat allergens on their lives.
Although cat owners reported a strong bond with their pets, the survey also revealed some of the negative effects of allergens. Many cat owners with allergies (37%) said they've had to alter their lifestyle in some way to accommodate their cat compared to just 22% without sensitivities.
One way owners cope is by cleaning. According to the report, 41% of cat owners with cat allergen sensitivities spend more time cleaning their homes than owners without allergies. They also spend 26% money each month on cat allergen-related purchases.
Cats, too, can feel the impact of their owners' allergies. Many pet owners (18%) said they've had to give up a cat in the past with the majority (32%) citing allergens as the reason. Other ways owners have tried to manage their allergies include restricting cats to or from specific areas (17%); keeping cats out of the bedroom (12%); reducing time spend with the cat (10%); and moving their cat away from them (9%).
The survey also found that many owners reported cat allergens had an effect on their personal relationships. Some respondents (13%) said they've had to choose between their cat and a personal relationship. Others (12%) have considered not living with a partner due to someone's cat allergies.