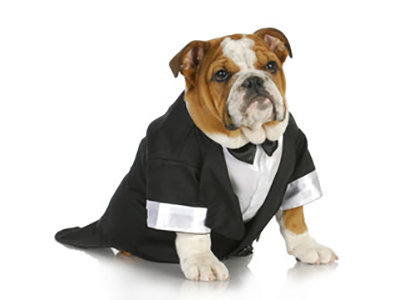 With pets now considered full-fledged members of the family in most households, it shouldn't come as a surprise that 68% of pet owners said that marrying a fellow pet owner is a "must-have," according to a recent report.
The survey, conducted by WeddingWire, asked 800 pet owners about how their pet factored into their plans for relationships, weddings and marriage.
In addition to finding a pet-friendly partner, many surveyed participants also indicated that they wanted their pets to play a part of the wedding celebrations. Almost two-fifths (38%) said they would include (or have included) their fur baby in their wedding or engagement. For some, that meant having their animal present on or even participating in the big day. Others simply incorporated their pet's likeness into the decorations, cakes or invitations.
Of those who added their pet to the wedding, 37% purchased or received pet-specific items for their engagement. The most popular choices were bowties and leashes to help pets dress up for the fancy event.
And while the novel coronavirus pandemic has derailed many engaged couples' wedding plans, many of those who are moving forward with a smaller ceremony–aka a "minimony"–are also including their furry friends. According to the WeddingWire, 45% of couples who are planning to have a minimony this year said they are including their pets in the big day.