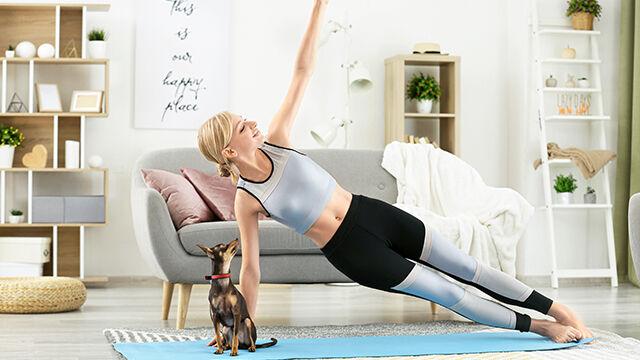 The downward facing dog pose may be inspired by canines, but now your pooch can get in on the yoga action—and reap the benefits—with "doga" (aka dog yoga).
The practice of yoga has been around for thousands of years. Doga, on the other hand, was first coined in 2001 by yoga practitioner Suzi Teitelman. There are a couple different ways to turn your dog into a dogi (dog yogi)—either by helping your pet strike the poses or keeping your dog physically close as you do your own yoga routine.  
Whatever way you decide to practice, though, yoga offers plenty of benefits for humans and canines alike, according to a report from Honest Paws, a creator of CBD products for pets. These potential benefits include:
1. Helps you get active.
Research shows that dog owners are already 54% more likely to get the recommended amount of exercise. So, it should come as no surprise that a physical activity like yoga, which involves stretching and strengthening exercises, can improve both owners' and pets' physical fitness.
2. Provides mental stimulation to pups.
Everyone gets bored—even dogs. So, even if your dog isn't a natural at yoga, just attempting to teach them the poses can be mentally stimulating. It's a great break to their normal routine and gives them the chance to learn something new.
3. Promotes stress relief and relaxation.
Studies show that pets can feed off of our emotions. And since research shows that yoga can be a great way to relieve stress, both you and your pooch can reap the benefits with doga.
4. Encourages pet and owner bonding.
Whether you dog is simply in the room during your yoga practice or right there on the mat posing beside you, the activity is a great opportunity to bond. It's just another way to spend time together and involve your pet in your everyday routine.
Learn more about how to start practicing dog yoga here.