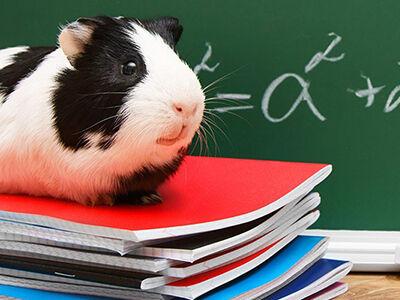 Classroom pets aren't just a cute addition to the school day; they may also help boost kids' academic performance and social skills, according to a new study.
The study, which was produced by the Human Animal Bond Research Institute (HABRI), The Pet Care Trust and the American Humane, is the largest of its kind. The report—Measuring the Social, Behavioral, and Academic Effects of Classroom Pets on Third and Fourth-Grade Students—analyzes the impact of having small resident classroom animals on third and fourth-grade students.
"The utilization of classroom pets in third and fourth grade U.S. classrooms appears to hold significant benefits for children's social, behavioral, and academic development," said Amy McCullough, PhD, principal investigator and senior research advisor, American Humane. "Findings show that the presence of pets in the classroom may increase social skills and competence for children in the third and fourth grades and, additionally, be effective in decreasing select problem behaviors in the classroom."
Nearly 600 third and fourth-grade students from 41 classrooms across the U.S. participated in the study. Twenty classrooms had a pet, ranging from guinea pigs to small reptiles, while 21 did not.
Based on surveys, teachers with classroom animals reported significantly greater increases in social skills (i.e. communication, empathy, self-control, etc.), as well as academic reading aptitude.
Teachers with pets also said they saw greater decreases in internalizing behaviors, such as withdrawal, and hyper-activity compared to teachers without classroom pets.