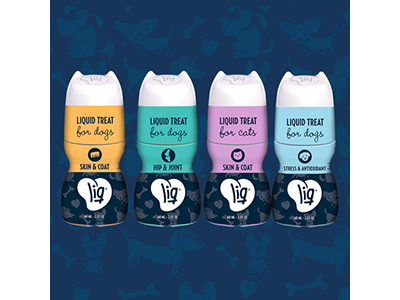 LIQ's (liq.pet) LIQUID treats were developed for dogs and cats of all ages and sizes, available in LIQ Stress & Antioxidant, LIQ Hip & Joint, LIQ Skin & Coat for cats and LIQ Skin & Coat for dogs. When the cap is closed, the container doubles as a massager for pets. LIQ is naturally preserved and manufactured in the U.S.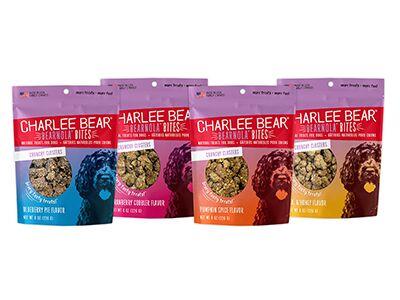 Charlee Bear's (charleebear.com) Bearnola Bites are crafted with wholesome ingredients like cranberries, peanut butter, honey and oats. Made in the U.S. by a family-owned company, four flavors are available, including Blueberry Pie, Cranberry Cobbler, PB & Honey and Pumpkin Spice. Made without wheat, corn, soy, artificial flavors or preservatives.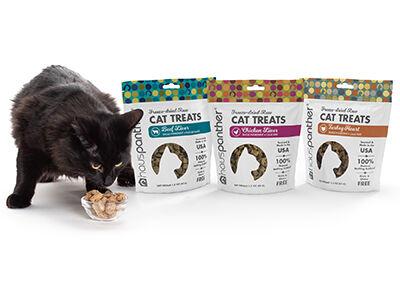 Primetime Petz's (primetimepetz.com) Hauspanther freeze-dried raw cat treats are made in the U.S. with quality U.S.-sourced protein. The single-ingredient cat treats are made from organ meat that's freeze-dried to lock in freshness. Available in chicken liver, beef liver and turkey heart in 1.5 oz. bags.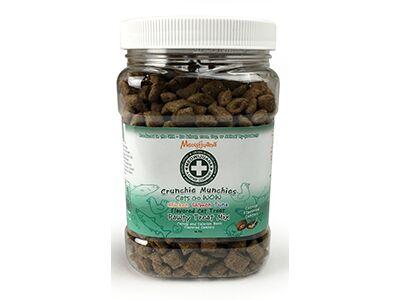 Meowijuana's (meowijuana.com) Crunchie Munchie Cats Go Wow Pawty Cat Treat Mix comes in a resealable 14 oz. canister. The treat mix is a medley of Meowijuana's three Crunchie Munchie cat treats (Chicken, Salmon and Tuna flavors). Each Crunchie Munchie treat features Meowijuana's proprietary catnip and valerian root flavored center surrounded by a crunchy outer shell. The all-natural cat treats are made in the U.S. and do not contain any wheat, corn, soy, artificial colors or animal by-products.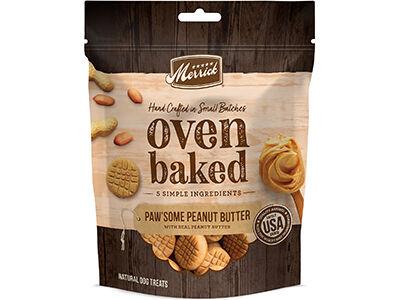 Merrick (merrickpetcare.com) Oven Baked Biscuits is a line of artisanal treats for dogs handcrafted in small batches. The crunchy treats are made with seven or less high-quality ingredients and shaped like homemade cookies. Available in Paw'some Peanut Butter and Pumpkin Patch.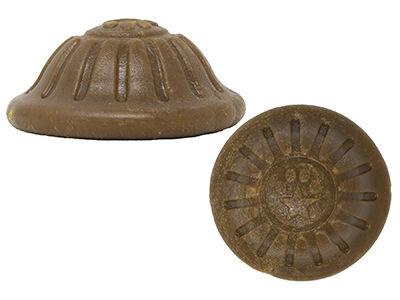 Starmark's (starmarkacademy.com) original dome shaped Everlasting Treats are dental chews that help safely remove plaque and tartar for healthy teeth and gums. Made of only food ingredients, they are fully edible and highly digestible, and low in sodium, fat and sugar. Three sizes fit all Starmark Everlasting Treat toys. Available in chicken, liver and natural hickory smoke flavors, and Made in USA.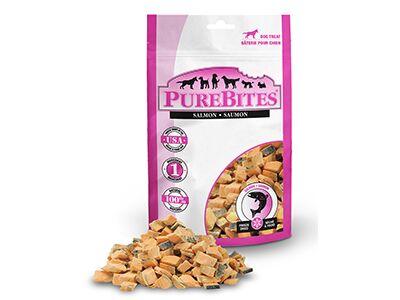 PureBites (purebites.com) Freeze Dried Salmon Dog Treats are made with 100 percent pure, wild-caught and U.S.-made raw, human-grade sockeye salmon. The treats are high in protein with on average eight calories per treat. Purebites are freeze-dried raw to lock in texture and freshness. They are suitable for dogs with health issues or pets that are overweight, diabetic, have allergies, gastrointestinal disorders or are on a restricted diet.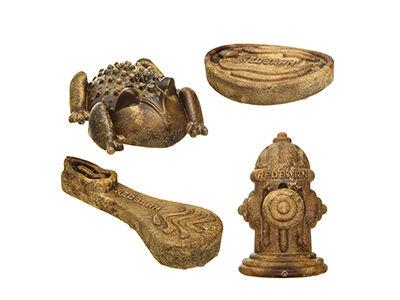 Redbarn's (redbarn.com) Chew-A-Bulls are designed with ridges and grooves to reach the nooks and crannies between dog's teeth and gums. Each treat helps control tartar buildup while gently massaging gums and scraping away harmful plaque. Highly digestible and made with limited ingredients, treats contain antioxidants such as parsley and spices like cumin to support digestion and create an enticing scent. Each shape is gluten-free without any artificial ingredients.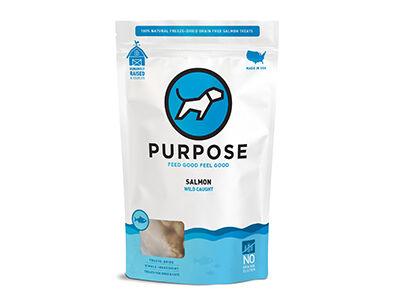 Purpose Pet Food's (purposepetfood.com) freeze-dried Salmon Treats for dogs and cats are made from 100 percent salmon, wild caught in the U.S. Salmon is full of key nutrients including omega-3 and omega-6 fatty acids and is a rich source of vitamins A, B, D and E. The treats are free from fillers like grain, corn, wheat, soy or potato, and artificial preservatives, flavors or sugar.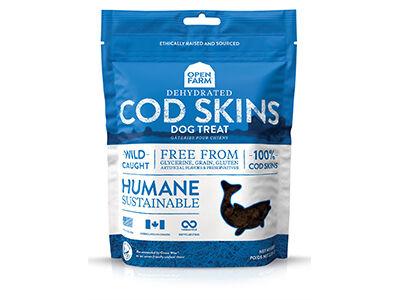 Open Farm's (openfarmpet.com) Cod Skins treats are free from artificial flavors, preservatives and antibiotics. The single ingredient, dehydrated Cod Skins treats are made from 100 percent wild-caught Pacific cod skins. The treats are dehydrated at low temperatures and are easily breakable. Available in Dehydrated Turkey, CodSkins, Chicken, Beef, and Pork. All ingredients are 100 percent traceable. Glycerine-, grain- and gluten-free.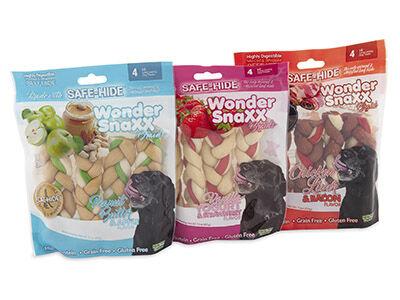 Petmate's (petmate.com) WonderSnaxx is made with Safe-Hide, the only minced and whipped beef hide. The highly digestible snack comes in several different flavors. Wondersnaxx is high in protein while being grain- and gluten-free. The snack is suitable for teething dogs and promotes healthy gums and teeth.