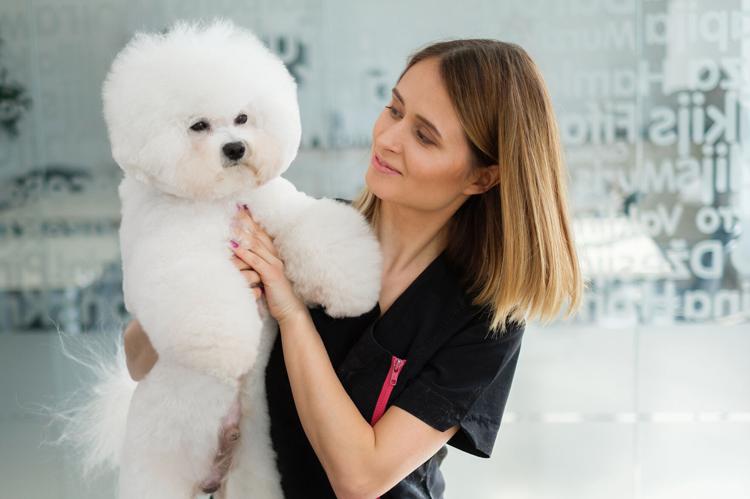 There's a misconception that groomers—and, by default, those that own grooming salons—are just people who love animals and play with dogs all day. Though this idea is fading fast and groomers are being taken seriously as legitimate business owners, it's still lingering. While it's certainly true that many entered this industry because of their love for animals, most realized that in order to make it into a true vocation, they needed to pick up the necessary skills to excel.
Proprietors and stylists learned how to create business plans, balance books and payroll, write a good press release and market themselves—possibly even hiring someone to help. Anyone still writing appointments down in a big book on the counter is missing a huge opportunity to increase their income, as well as take advantage of the improvements in salon software and the added convenience it offers.
With the help of this technology, business owners can establish websites, social media profiles, offer 24/7 online booking, create financial reports and automatically generate appointment reminders, saving themselves time, increasing organization and improving business performance. Salon software can be easily tailored to personal needs and offer an array of functions, but there's so many options—how can groomers know what's the best fit for their company?
Determining Wants & Needs
The biggest question that groomers have concerning salon software, according to Alex Therrien, strategic solutions manager at Lightspeed, is why they have to go digital. In today's COVID-centric world, the answer's quite simple: it's the basis for the future of the business. The worldwide pandemic highlighted the need for strong digital systems that maintain the same amount of personal interaction with customers, but with far less contact.
"Our industry is already seeing rapid and significant change in response to the pandemic—namely reducing in-person touchpoints for increased safety," says Jeff Dicker-son, CEO of 123Pet, creators of DaySmart Software. "Pet business owners will need software that integrates with their current payment processing system to provide contactless payments and prevent customers having to wait while checkout changes from one program to another. The more that can be managed from an all-in-one POS solution that integrates with the software—sending appointment reminders, processing transactions, managing schedules and running performance reports—the fewer number of touched surfaces."
When it comes to choosing the software that's appropriate for their salon, business owners should pick their software based on what will be most beneficial for them and their employees. While a fancy system will impress clients, it's useless if it doesn't provide any benefits beyond that.
"Too often, pet business owners are selecting software based only on what will impress the consumer," says Dickerson. "We recently surveyed 2,000 U.S. consumers for a customer loyalty report and found that consumers are more loyal to the individual employees who take care of their pets than they are to a pet business. To that end, business owners need to prioritize attracting and retaining talent to differentiate their businesses."
Therrien adds that a lot of merchants overlook how the benefits technology can override out-of-style business processes. He explains that adapting to change and finding more efficient ways to accomplish tasks is natural part of the business cycle.
"Change management is something all organizations have to go through, but technology shouldn't be a simple replacement for your processes, rather a platform from which to grow your reach and impact, without having to necessarily grow your operational costs," says Therrien. "You should approach a technology purchase in the same way you would approach hiring a new employee or administrator, except at a fraction of the cost and with the guarantee it will support your business 24/7."
When browsing software options, Dickerson says purchasing a program that offers online booking but no employee management features is a common mistake. He continues that systems that offer both allow salon owners to cross-reference the booking with an employee's availability and schedule before anything's officially booked, which is particularly helpful for clients that request specific groomers.
"The software should be intelligent enough to prevent overbooking," adds Bill Rebozo, co-founder of BabelBark, manufacturer of BizBark software for groomers. "For example, only available time slots should be presented to the customer. Also, there should be an option for customers to 'request' appointments that then need to be confirmed by the business, [as well as] configuring a minimum notice to request appointments and customizing email reminders."
Rebozo continues that the increase in technology extends far beyond software itself—"everything from apps for walkers to automated communication systems for veterinarians—allows the data to be better connected, which creates better outcomes for individual pet's health.
Creating Convenience
Software should directly address the challenges that pet businesses owners, and their employees, face daily. Most client communication can be automated, from reminders and confirmations to simply thanking them for their business. Software should also measure business metrics.
"Without data to measure client retention, overall sales and profitability, and service vs. product revenue, pet business owners will struggle to determine which groomers are contributing most to the business," explains Dickerson. "Software should provide users with several critical reporting benchmarks that allow them to determine key performance indicators. Results of reports can be run based on a given date range, making it easy to see how the business has performed during advertised specials or between quarters."
Additionally, grooming notes and instructions (preferred styling, shampoo used, the animal's behavior and temperament) should be readily available. Further, software allows for quick and easy inventory management. With product reorder notifications, reporting, purchase orders and check printing integrated together, pet businesses will always have the supplies they need on hand.
"Contact management, scheduling, communications and payments typically provide the core functionality necessary for a groomer," says Rebozo. "Each of these core components might stand independently, however when they are integrated you gain through 'synergy.' For example, if your contact management software integrates with your communication software, you can send out newsletters or targeted promotions very easily."
Tracking goes beyond inventory (though it's helpful) and applies to all parts of the businesses—systems can keep track of appointment frequency, birthdays and other benchmarks, and notify owners when a groom is finished, as well as note add-ons purchased post-groom. Additionally, "we miss you!" texts, emails or social media blasts can be sent out automatically, as well as detailed information about how often a pet comes in to be groomed, which groomer typically styles them and the option to create personal profiles for each animal.
Of course, all this information has to be stored electronically in the "cloud," a virtual hub that collects all information connected to certain businesses and specific clients. Though there's some hesitation when it comes to embracing this sort of technology, groomers have to let go of their worries.
"Storing information in the cloud is more secure than sticking with pen and paper," says Dickerson. "Think about it: paper can get misplaced, damaged by natural disasters or compromised in a fire or burglary. Storing information in the cloud not only eliminates these risks, but a cloud environment's firewall is much stronger than that of most small pet businesses. Moreover, operating on a cloud-based software system reduces data security risks by protecting small pet businesses against threats, such as malware and phishing."
Personalization
Ultimately, it all comes down to making the already stressful lives of groomers easier, allowing business owners to personalize their services without any extra work or worries.
"Groomers who have experience with pet grooming software at their workplace are spending less time worrying about keeping track of their schedules, client preferences and overall business management, and are instead spending more time thinking about how to better service their clients and learn new techniques to improve their skills," says Dickerson. "This shift benefits the business; according to our consumer survey report, consumers believe quality of service is the most important trait when visiting a pet services business."
Comprehensive software solutions allow employees to be better equipped to deliver on all those expectations and more. These systems can also help form loyalty programs and issue rewards/small discounts accordingly, and send timely coupons or promotions.
Essentially, software actually increases the personal touch, since it frees up time and can allow business owners and staff more time directly with customers.
"If a merchant can spend seconds, rather than hours, running an inventory report or confirming an appointment with the click of a button, or even sending out a mailer to a specific subgroup of customers from a simple web interface rather than going through paper files, than they will have far more time to spend with their customers when and where it matters most," says Thierrien.
Rebozo suggests taking the time and researching software options until a perfect match is found, as, "there are a lot of options out there. Get demos. Register for trials if they are available. Ask colleagues. Read reviews. It's worth spending some extra time in the evaluation phase to make sure you choose the right system for your needs."
This expert look into software in grooming and its future should encourage us to purchase the right technology instead of hiring someone to do the books, take inventory and create marketing strategies. Strong software allows us to concentrate on grooming the dogs—which is why most of us chose this industry in the first place.  PB
Carol Visser has been involved in the pet industry since 1982 in various capacities, including grooming in and owning a busy suburban shop, working as a product expert for PetEdge, teaching seminars and training dogs. She certified as a Master Groomer with NDGAA in 1990 and as a Certified Pet Dog Trainer in 2007, and she continues to enjoy learning about dogs and grooming at her small salon in rural Maine.