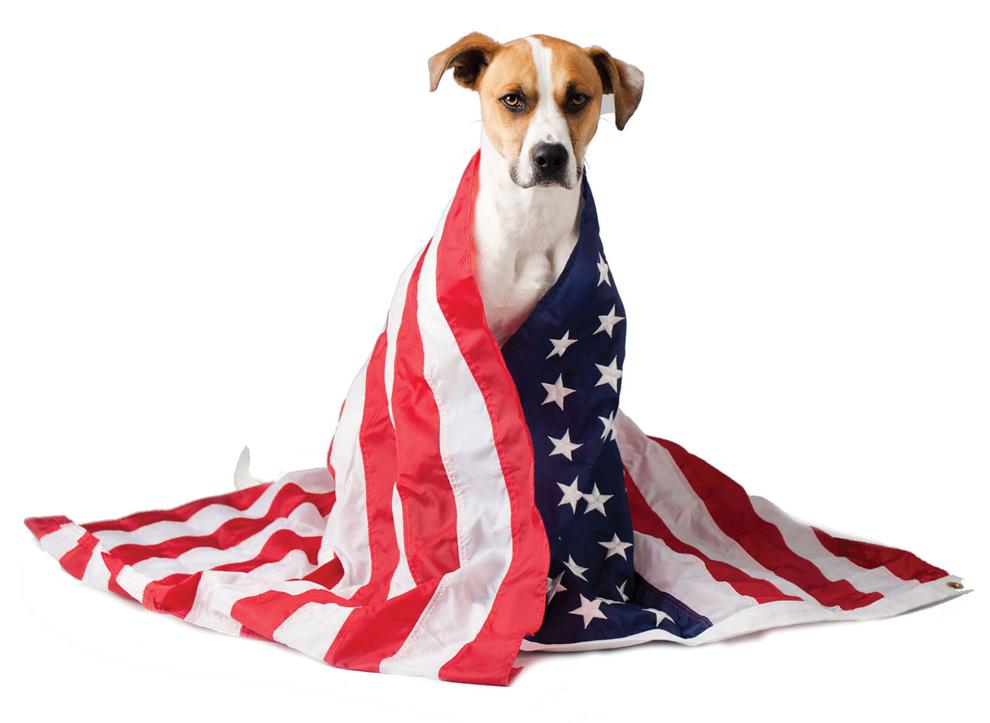 There are few things that yield a stronger connotation than products that are made in the United States—it's a patriotic call to arms that lets Americans know that their hard-earned money is going back into their local economy and supporting local businesses. Despite all the strength behind the Made in USA movement, it's not as red, white and blue as it seems.
As it turns out, the category is more of a mixed bag. Guided by their wallets and a duty to provide high-quality products, many manufacturers have taken to compartmentalizing the goods they offer and breaking up production methods across the U.S. and into other countries, depending upon the type of product they're creating. 
"For the food and treat segment, I would say that many companies have brought their sourcing and manufacturing to the states," explains Allison Cremeans, marketing manager of MiracleCorp, citing the FDA's 2007 warning about a suspected link between jerky treats and sick dogs. "Other segments—like cut and sew items—are still much less expensive to produce overseas and consumers are not as particular with collars, leashes, beds, etc. as they are with consumables."
Additionally, as the Federal Trade Commission is stringent in its guidelines for what qualifies Made in USA products—"'all or virtually all' the product has been made in America", according to the commission's website—some companies fail to qualify for the most menial of reasons. Lindsy Argenti, marketing manager of Coastal Pet, explains that while the company's based in Ohio, "we do not claim that 100 percent of our products are made in the USA due to the strict wording that 'all or virtually all' of the product must be made in the USA, including components."
As a result of these nuances, it would be difficult for retailers to take an "all or nothing" approach to stocking Made in USA items, because there isn't a single ethical manufacturer that doesn't want to do what's best by their customers, even if means having to outsource certain methods of production for lower costs or even higher-quality products. Though some consumers may balk at the idea of considering a product that features one or two outsourced components as U.S.-made, it's important to keep in mind that America's known for being a melting pot.
"I think that, across the board, the reputable American companies are looking for ways to do what's right for their customers by, first and foremost, providing quality products, but doing it in efficient and economical ways," explains Argenti.
COVID's Impact
The worldwide pandemic secured itself as a major disrupter in the current supply chain, as countries implemented varying import and export bans or experienced significant delays as a result of the sheer uncertainty surrounding the virus. 
"The pandemic has made it more important than ever to have a flexible supply chain and be able to leverage those manufacturing options to keep products in production and on store shelves," says Argenti.
In a way, the major delays in shipping and production—"what was taking three to four months from order to arrival can now be 10 to 12 months, and you have to pay 50 percent upfront," notes Dr. Timothy Hovanec, president/CEO of Dr. Tim's Aquatics—was a wake-up call to manufacturers that they have to rethink their current sourcing and production methods.
"With COVID-19 truly disrupting every supply chain in the world, we would say most companies are simply doing anything necessary to cope with the situations they face," says Sanborn.
While most companies are still figuring out how to cope and what changes they need to make in their supply chain, there's no hard evidence that the changes will result in bringing products back to America. One of the biggest issues cited, both from manufacturers and consumers, is the worry about how the switch in manufacturing methods will impact pricing. 
Dr. Hovanec explains that although the infamous Melamine Pet Food Recall of 2007 resulted in a mass exodus from China, manufacturers didn't necessarily bring their production practices back to U.S. soil. And, even if companies did move their manufacturing plants methods back to the U.S., "pricing would probably increase by 50 percent," he estimates, adding that the decrease in shortages and generally higher-quality goods might actually save the consumer money in the long run, as long as shoppers are willing to do the math of the value calculation. It all comes down to giving back to the American homeland, and realizing that costs won't be as expensive as they seem.
"While additional U.S. production can increase average wages paid to workers, economies of scale and new manufacturing technologies can also push costs down," says David Sanborn, general manager of Beaumont Pet Products' FLAVORS line. "The benefits of U.S. production are faster supply chains and less dependence on international relations (e.g. tariffs)."
Consumers are well aware of the benefits Made in the USA products provide, and even though there's no firm answer on just how greatly pricing will be affected by more American manufacturers coming back to U.S. soil, those pet parents who hold U.S.-made products to a higher standard and seek them out are willing to shell out the extra dollars for something that's meaningful to them.
"Discerning pet parents who are seeking out U.S.-made products also understand that they are more expensive," says Cremeans. "The difference, though, is worth it to them because it's for a beloved member of their family. Similar to the growing popularity of sustainable packaging, which also increases cost, if consumers are seeking it out and you don't offer it, then their only choice is someone else's products."
Pushing the Products
The best part of carrying U.S.-made items is the seemingly endless marketing techniques that can be employed to merchandise the products. While in the past retailers have devoted entire sections of their stores to be an Americana powerhouse, that's not always the best way to sell these products—in fact, it could be hurting sales.
"Our strategy for product merchandising and store displays always focuses on the problems our products solve," says Sanborn. "We believe this approach is also a best practice for retail stores. As such, we do not support the idea of featuring 'Made in USA' products in separate sections unless there is very strong customer demand, and it is a dual merchandising opportunity for the products featured."
If retailers opt for a toned-down merchandising technique, letting customers know that an item's U.S.-made is a talking point all in-store employees should hit and make known to pet parents, because it's often the deciding factor that pushes a consumer into purchasing one product or the other, in addition to giving them a connection to the item.
"It makes people feel more connected to the product if they know it's being made here," says Elena Kalogeropoulous, CEO of Chasing Our Tails. "Having transparency about where a product comes from will assure a pet parent that they are providing their pet a great quality product."
Of course, the Chewy.coms and Amazons of today's world will always be a concern and serve as a foil to independent retailers. While it's hard to beat those e-commerce giants on your own, there's plenty of ways for retailers to give themselves an edge.
"How [retailers] can compete is by offering a better value and higher quality," says Dr. Hovanec. "Offer a better-best product choice to consumers and many will choose the best. Made in USA connotates a higher quality product and can help generate repeat customers via higher customer satisfaction."
It's because of this mentality that American-made products will always prove to be a beneficial, necessary component of pet stores, though the items may not be head-to-toe American. U.S.-made items hit the typical boxes—supporting American products, workers and the economy—that consumers are demanding, including the trend of earth-friendly, sustainable products.
"Making products locally creates a smaller carbon footprint, which also resonates with eco-conscious consumers," says Cremeans. "We know Made in the USA is not a temporary trend. Moving forward, consumers will only want to know more and more about the products they're buying, how they're made, where they're made and what the brand is doing for its employees and community."
Ultimately, the long-lasting trickle-down effect that stocking and purchasing Made in the USA products has will typically push to consumers to spend a couple extra dollars because of the reassurance of knowing exactly where their money will end up.
"Plain and simple, Made in USA products help secure future business within America," says Sanborn. "When you purchase domestically, you are helping to create local jobs, support families and strengthen our economy today and for generations to come."  PB