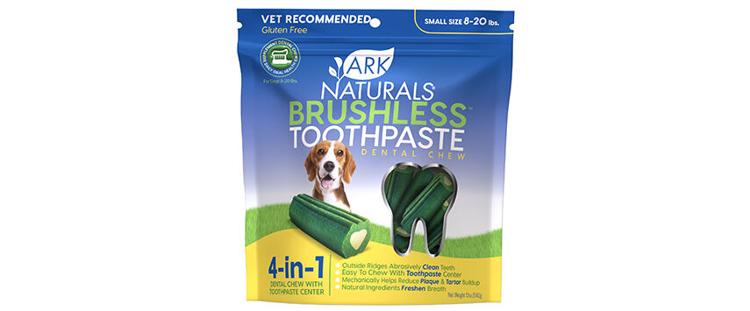 What's the inspiration behind Ark Naturals? How did it get its foundation? Jay and Susan Weiss founded the company in 1996 with a unique vision of how they could help pets live their best lives possible. They understood very early on that while supplements were being widely used in the human population, few were available for pets. They were—and still are—passionate pet parents, so they began researching how to create brilliant remedy formulas that would really work in pets. They did their homework and partnered with two of the most well-respected doctors in the industry to develop all the formulas we sell today. Ark has been making the products ever since with natural ingredient combinations that are crafted to provide superior results in several different remedy categories. The Weisses were true pioneers and founding members of the National Animal Supplement Council, which provides oversight to the supplement industry.
What are some of the lines that Ark Naturals offers? We are most well-known for our Brushless Toothpaste natural dental chews, which we expanded last year into value packs and a new Sensitive Gums formula. Our dental products provide pet parents with a 4-in-1 benefit and encourage a twice-a-day teeth cleaning regimen simply by offering dogs a delicious chew that has toothpaste inside. We have products in other categories, including flea and tick, calming, digestive and skin and coat. We were first to market with a calming product called Happy Traveler, and now the calming segment is enjoying explosive growth. Pet parents have recently discovered our Gray Muzzle line of products for seniors, and we are enjoying significant growth in that segment of our business—we are one of the few brands that offer an entire line of senior remedy products. One of our very best formulas is our Gentle Digest, which has both probiotics and prebiotics that work to soothe an upset tummy in dogs. As our pets age, it's important to provide the right support for optimal health. All of our products work together to offer pets the happiest and healthiest life possible, "from tooth to tail."
Can you expand on your mission of keeping pets healthy "from tooth to tail?" We believe that optimal health is not achieved in bits and pieces or by masking symptoms once they become an issue. Many of our products were developed for certain indications but also have benefits far beyond the most obvious ones. For example, our Omega Mender fish oil product works brilliantly on hot spots and dermatitis by improving the pet's coat.  But it also supports healthy vision, cognition and circulation, and it's an amazing antioxidant. In that way, our products are intentionally designed to work together by mixing and matching to customize for the exact needs of your pet. Our Brushless Toothpaste provides a unique 4-in-1 oral care benefit; our Joint Rescue products provide a remedy for hip and joint issues but also contain ingredients to help build stronger cartilage and bone tissue all over the body; and our Gentle Digest provides gastrointestinal relief and remedy to balance a pet's digestive system. Our natural line of skin and coat products keep your pet looking and feeling good from head to toe, or "tooth to tail!"
How are your products formulated? Do you consult any experts in the field? All Ark Naturals products are formulated by two leading industry experts.  Dr. Nancy Scanlan, DVM, is a leading holistic veterinarian and Dr. C. Leigh Broadhurst, Ph.D., is a nutritional chemistry and food safety research scientist. Their combined accolades include several certifications and many more holistic and veterinary associations. Both are passionate pet parents who combine their expertise with their love of animals to develop the most natural yet effective formulas possible. But, we all know it's about the natural ingredients, and the combination of those ingredients that really make our products so amazing. We fancy ourselves as pioneers in the use of many natural ingredients, which are designed to address different remedy needs. From sea cucumber in our Joint Rescue products to cinnamon and cloves in our Brushless Toothpaste, our expert team does their research to ensure only the most effective and highest quality ingredients make their way into our formulas.
What type of support do you offer to your retailer partners to help them understand the benefits of your products? The biggest area of support that we offer is education. We do our best to help at the sales associate level through various forms of training so that staff can explain the dangers of gingivitis and how pet parents can prevent it. We also focus on ingredients and the purpose of each one in our formulation—sodium bicarbonate adds polishing action, while cinnamon is a natural breath freshener and a natural antibacterial ingredient that can help reduce inflammation. Clove oil, which is also in our Brushless Toothpaste, is a natural breath freshener that soothes the gums and is widely used as an ingredient in dental anesthetic. These few simple facts are what pet parents want to know about our products when they go to their neighborhood pet store, so we have created a training module (that will be launched later this year) to provide this type of information to pet store associates through their own login on our portal. We are very excited about this.
Are there any other ideas in your pipeline? Can you give us some insight into what's next? Our innovation pipeline is full of some pretty cool ideas. Most of those ideas are proprietary in nature and we can't share them yet, but we will soon! In 2019, we rebranded and started to update our packaging with the top-selling items leading the way. The first half of 2020 will be focused on refreshing the balance of our line, giving the other categories a totally new look. We also plan to continue the evolution of our Brushless Toothpaste packaging, and we will unveil the next iteration of it at Global Pet Expo. At the same time, we are strengthening our customization—or connectivity—story by further educating on the far-reaching benefits that can be achieved when our products are combined. PB