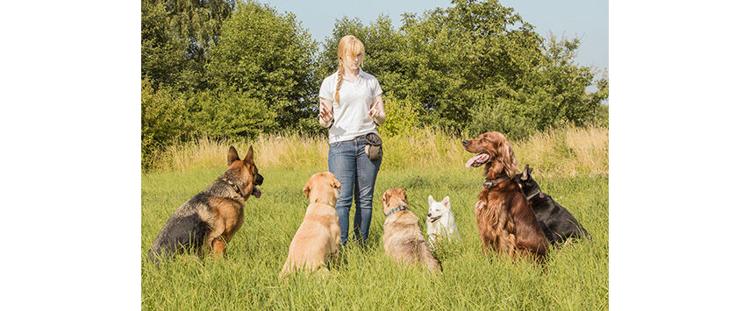 It goes without saying that good manners are essential for everyone—including dogs. Training is an important part of dog ownership and, while you're not sending your puppy to finishing school, the right assortment of products and intelligent staff members can help transform an unruly pup into a loyal companion.
One of the key trends is simply the rise of training in general. As pets continue to become more integrated into every day life, consumers are realizing that their dogs are expected to exhibit certain behaviors in public.
"To me, the greatest push is for skills for pups/dogs to become mannerly members of society as more and more places are becoming pet-friendly," says Elizabeth J. York, director of operations for Lone Wolf Pet Products. "Training is not just for competition events."
When creating the training section, it's all about location. It can be in the front of the store to catch the customer's eye, but other visual cues, such as a "new puppy" section or placing the selection between puppy products and leashes can promote sales of multiple items.
"One way to drive sales is by having a wide product assortment that can meet the unique needs of individual pet owners," says Trenton Langston, training and bark category manager for PetSafe. "There's not a one-size-fits-all solution to pet training."
Harnesses should be kept in stock for leash-pullers, elimination pads are needed for the pup who refuses to go outside and clickers should be in stock to help pups identify which behaviors are appropriate.
"Dog trainers and everyday pet parents looking to train their dogs are demanding simple and effective training tools more than ever," says Bryant Baxter, marketing sales coordinator for EzyDog.
The Importance of Snacks
Dog biscuits have evolved from the occasional treat their pup is given for pretty much just existing and being cute—many pet owners are turning to treat training as a way for their pet's to make a positive association with the commands they're being asked to do.
"Positive reinforcement training—using treats as a reward—continues to be regarded by the majority of professional trainers as the most effective method of shaping canine behavior," says Kerissa Kelly-Slatten, brand manager at Cardinal Pet Care.
It goes without saying that relying on treat training inevitably means that pet parents are going to end up feeding their pups loads of snacks—but treats are notorious for packing on extra calories. It's easy to go over that calorie budget when the pup gets the repetitive rewarding that is required during training, so mini training rewards can help dogs not gain weight or feel full and lose interest in the lesson.
"It's not enough today for a reward treat to be enticing to motivate a dog to perform during training; pet parents also want to know about the product's ingredients and sourcing, and will buy based on these factors," says Kelly-Slatten.
Since these treats can be snacks and rewards, retailers can cross-merchandise them by displaying the treats with new puppy products, like crates and housebreaking aids; travel gear, such as backpacks and water bottles; or sports products, including flying discs or agility obstacles.
Kelly-Slatten recommends using POS signage that calls out the treats' smaller size, lower calorie count, appealing taste and aroma, and easy dispensability for immediate rewarding.
Retailers can build the sale by offering treat pouches or holders that provide owners with easier and quicker access to treats—not to mention clean, crumb- and scent-free pockets, if they're not into every dog in the city following their scent down the street.
Real Life Demonstrations
Another common tactic is to bring professional trainers into the store to conduct classes for puppies and for dogs of all ages.
Having the in-store lessons can help encourage sales of these items, especially if the humans taking the classes can observe how to use the training products. The trainer can resell the devices they used to the dog owners or retailers can include it in the course fee.
The concept is similar to that of college students getting a laptop as part of their curriculum, explains Christopher Mushenski, president of Canine Innovations, as it's part of the tuition and they're allowed to keep it once they graduate.
"The client now feels empowered to continue to affect their dog's behavior correctly by them owning outright the professional trainer's training device," he continues.
Having a trainer in the store can help drive sales for other training products, such as clickers. The trainer can recommend a product, demonstrate how to use it and help position the retailer as a source of expertise.
"Education of different training products and how they function is essential in being a reliable resource for customers," says Emily Benson, marketing director for Starmark Pet Products, Inc.
The in-house trainers can help pet owners observe the different ways to train dogs, and help the consumer figure out which methods are more comfortable for them to use.
Even retailers that do not have enough room for in-store training can have trainers come in to do demos and answer humans' questions, as it's still a draw for pet owners to come in and pick a professional's brain. Kelly-Slatten assures that many customers will still buy the products used in a mini-demo.
With or without an in-store trainer, retailers need to stock up on training items and make sure the department has a variety of products that reflect various needs.
"Training and behavior is a really wide product category that encompasses products that meet a wide range of pet parent needs," says Langston "As long as people have pets, there will always be a need to find solutions to certain behaviors."  PB