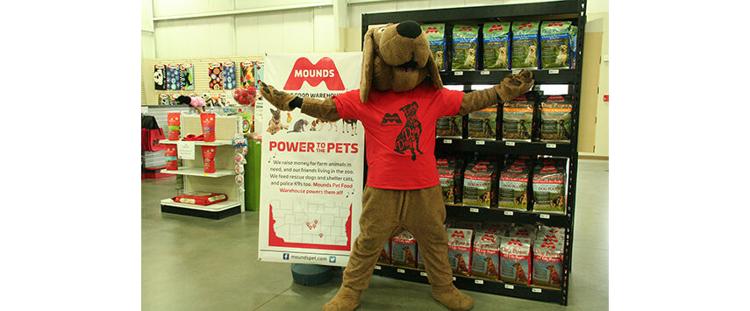 In today's competitive and growing retail landscape, a pet store chain that can continue to thrive while staying true to its local roots and long history of community-focused values is a rare breed. Mounds Pet Food Warehouse, a five-store pet specialty retailer based in Wisconsin, is one such business, and it is marking a major milestone in 2019.
"This year is a very important year here at Mounds," says Bowar Dahmen, the company's growth marketing specialist. "It is both our 50th year in operation, and the 35th anniversary of our Dog Power house brand dog food."
The business started with Ken Mack, who founded Mounds Agri Service, a livestock company, in Blue Mounds, Wisc., while working as a district general manager for the Ralston Purina Company. Originally aimed at farm customers, the store's primary business was in manufacturing farm feeds and fertilizers, with pet food making up a much smaller part of its business model. But by 1984, the store had slowly become exclusively a pet food and supply retailer. Mack also started adding private label products to the store's lineup, including Dog Power, Horse Power, Purrfect Cat and wild birdseeds, which helped the store stay competitive even in the face of growing competition from national chains.
By the 1990s, the store's business had outgrown its original location in Middleton, Wisc., and a second location opened in 1991. By 2006, the company had five Mounds Pet Food Warehouse locations in the state. Thanks to the founder's commitment to keeping Mounds privately held and locally owned, a portion of the business was sold to two management staff members in 1999, and the business has been 100 percent employee-owned since January 2015.
In addition to celebrating its 50th anniversary, Mounds also received the Retailer Excellence Award for Best Community Outreach/Partnership at Global Pet Expo this year.
"As the largest pet industry event in the world, Mounds was honored to come away with the award that meant the most to us and our community," Dahmen says.
The Spirit of Community
The award is well deserved for a business with decades of history of service and care for its local community. The focal point of the store's busy calendar of events is the annual Mounds Dog Fest, a festive event aimed at bringing together a wide variety of rescue groups and shelters to foster connections among the many organizations in the animal welfare community. Dog Fest is now in its 23rd year, and it attracts around 5,000 to 8,000 participants and attendees each year.
"Bringing all of these groups in one place helps instigate partnerships, friendships and cooperative efforts throughout the community for the betterment of animals in need," Dahmen explains.
Mounds employees see Dog Fest as a gift to its community, providing space at a fun, free, well-attended event to many organizations to feature adoptable dogs and raise awareness and funds. The event also includes demonstrations and contests that create an exciting, fair-like atmosphere for visitors and their four-legged companions.
"Mounds coordinates Dog Fest each year, not to benefit our bottom line, but to spread awareness about all the great organizations working in our community," says Gilda Mulvaney, director of human resources.
For Mounds, community service and outreach is both a passion and an essential part of good business. In addition to knowing they're supporting a locally owned business, customers can see how this support is returned in kind to the community.
"Helping your community only makes your community—and in turn your customer base—stronger," said Michelle Mitchell, purchasing manager. "Our work in the community is a huge positive for our customers. They like being able to shop at a store that helps animals in the community."
Being able to showcase and support the many animal-related organizations in its community is the most rewarding part of the pet specialty retail business for the Mounds family. In addition to Dog Fest, they host a number of other events featuring humane societies, police K-9 units, dog clubs and service animal groups. The company's generosity and relationship-building skills have helped it build a strong reputation, with customers who are quick to sing the store's praises as a friend of the animal welfare community.
This support goes beyond helping organizations focused on dogs, cats and other household pets. Mounds has fundraised for a local zoo, including a creative display from which customers could pick "zookeeper-approved" toys for animals like seals, orangutans, meerkats and others. The store collected tennis balls to donate to local K-9 units and provides them with private label dog food, and has raised and donated funds to Wisconsin Vest-A-Dog, which aims to outfit every police dog in Wisconsin with a bullet- and stab-proof vest. True to its roots as a farm store, Mounds has also partnered with Heartland Farm Sanctuary, raising more than $20,000 to benefit the organization's rescue efforts. These and many other similar efforts make Mounds exceptional as a pet specialty retailer.
"It's how Mounds sets itself apart, it's something we are truly passionate about," says Katie Val Altena, Mounds Pet Food president. "It's the right thing to do."
This commitment to supporting high-quality care for all pets extends to the store's merchandising. While the shelves are naturally stocked with a wide variety of foods, toys, treats and accessories for dogs and cats, Mounds also strives to cater to the less common pet species with products for horses, birds, rabbits, chinchillas, hamsters and others. Their wide selection and ability to provide almost anything their customers need or want is a point of pride for their business.
"We also like finding brands that are smaller or unique to showcase to our customers," says Mitchell.
One category Mounds does not stock is live animals. Instead, they encourage prospective pet owners to seek out their new companion at one of the many local area animal shelters or rescue groups. One of the company's longest-running and largest partnerships is with the Dane County Humane Society. In addition to numerous fundraisers and donations of food, toys, treats and care products, the stores are also home to the Mounds Satellite Adoption Centers, small, in-store accommodations that house hundreds of animals every year. Featuring these adoptable animals in stores both provides a great opportunity for them to be discovered thanks to the many pet lovers who pass through the stores' doors every day and provides DCHS with no-cost space to house adoptable animals.
Serving customers, the community and the many animals in their area is at the core of the Mounds business, a mission that all of its employees can feel connected to. The store's thorough customer service and product-knowledge training programs help it to provide a consistently high level of service that has helped build a loyal customer base.
"Employees can feel good about coming to work because of the work they are actually doing in the community," adds Mulvaney.
Despite the many things that have changed in the pet world and the larger retail landscape since the company started, Mounds seems to have found the key to success in staying committed to service to people and their pets. After 50 years in the business, the Mounds team is focusing on one goal for the future—to keep growing in pursuit of their mission.
"We will continue to grow and do even more to help the people and pets in our community," says Van Altena. "That's what sets us apart." PB