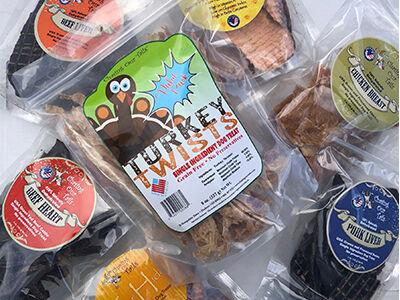 Despite the uncertainty surrounding COVID-19, Chasing Our Tails has continued to expand its product offerings and meet the needs of its customers. The dog treat manufacturer's parent company has made three major acquisitions during the pandemic.
"We never stop looking at opportunities," says Elena Kalogeropoulos, CEO.
In addition to acquiring two private-label treat lines that included former competitor Venison Joe's, Chasing Our Tails' parent company also bought a poultry plant to help it do what it does best—craft single-ingredient treats and chews that are both safe and tasty.
From One Treat to Many
To get to this point, the Minneota, Minn.-based manufacturer has gone through multiple evolutions that even included ownership of a retail store.
Chasing Our Tails president Stephen Trachtenberg launched the company in 2009 with a line of dog biscuits. Inspired by Trachtenberg's experience attending French culinary school, Chasing Our Tails looked to utilize classic cooking methods to making dog treats.
"We're using traditional food techniques and applying them to the pet sphere in order to create something different," says Kalogeropoulos.
The company now produces preservative-free chews made from easily identifiable proteins that come from USDA-inspected production lines. Its growing product offering now includes hardwood smoked bones, dehydrated treats, freeze-dried treats, antler chews and other items that are made and sourced in the U.S.
Using company-owned meat plants in the U.S., Chasing Our Tails now sells almost 100,000 units online every month, with its products in over 5,000 specialty stores throughout the country. It also boasts a private-label division that produces treats for around 20 clients.
Kalogeropoulos has been with Chasing Our Tails for about three years and was promoted to CEO six months ago. She came to the company after a 16-year stint in finance, wanting to create something "more tangible" with her career.
"I come from four generations of manufacturers," she says. "I love making stuff. I love that concept."
She also explains that the company's philosophy made it easy to get on board.
"I really became passionate about it," she says. "I began to understand what made us different, what made us unique, and that's really kind of what became my battle cry."
Standing Out
What sets Chasing Our Tails aside from other companies is its commitment to creating a great treat experience for pets using just one ingredient, according to Kalogeropoulos. The company's products do not have added chemicals and are made through a process using zero waste initiatives, such as including offal in the treats.
The company also takes special care in crafting specific types of treats and chews. Its bone chews are prepared through a process that keeps the marrow intact and the bone from cooking, reducing the chance that the treat splinters and harms a canine. The bone chews are also hand-trimmed.
"We're more akin to a bunch of sous chefs than we are to machine operators," says Kalogeropoulos.
When it comes to bully sticks, the company has succeeded in producing one that is 100 percent odorless. Though the chew is sourced from U.S. meat, Kalogeropoulos explains that customers often assume it's made of plastic because it's stench-free. She explained that this innovation helps pet parents from being turned off from a product that dogs love.
In juggling the many aspects of Chasing Our Tails' operations, Kalogeropoulos says that, at any given time, she could be doing anything from taking meetings to making customer calls to helping out in the production kitchens. Along the way, she's always asking herself how the company can produce more while still maintaining consistently high quality.
In handling the company's expanding business, Kalogeropoulos breaks down its progress into small, achievable goals with the mission of delivering on what Chasing Our Tails promises its customers. She adds that it also helps to focus on the company's canine customers who inspire her to meet high standards.
"We're providing a product for somebody who can't speak for themselves in a traditional way," Kalogeropoulos says.
Looking Ahead
Though Chasing Our Tails has managed to push forward in its progress during the coronavirus pandemic, the company hasn't been without challenges. COVID-19 has put constraints on the company's meat supply lines as plants take safety precautions and limit their worker numbers.
However, that hasn't stopped the company from growing its product portfolio and moving forward in its research and development. Chasing Our Tails is looking to expand into training and functional treats, as well as grow its 100,000 square feet of manufacturing space in Minnesota.
"We're continuing to improve and expand on our facility here," Kalogeropoulos says.
While some companies in the pet industry have taken a wait-and-see approach amid the pandemic and are currently stuck in a holding pattern, that's not the case with Chasing Our Tails. Kalogeropoulos says the company has never stopped looking ahead to the future and hasn't taken a time-out just because of the outbreak.
"There's no specific time for innovation," she says. "There's no specific time for success."  PB