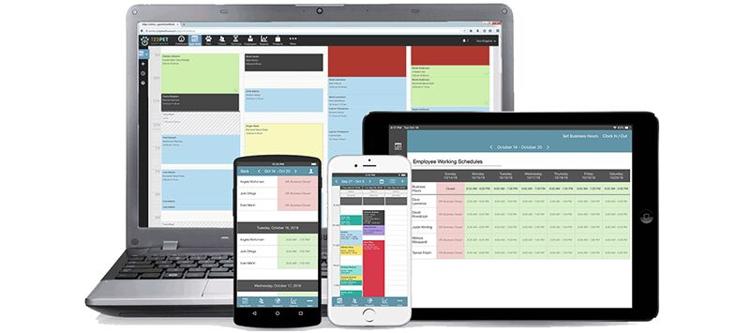 Tell us about DaySmart Software. What is the company's background in innovating technology-based solutions for small businesses? For more than 20 years, DaySmart Software has been in the business of small businesses. Based in Ann Arbor, Mich., with a development office in Raleigh N.C., DaySmart is focused on fueling small business growth and helping owners run their daily operations through its suite of business management software. DaySmart offers purpose-built and industry-specific solutions to meet the needs and operations of all sizes in pet grooming and boarding, as well as other service industries like salon, spa and tattoo. The company's product line includes 123Pet Software, Orchid Medical Spa Software, Salon Iris and Inkbook.
After years of building out its product suite, DaySmart's solutions attracted the attention of private equity firm SFW Capital Partners, which saw the growth opportunity in the small to mid-sized business (SMB) management software market. After DaySmart was acquired by SFW in September 2016, a new leadership team was brought in—which included three successful software executives from Boston: Jeff Dickerson (CEO), Patrick Curley (CPO) and Steve Martin (CMO). In early 2017, the three made the trip to Ann Arbor and got to work meeting the employees, shaping the culture, installing infrastructure and scaling the business.
The company's 20th year of business marked major growth milestones, including a growth-oriented recapitalization led by LLR Partners and Parthenon Capital, the acquisition of PupKeep (a pet services cloud software platform), the addition of an online reputation management feature across all products, and the launch of an all-in-one front desk solution that combines the company's software with Elo touchscreen and POS systems. Today, DaySmart proudly employs 100 dedicated professionals and serves 22,000 small businesses.
What inspired the company to create 123Pet Software for pet care service providers? For what types of businesses, in particular, is the software intended? DaySmart's entry into the pet services space began in 2005, driven by demand. Pet groomers were using the DaySmart salon platform to manage their grooming operations, but their specific needs for unique features led to the development of a new product—123Pet Software. It has since become the leading business management software for pet services, including pet groomers (brick-and-mortar and mobile), daycares, boarding and kenneling facilities, and even training and dog walking businesses. The software is designed to address the specific needs of pet business owners by helping them to more effectively manage key operations.
Is 123Pet Software a good fit for traditional pet stores that also offer services? If so, what are some of the opportunities that the software can provide in that setting? We have seen that most groomers and boarding facilities are incorporating some aspect of retail into their business, and these combinations seem to be the norm. Any retail operation that also offers services like grooming, boarding and training can leverage 123Pet Software. 123Pet's largest customers (100+ stores) run it alongside their conventional POS system, supporting the services and appointment side of the business. Smaller retailers might use 123Pet for their entire operation, as it can function as the point-of-sale terminal, which integrates with hardware like scanners, cash drawers and receipt printers, maintains inventory and produces all of the necessary business reporting. Whether a pet service business chooses to replace a conventional checkout station or leverage 123Pet Software for the service side of the business, benefits include:
• Online Booking—Allows pet parents to book appointments from their phone, tablet or computer, anytime of the day or night. This reduces the strain on front desk schedulers, and the software manages availability and employee schedules to make sure they don't get double booked.
• Vaccination Monitoring—Pets in the facility for any length of time will likely require the business to track valid vaccinations. 123Pet makes this easy with its digital record-keeping system, which prompts staff when appointments are being booked for pets without current records on file, or can email owners with reminders about upcoming expirations.
• Inventory Management—Pet stores need to have clear insight into their product inventory. 123Pet Software can help determine when a product needs to be restocked and even show what items are not performing as well as others.
• POS Hardware—The checkout process is very important, as customers want a quick and seamless process, while store owners strive for organization and security. With 123Pet's all-in-one POS system, pet stores can provide customers with a speedy checkout experience through integrated credit card processing, and a comprehensive format for store owners that makes tracking and reporting transactions simple.
What are some of the key features of 123Pet Software? How do these features help service providers drive their businesses forward? 123Pet offers an end-to-end business management solution to empower busy pet business owners to more effectively run their operations. Key features include:
•  Online Appointment Booking—Tracking grooming, kenneling or training appointments is easy and simple with 123Pet. Each can be viewed as a separate calendar and the software shows important data at a glance (e.g., date, time, customer info) and is fully customizable, allowing users to specify working hours and set employee hours to avoid double booking. Plus, it offers clients the flexibility to book appointments from anywhere, at any time (even when the business is closed).
•  Client & Pet Management—The database within 123Pet Software allows users to analyze purchase histories, store photos, take detailed notes and track pet vaccinations in order to provide a customized experience for customers and their pet(s). Client history also makes for more opportunities to personalize promotions.
•  Automated Marketing—Recurring marketing campaigns, like reaching out to customers on their birthday or the anniversary of their first visit, can be set simply by targeting an audience, selecting a template and picking a date for an email blast, and the rest is automated. Users can completely customize campaign templates and target clients based on dozens of criteria (e.g., what type of pet they own, how often they visit).
•  Credit Card Processing—Integrated credit card processing simplifies checkout and enables secure card number storage, which means convenience for clients, and profit potential from businesses in the form of monthly recurring memberships, online deposits and charges for late cancellations and no shows.
What are some of the newest features you've added to 123Pet Software? How do these features help service providers evolve to compete in today's marketplace? DaySmart continues to expand the 123Pet platform, including an online reputation management module released in February 2019. This enables businesses to solicit online reviews from customers, monitor the reviews being posted and respond to reviews all from a simple dashboard that is integrated into their existing business management software. Text marketing has also been recently released, allowing 123Pet users to build and manage automated marketing campaigns sent as text messages.   
Maintaining consistent communication with customers is extremely important for businesses to stay top of mind. Whether that means sending the latest promotions, delivering a follow-up message or responding to a Google review, engaged businesses show they are going the extra mile to maintain relationships and that means a lot to consumers. DaySmart endeavors to automate as many of these communications as possible, as this can be time-consuming for someone on top of other daily tasks.
What are the biggest challenges that pet businesses face in selecting and implementing a new business management platform? How can they overcome these challenges? Business owners looking to make the switch from paper to software, or from a software solution that isn't working for them to 123Pet, have limited time to "cut over"—as they need to enter data and train staff. That challenge frequently delays an implementation decision, but "pushing it off" can delay the start of ROI and compound the problems they (and their clients) are experiencing. To combat these effects, owners committed to improving their process should seek a vendor with easy-to-use software that provides free unlimited training and support for every user.
Another challenge for businesses is choosing a solution in a saturated market. There are many options out there to choose from, so selecting the right fit can be a daunting task. It is important that business leaders thoroughly investigate any offering to ensure it will address the challenges in their business. Be wary of any 'horizontal solution' that claims to be good for any small business, as these generic offerings are not tailor-made for the pet market. Coffee shops and food trucks can get by with generic solutions, but running any serious pet services business requires a purpose-built solution.
What does the future hold for 123Pet Software? For the remainder of 2020, DaySmart plans to expand its already active role in the pet services industry:
• Barring any cancellations, 123Pet will sponsor and present at Intergroom in May—the international grooming conference held each year in New Jersey. DaySmart CEO Jeff Dickerson will host an educational session, "Working Like a Dog: The Role of Technology in the Pet Business Industry" that will discuss digital trends that are shaping the industry, and how owners are leveraging technology to run and grow their businesses.
• 123Pet also launched its first "123Pet Groom Team" comprised of notable customers, like 11-year-old Gwendolyn, the country's youngest competitive groomer, and featuring Jackie Boulton, longtime 123Pet user and perennial grooming champion.
DaySmart's commitment to offering the best software solutions for its small business customers in the pet services industry is truly unmatched, as evident by the company's momentum. With nearly 100 employees at the onset of the year, DaySmart and its leadership team aim to more than double in size in every measurable area in the next two years through organic growth and an aggressive acquisition strategy.  PB