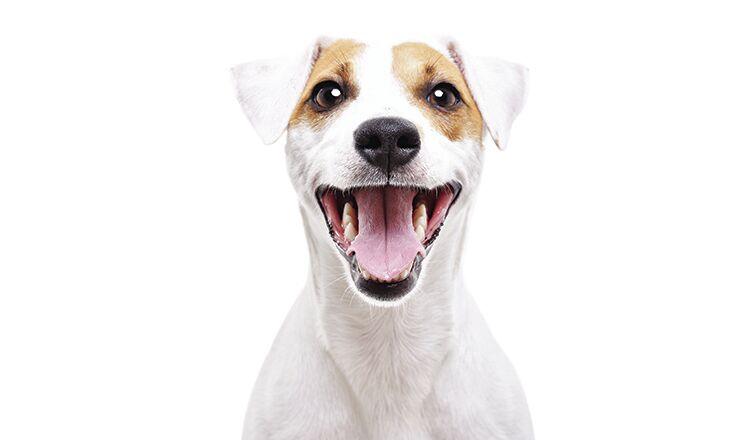 Want to keep your pet healthy and happy for years to come? Start with their smile. Everyone deserves a bright smile, including our pets. Of course, that doesn't mean that pets make caring for their teeth and gums easy. To that end, manufacturers are developing new and more effective ways to prevent plaque and fight gum disease without the hassle. 
"Just as we need good dental care for overall health, our pets also rely on the strength and overall care of their teeth," says Julie Creed, vice president of sales and marketing for Pure and Natural Pet. "Dental disease can not only cause bad breath, painful infections and higher vet bills, it can also cause life-threatening conditions [that affect] your dog's vital organs."
Those dangerous conditions happen when bacteria from the mouth, which causes plaque and tartar, enters the bloodstream and travels to internal organs, like the heart. Luckily, a pet's mouth is one of the more visible parts of their bodies, so pet parents are able to see if something's amiss.
"Since a pet's mouth is easy to see, whereas internal organs are not, pet parents can see if their dog or cat is developing teeth or gum problems and take steps early to avoid future health issues," says Michael Sapp, president of MiracleCorp in Dayton, Ohio. 
However, unlike other components of a healthy lifestyle, such as nutrition and exercise, pet owners often overlook the importance of dental hygiene to pets' well being. That's why approximately 80 percent of dogs and 70 percent of cats in the U.S. will develop some form of periodontal disease by the time they're three years old, experts explain.
"The gold standard of at home oral care would be to brush your pets' teeth daily," says Jennifer Green, a food scientist with NPIC. "97 percent of veterinarians recommend brushing your pet's teeth, and only 1 percent of actual pet owners do [it]." 
Best in Stock
Awareness is on the rise among pet parents, which creates new opportunities for pet retailers to increase category sales. In 2020, for instance, the pet oral care products market has grown to approximately $1.62 billion. By 2026, it's expected to reach over $2 billion.
"The size of this market is a double-edged sword for retailers," says Marjorie Murray, pet brand manager for The Missing Link. "Clearly, it can mean a continuous increase in sales by providing oral care products to meet the growing need. However, it also means that there is an ever-growing plethora of oral care products to choose from, which can be overwhelming for retailers and their customers."
To prevent customers from becoming intimidated by the sheer number of oral care options available and abandoning their effort all together, retailers should be thoughtful about which items they choose to stock. Curating the best possible selection of pet oral care products also means staying on top of the latest trends and innovations in the category. 
"While it is important to carry oral products, some retailers carry too many," says Sarah Salva, director of brand development at H&C Animal Health. "To build customer satisfaction, do your research and carry products you believe in." 
Latest Innovations
Like much of the pet industry, oral care products have increasingly focused on natural formulas "free from harsh chemicals and abrasives," says Scott Reinhardt, vice president of sales and marketing for SwedenCareUSA.
Natural ingredients, such as sea kelp, for instance, can help freshen breath and promote good dental health, while coconut oil is great for attacking oral bacteria and reducing the build-up of plaque. 
Additionally, "sweet potato and grape seed extract are newer ingredients to dental that enhance efficacy," explains Creed. "Sweet potato not only tastes great, [but] it is a great antioxidant and packed with vitamin A, which is important to the health of teeth and gums. While grapes are toxic to dogs, it's the grapes' skin that's problematic. Grape seeds are safe and help prevent tooth decay." 
Another major trend in the category is convenience. Since so many pet parents end up avoiding caring for their pet's teeth and gums due to the challenge of traditional brushing, manufacturers are creating solutions that make dental care easier for pets and owners alike.
"Getting a pet to be comfortable with letting their pet parent brush their teeth can take some time and patience, and most pet parents admit that tooth brushing is not a regular occurrence in their pet care process," says Murray. "'Treating' the dog with a dental chew is a helpful and feel-good option that pet parents appreciate for convenience and benefits."
Other oral care products are even going beyond treating current dental issues, like bad breath and plaque build-up, to preventing them from happening in the first place. 
"I think the trend needs to be in protection, as well as cleaning support," says Michael Stoeckle, president and CEO of Ark Naturals. 
Expert Guidance
Of course, stocking the best selection of oral care products is only one piece of the puzzle. Manufacturers also emphasize the importance of education—both of retailers and consumers—in driving category sales. 
"[Education] starts with manufacturer support and understanding the ingredients," explains Creed. "When your staff is informed, it makes the selling easier. We support our retailers with a variety of digital assets on our dental care products for them to utilize for their customer interactions."
Retailers should be proactive with their research when choosing which manufacturers to work with, advises Salva. 
"When selecting new products, ask the manufacturer for clinical studies, what their active ingredients are and other types of proof that the product they are selling you will actually work," she says.
Then, it's all about passing that education onto customers, says Eric Abbey, president and founder of Loving Pets in Cranbury, N.J.
"As 'humanization' continues to be a driving trend in the pet industry as a whole, educating customers is key," he continues. "Since the pet parent is making the purchasing decision, retailers want to offer products and solutions that their customers can easily relate to."
While traditional, in-store strategies (window displays, departmental signage, endcaps) are still a crucial part of any marketing plan, retailers should also put plenty of effort behind their digital outreach—especially considering how quickly shopping habits are changing in the wake of the pandemic. 
Creed recommends capitalizing on promotions during Dog Dental Month in February, sending digital HTMLs to customers that highlight the benefits of dental care, the products you carry and education on ingredients; hosting contests; and using social media. For his part, Abbey stresses the importance of product videos, testimonials, tutorials and reviews. 
Still, the most effective way to educate customers about pet oral care is by having conversations and building a rapport. 
"Being transparent and forming an excellent human connection on how we can love and care for pets then enables retailers to educate pet customers," says Green. "If the pet owner doesn't trust the company, then no amount of education will ever be effective. First, work on creating the shared connection we both have about loving our pets, then work on effective communication to educate customers."
When making recommendations, it's important for retailers to remind pet parents that there is no magical cure-all product. Good oral health for cats and dogs requires a regime of at-home care, dental products and regular cleanings at the vet's office. 
"Not all pet oral care products are the same because not all pet breeds are the same," explains Green. "What works best for a Chihuahua isn't going to be the same thing that works for a Pug or a Great Dane. You have to find what best works for you and your pet when choosing the best oral care products."
And now, with health and wellness top of mind like never before—for humans and pets alike—preventative health measures, like oral care, are not a short-term fad; they're part of the new normal. 
"The massive dental category will remain strong, but products will shift to new innovations and benefits, unique ingredients and flavors, all to meet the needs of customers who are looking for more customized, multi-functional product options," predicts Murray.  PB