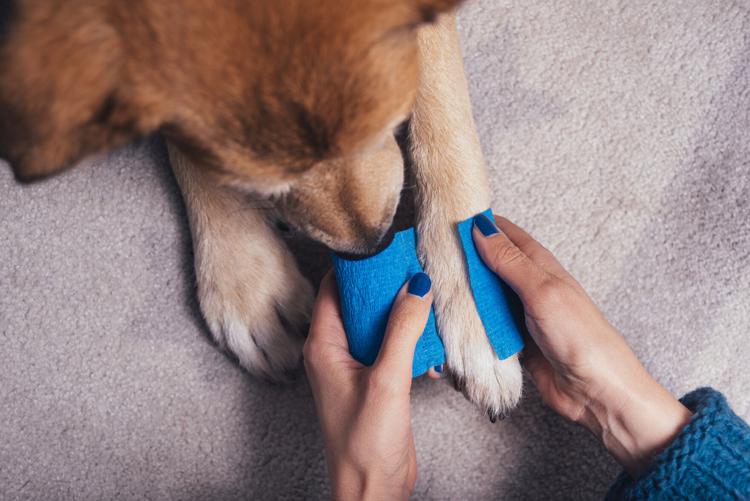 Similar to food and treats, first aid and wound care is one of those classic categories that are an essential component for all pet stores from Florida to Alaska. As one of the more regionally-consistent segments of pet care, it's less nuanced, easier to research and a consistently strong seller.
While almost everyone knows why it's important to keep first-aid products on hand—emergency preparedness—a fair amount of education is still needed to guide pet parents to the right products, teach them the proper application methods, ensure they're using the right items in the appropriate situation and increasing their reaction time during emergencies, explains Geoff Hamby, marketing director at Vetericyn Animal Wellness.
"When people need first aid and care, we know exactly where to go and what we need, if we don't have it on hand," adds Shelby Finn, education manager at Pet Releaf. "If we take that situation and insert our pet, our first concern as pet parents should be how to care for them right away, not 'Oh, no! What do I get?'".
In order to prep shoppers for the inevitable, retailers should focus their attention to hone their display and marketing techniques, as well as beef up sales associate education on all aspects for first aid and wound care.
Merchandising/Kits/Displays
While most pet products are for the owner moreso than the animal (Buster doesn't really care if his leash matches his collar), first aid and wound care products are created solely with an animals' needs in mind. The best way for retailers to keep first aid supplies in the spotlight is by, "providing easy access to these products," explains Alexis Nead, executive vice president of All Four Paws.
An effective way to highlight these products in stores is to offer them kits, both of the pre-made and mix-and-match varieties. While pre-made kits targeted to specific situations (camping/hiking, backyard, road trip, in-house) are easy for shoppers to grab and go, it isn't exactly a one-size-fits-all approach.
"Mix and match sections in the store are beneficial because there are so many different types of pets and situations out there, it's nice to be able to tailor to your pets' specific needs," explains Nead.
An easy way to guide customers to the best fit for their lifestyle is by asking targeting questions, explains Allison Cremeans, director of marketing for MiracleCorp. She continues that the line of questioning should include activity level; how the pet typically travels, whether it's bus, car, plane or train; the amount of time spent outdoors, and which seasons the pet typically sees the most outdoor time; as well as what the pet's most popular activities are, in terms of hiking, walking, playing or swimming.
"Every pet is different, and every situation needs a personal approach," explains Kok CEO/managing director of Suitical. "[With] a mix-and-match approach, retailers can offer the best solutions that suit pet parents' needs."
With the four most important areas of concentration being wound and skin irritations/issues, hot spots, ear issues and eye irritations, says Hamby, multiple products at a variety of price points should be offered as solutions in each of those areas to appeal to pet parents at all income or need levels. One consumer might have a pet who's prone to hot spots, therefore needing a more cost-effective solution due to the frequency of purchase, while they opt for a slightly higher-end paw balm.
Additionally, mix-and-match sections should carry products that account for the various places pets can get injured. According to Kok, retailers should carry products for outdoor injuries, which should focus on preventing heat stress in pets, as "dogs don't sweat the way we do;" indoor ailments, which include care products for minor skin irritations, as well as aftercare products for medical procedures or surgeries; and for travel injuries, which often are stressful times for pets.
There's also a different eye to quality when it comes to first aid and wound care products. While other categories are evaluated on certain criteria—"when pet parents are choosing a collar and a leash, they're evaluating materials, colors and functionality," explains Cremeans—first-aid and wound care products are evaluated on an efficacy basis, as consumers want a product that's fast, effective, affordable and easily accessible in stores so, if they don't have the products on-hand, they can easily pop in and out of the store in times of emergencies.
Flinn explains that all this freedom surrounding creative displays is part of the "beauty" of independent retailing—"merchandising brings awareness to the customer and gives them something to look at in a special display, when they might have not ever gone to that part of the store before where the perfect product for them awaits."
Of course, creative ways to merchandise and market these products goes far beyond the four walls of brick-and-mortar storefronts. Retailers that are able to tap into the internet's potential and create a strong online presence will help raise awareness of, and sales for, these products.
"Blogging, social media and in-store classes are all great ways retailers can introduce these products to customers and help explain their impact on pet health," says Hamby. "There are also more traditional marketing tactics, like couponing, bundling or cross-merchandising."
Beyond the advertising and awareness side social media offers, retailers can use it as another platform to connect with their customers on a personal level and remain in constant contact with their shoppers, as well as get consumer feedback on various products.
"Getting creative on social media with reviews or before/after images of your customer's experiences with products would be a great way to engage your audience," says Cremeans. "Make sure to follow up with your customers that have purchased products from your first aid and wound care set. If the product didn't solve the problem, that's important to know as well so you can re-evaluate your offerings."  PB