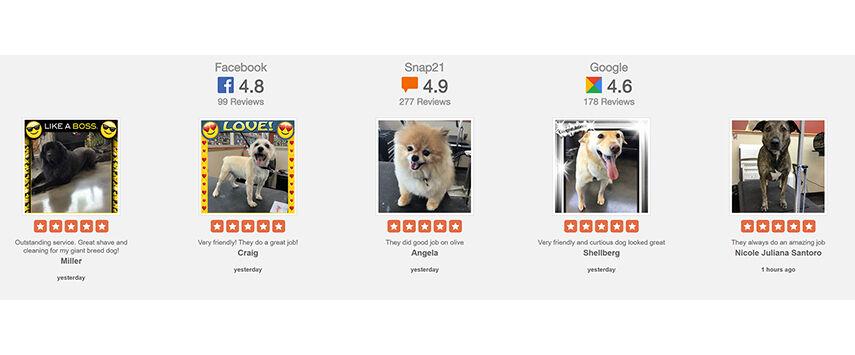 Snap21 describes itself as an integrated photo review app, one-touch social sharing and review platform. How does it work? Snap21 is Easy—Capture a photo of the groomed pet (take a picture with the app or select an image from your photo library). Fill in the pet owner's name(s), phone number to text (or email address) and tap "send." It's that easy. The process is all done within the Snap21 app, which runs on smartphones or tablets and is IOS and Android compatible.
Snap21 is Quick—The photo is sent along with the review request and immediately delivered to your client, requesting them to rate and review their experience.
•  One-touch 5-Star Rating System
•  Unique Client Photo (auto-tagged and branded by Snap21 with Salon identity)
•  Exclusive One-Touch Social Sharing (pet owners can quickly share their experience with THEIR family and friends)
•  Customizable message area for the Salon
•  The review request is branded—to both the Salon and Groomer
Snap21 is Simple & Convenient—Our simple review form is paired with the photo. Clients can complete this review form right on their mobile device (no browsing or registration or login required). After answering a few one-click questions to verify their satisfaction and how they found your salon they complete the review with details about their experience, enter their first name and last name initial, zip code, opt-in (giving permission to use the photo), then press submit. That's it!
Snap21 reduces friction by only asking clients to do what is necessary—no more, no less. You have now earned the review... and you own the testimonial.
Why and how was Snap21 tailored specifically for grooming salons? The Snap21 photo app was developed to "capture an emotional moment." That, combined with the love we have for our pets, presented a great opportunity to tailor Snap21 for pet services.
Snap21 approached a large franchisee group for a national chain to suggest that we collaborate on developing a pilot program for pet grooming. As a result, the tailored feature of the "pet is ready notification" was developed. When grooming is complete, a photo is taken and a notification is sent to the pet owner(s). This allows owners to review the photo and make any necessary tweaks prior to pick up. Owners also have the option to share their pets' (branded) photo with their social circles. Twenty-four hours after the pick-up notification, we send another message (along with the photo) requesting that the pet owner(s) review their pet's grooming experience with the salon and groomer.
How would a typical grooming salon use Snap21 to improve its business? Snap21's proactive approach and photo app provides high review capture rates to provide strong online social proof for new prospective customers, and social sharing by customer's to friends and family quickly expands the sphere of influence for the salon and it's individual groomers. The Snap21 Review platform is validated and recognized by Google adding significant weight to salon and groomers' SEO results. Snap21's customizable photo frames also enable a salon to further brand and differentiate their groomed pet/review photos.
How has Snap21 been received within the pet industry? What kind of feedback have you received from grooming businesses? For the pet grooming pilot program our grooming partner provided us with results for their seven locations (two locations for 12 months, four locations for six months, and one location for four months):
•  Total Snaps Sent: 4,692 Total Clicks to leave Review: 1,917 (40.8 percent)
•  Social Shares: 1,008 (29 percent) Social Impressions: 143,736 (208 average)
What does the future hold for Snap21, specifically when it comes to its application in the pet industry? We're just beginning operations in the pet services market and feel our emotionally based photo app, coupled with the rapid growth of the pet services market, should be a very promising sign! PB