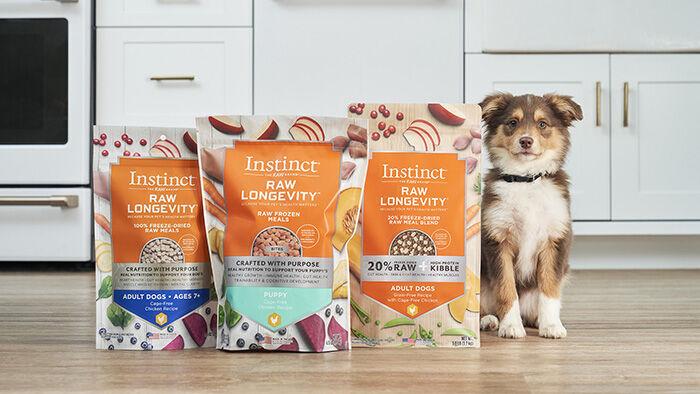 Tell us about Instinct's philosophy on delivering high-quality nutrition to pets. What makes the company's approach stand out in a very competitive marketplace? Instinct has been devoted to providing raw pet food since our start nearly 20 years ago—a time when raw diets hadn't caught on nearly as much as they have today. We want all pets to live longer, happier, healthier lives, and that starts with the food they eat. As The Raw Brand, we focus on raw pet food because raw, uncooked food provides unique, proven health benefits compared to conventional, cooked pet food. 
Instinct's approach to pet food has always been to put the pet's health first, and that requires a dedicated team of pet nutrition experts, which Instinct is equipped with! We're excited to have seen raw feeding grow rapidly in popularity over the last several years as more retailers and pet parents see the benefits of raw diets for themselves. 
Factors that set Instinct apart include the fact that we go the extra mile to ensure our recipes are backed by science and that our safety and quality standards are unparalleled. Our nutritional philosophy builds on the intrinsic benefit of raw nutrition, and our accomplished nutritionist and food scientists work to accentuate the functional benefits, whether by life stage or special need. Regarding safety and quality, our raw recipes undergo an anti-pathogen step, high pressure processing (HPP), and our company-owned facilities in Lincoln, Neb., have achieved higher Safe Quality Food (SQF) certification than any other raw pet food brand in North America: an "Excellent" Food Safety rating and certification in Quality. 
Instinct has been at the forefront of the raw food movement since it began. How have your portfolio and go-to-market strategy evolved along with this pet food category? At Instinct, our goal is to make raw nutrition accessible for every pet. That goal has helped us develop a portfolio of recipes that meets the needs of a variety of pet parents, whether they wish to feed 100-percent raw frozen or freeze-dried, or a partial raw diet with options like raw meal toppers or kibble recipes boosted with freeze-dried raw. Raw diets don't have to be all or nothing in order for pets to benefit from raw—we acted on this belief early-on and were raw category leaders, being the first brand to create a kibble + raw product back in 2012.
This month, we're proud to introduce our most advanced raw recipes to date, Instinct Raw Longevity. These enhanced raw recipes are crafted with purpose and backed by science to provide more guaranteed nutrition for each life stage. Dogs can spend 50 percent of their lives as seniors—versus humans who spend 37 percent—so it's important to choose the appropriate recipes to support a healthy aging process. We're proud to offer pet parents with proactive nutrition for longer, healthier and happier lives.
Many pet specialty retailers report that raw diets continue to be among the fastest-growing categories in their stores. To what do you attribute this growth? How can retailers and manufacturers work together to push the category even further? Pet parents are seeking out more natural ways to feed themselves and their pets, and that can lead them to discovering raw, which is minimally processed, made with real, recognizable ingredients, and provides the best nutrition for their pet. Besides the natural food movement, there has been increasing talk online about raw pet food and its benefits, plus more scientific support of raw. This has all contributed to a booming raw category.
Retailers can help further grow the raw category by educating consumers about the value and benefits of raw nutrition and showcasing raw prominently in stores. Although raw is a fast-growing category, the pet food industry is still dominated by kibble; many pet parents still don't realize that raw is more nutrient dense than cooked foods like kibble and that it provides unique health benefits, contributing to a pet's lifelong health. Raw truly is best for their pet and without this understanding, a pet parent isn't likely to choose raw. 
Manufacturers like Instinct are helping retailers make raw a destination in their stores by increasing our investment in retailer freezer space and offering tools to help associates learn about raw nutrition. Store associates can participate in our online Instinct University training portal to become raw experts! Instinct also provides booklets for consumers to walk them through the basics of raw nutrition. These tools and resources from Instinct will make it easier for associates to confidently recommend raw and make a successful transition for pet parents who are new to raw.
In parallel with the tools Instinct is already offering, we have sponsored ongoing research to show the power of raw diets. The University of Helsinki's DogRisk research group has shown that raw-fed puppies grow up to have a lower likelihood of developing environmental allergies or Irritable Bowel Disease than kibble-fed puppies. The more that retailers can bring compelling facts like this to consumers and make raw a prominent feature in stores, the more likely it is that people will upgrade to raw. 
Are there any common mistakes that retailers make that end uplimiting the sales potential of raw diets in their stores? How can they avoid or overcome these mistakes? If store associates aren't up to speed on the benefits of raw or emerging scientific support of raw, this could limit the potential sales of raw diets in their store. A pet parent who has only fed conventional pet food may need more education and hand holding before they switch to raw. It's key for retailers to convey to consumers that feeding raw is an investment in a pet's lifelong health, and that feeding raw can be simple, since it comes in a variety of forms to meet the needs of the pet and pet parent. Retailers can overcome a lack of associate education by prioritizing training—brands like Instinct make this easy. Instinct is laser-focused on raw education, even creating an online portal, Instinct University, to help retail associates learn about raw and be rewarded for training completion.
What are some of Instinct's most popular products in the raw diet category? What about these products strikes a chord with pet owners? When it comes to 100-percent raw products, we've seen tremendous growth in the freeze-dried raw category, especially products focused on specific health benefits like Instinct Raw Boost Mixers with functional ingredients. Providing pet parents with tangible benefits like gut health, mobility support, or skin and coat health helps them see the value in raw and see the benefits their pet is receiving more clearly. We believe those key nutrients are essential in promoting a longer, healthier life for our pets, and we carried those insights over when formulating our newest, most advanced raw recipes, Instinct Raw Longevity. 
Does Instinct have any new products on the market or in the pipeline? How do these new offerings innovate pet nutrition? Pets have unique nutritional needs at every life stage and Instinct wants to ensure the best for every age—this insight and the latest scientific research on raw were the basis for Instinct's new product line, Instinct Raw Longevity, which is launching this month. Instinct Raw Longevity is our most advanced recipe line. These enhanced raw recipes are backed by the latest health nutrition science to provide more guaranteed nutrition for each life stage; Raw Longevity ingredients were selected with purpose to create a blend of high raw meat protein with a rainbow of fruits and vegetables to deliver guaranteed health outcomes at each life stage. 
In this new line, find dog and cat recipes tailored for puppies, kittens, adults, and adults seven-plus, available in a variety of proteins across multiple forms: frozen raw, freeze-dried raw, and an innovative 20 percent raw + kibble blend. Every Instinct Raw Longevity recipe delivers guaranteed nutrients for healthier heart, immune, gut, and skin and coat to ensure your beloved dog and cat have a chance at a healthier, happier and longer life.
Instinct Raw Longevity is innovative for pet nutrition because it provides more guaranteed nutrients to support a pet's health span than other raw pet foods. It also recognizes that nutrition tailored for a pet's life stage is optimal compared to a diet balanced for "all life stages." This line is exclusively available at neighborhood pet stores.
What types of sales and marketing support does Instinct provide to its retail partners? Instinct provides retailers with an array of merchandising tools and educational resources to support retail partners. In fact, Instinct worked in partnership with retailers in developing in-store and digital marketing tactics so retailers could provide feedback and ensure what we were creating would work well in their retail spaces. 
On the merchandising side, Instinct provides several secondary display options and POS materials to meet retailer needs and provide in-store education to the consumer. For associates, training via our online training portal, Instinct University, provides immense value; industry-leading experts created courses that cover a wide range of topics from pet nutrition to Instinct product to the science behind raw. Besides digital training, we offer consumer and associate literature to highlight not only our portfolio but also educate them on the science of raw and the investment Instinct has made in pet nutrition research. In addition, Instinct offers digital support for retailers to create an omnichannel strategy and drive consumers into stores. Merchandising and educational tools make it easy for retailers to be highly informed about raw and to make raw the center of their store.
As a brand, Instinct is leading marketing initiatives focused on raw pet food and its benefits. Brand-led campaigns and activations help increase brand awareness and consumer awareness of the raw category as a whole, which in turn drives more consumers into retailers looking for Instinct. 
What does the future hold for Instinct, as well as the raw food category overall? Instinct will continue to innovate based on what provides the most health benefits for our pets. The science of raw food has always been at our core, and we evolve our recipes based on emerging research as well as consumer preferences and demand. The natural food movement is here to stay, as well as a push towards sustainability and brand transparency. Instinct is passionate about these issues and we're taking action to reflect our dedication to them; this includes being a Guardian Member of the Pet Sustainability Coalition, developing recyclable raw frozen packaging in our new Raw Longevity line, and planning to build our new manufacturing facilities in Lincoln, Neb., to achieve LEED certification.  PB