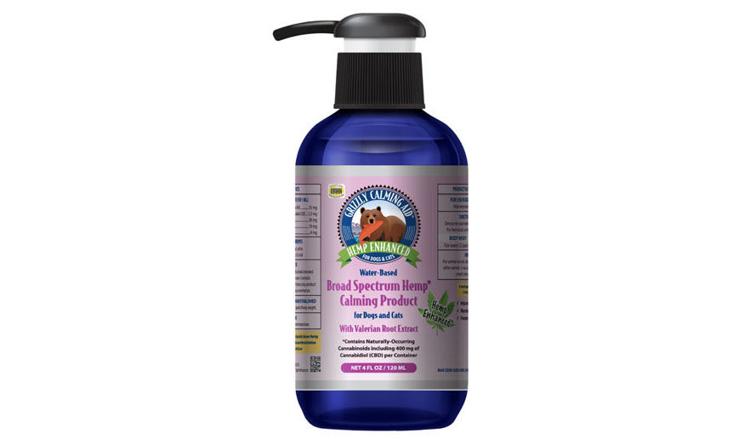 Grizzly's (grizzlypetproducts.com) Calming Aid combines organically-grown, broad-spectrum hemp containing CBD, valerian extract, l-tryptophan and l-theanine for enhanced calming effects. Its proprietary formula is designed to reach all of the CBD receptors to help dogs and cats relax and manage anxiety. The product is manufactured in a cGMP facility certified by the National Animal Supplement Council, with veterinarian-established dosing on the label.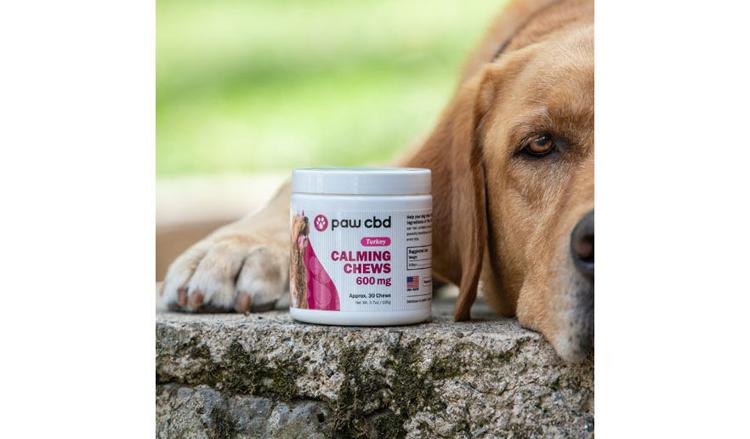 Paw CBD (pawcbd.com) veterinarian-formulated Calming Chews come in a turkey flavor and have a soft texture, making them suitable for small dogs and those with sensitive teeth. The Calming Chews started as the company's CBD Soft Chews, but with added calming ingredients l-tryptophan, chamomile and passionflower. The chews come in three strengths (150 mg., 300 mg. and 600 mg.) based on dog's weight, for more controlled serving options and optimal effectiveness.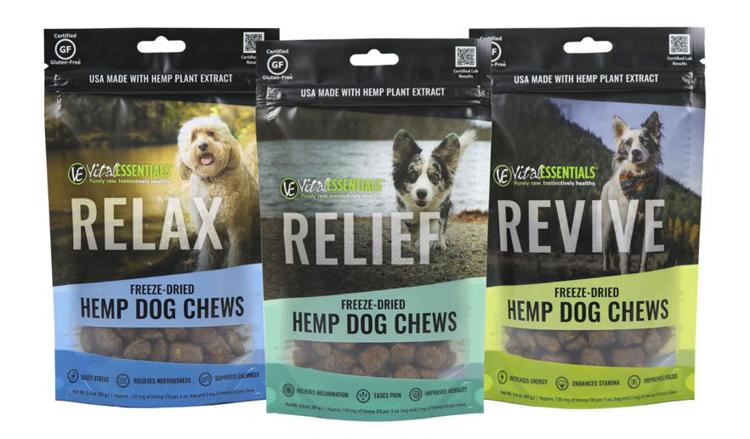 Vital Essentials' (vitalessentialsraw.com) Hemp Chews are designed to address specific conditions that dogs may face, such as anxiety, lack of focus or pain. Available in RELIEF, RELAX and REVIVE, all three formulations are made with 100 percent U.S. farm-raised beef infused with Wisconsin hemp oil and freeze-dried to maintain freshness. Every chew contains 2 mg. of hemp oil and each resealable 3 oz. bag contains 120 mg. of hemp oil.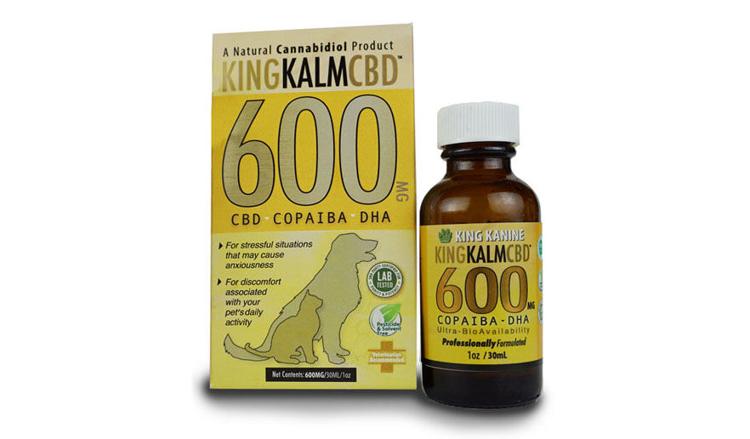 King Kanine (kingkanine.com)'s CBD for pets combines high-quality cannabidiol with natural Copaiba oil for dogs and DHA to deliver a more potent and soothing effect than CBD oil on its own. The product can be used to aid pets experiencing symptoms related to issues such as anxiousness, physical discomfort, noise discomfort and more. The CBD is extracted from industrial hemp only cultivated in the U.S. in strict compliance with local and federal laws.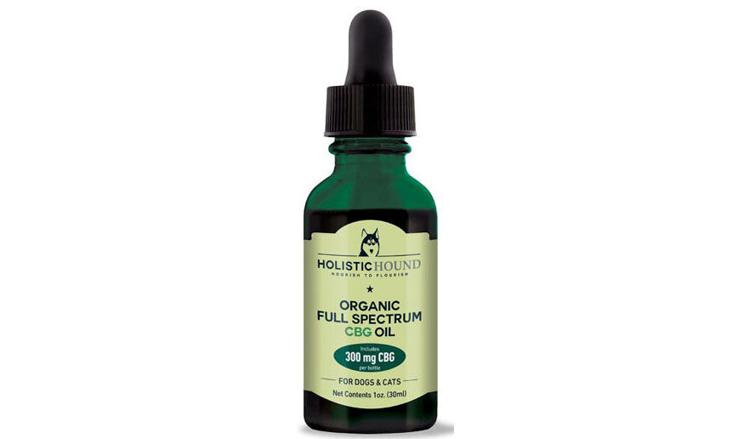 Holistic Hound (holistichound.com) full spectrum CBG hemp oil is organically-grown on a family farm in Oregon. It contains vitamins, minerals, fatty acids, phytonutrients and promotes a sense of relaxation and mental alertness without drowsiness. The oil utilizes organic MCT coconut oil as the carrier, which is unflavored for easy administration. Early research also suggests that CBG may help support digestive and urinary health, enhance brain function and help maintain joint mobility.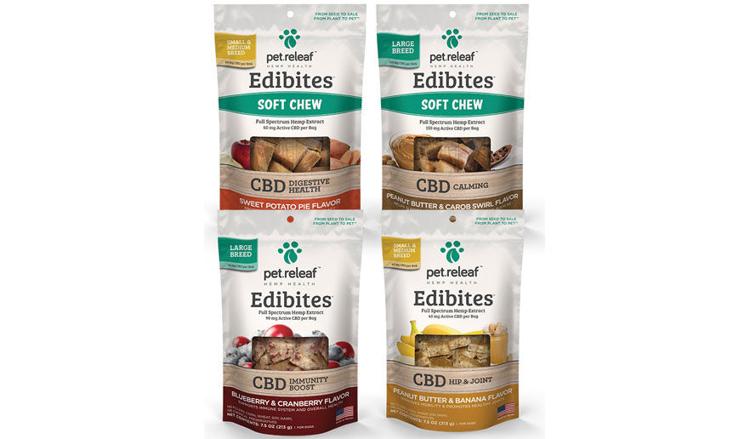 Pet Releaf's (petreleaf.com) Edibites are CBD-infused and contain functional ingredients. Pet Releaf Edibites include ingredients such as glucosamine, chondroitin, noni, baobab, chamomile, ginger and marshmallow root. The product is available in Hip & Joint, Calming, Digestive Health, and Immunity Boost. Edibites are handmade and baked in the company's Colorado kitchen.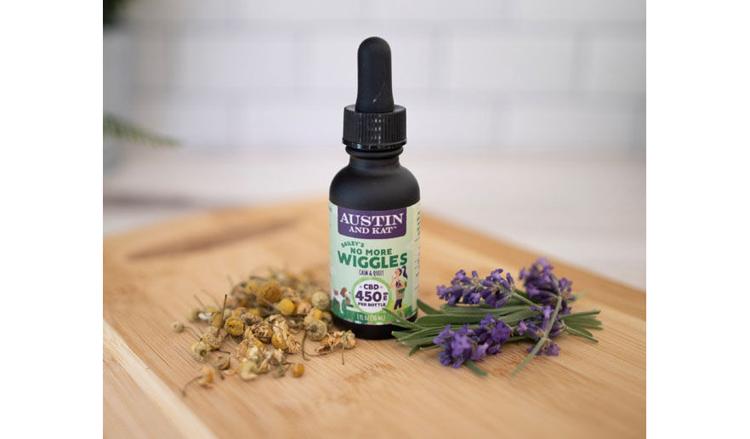 Austin and Kat (austinandkat.com) Bailey's No More Wiggles is designed to address the nervous system of the most anxious dogs. The blend has organic botanical extracts of lavender, valerian root, passionflower and chamomile. The cold-pressed blend also features a new high-purity hemp extract. The formula helps pets navigate everyday stressors—from separation anxiety to the doorbell.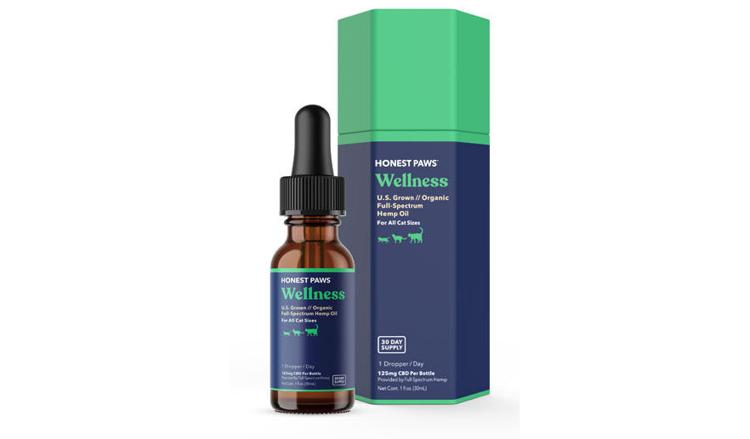 Honest Paws' (honestpaws.com) CBD Oil for Cats Tincture is formulated specifically to help felines deal with anxiety, pain, mobility and inflammation. The cat tincture offers 125 mg. of the company's award-winning full-spectrum CBD oil. With a terpene profile sourced from a specific hemp strain, the cat tincture treats felines that suffer from both the mental and physical issues that CBD can effectively address.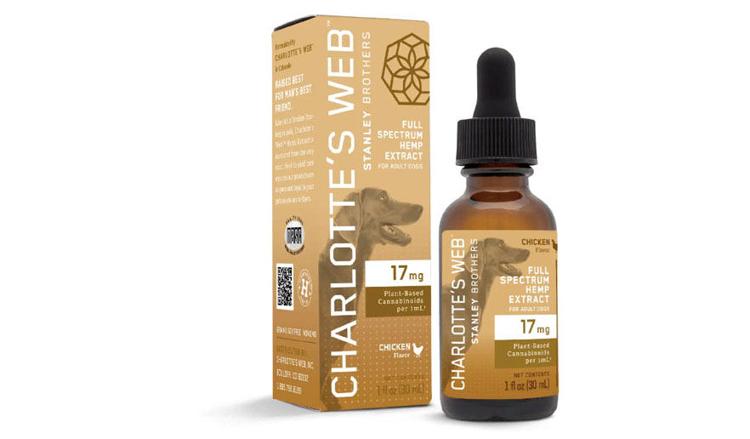 Charlotte's Web (charlottesweb.com) pet oils are made from the same quality extracts as its human products and feature a new plastic dropper made from BPA-free polypropylene featuring graduated markings to assist in accurate dosing. Charlotte's Web pet line contains CBD from full spectrum hemp extract that is U.S.-grown and Hemp Authority certified. All products are made with food-grade Charlotte's Web extracts and its oils and chews contain no wheat, corn or soy.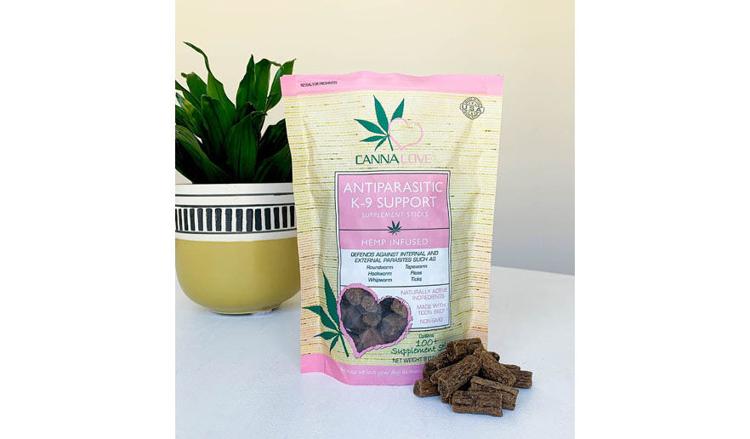 The PetFx (pet-fx.com) CannaLove Antiparasitic K-9 Support hemp-infused supplement sticks help protect dogs against internal and external parasites, without the side effects of synthetic parasite medication. The natural product utilizes garlic, licorice, ginger and fennel. Continuous use of product helps expel internal parasites such as roundworms or hookworms. It also helps repel external parasites such as fleas and ticks, restore digestive health after a parasitic infection and reduce parasite related problems such as anxiety and malnutrition.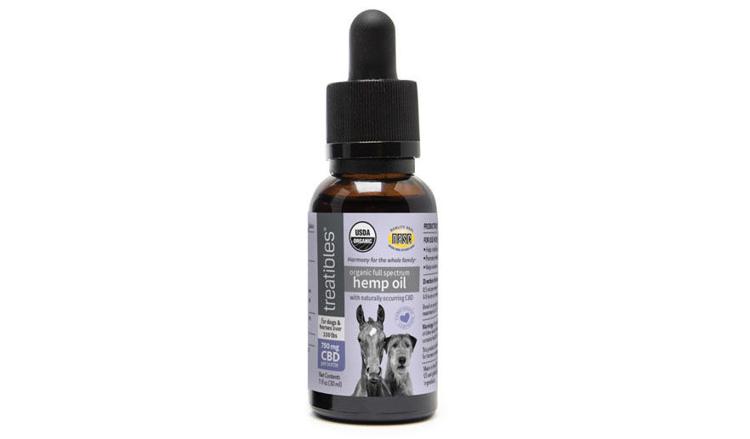 Treatibles (treatibles.com) 750 mg. Full Spectrum Hemp Oil with naturally occurring CBD adheres to the protocols set forth by the NASC, with guidance from the FDA and FDA-CVM. Treatibles sources the USDA certified organic full spectrum hemp oil from its own organic hemp farm. The proprietary formula features a blend of naturally occurring CBD, supporting cannabinoids, terpenes and several other beneficial compounds.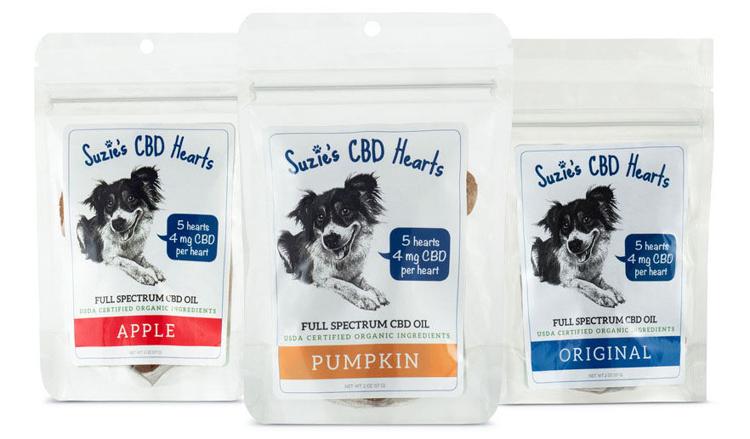 Suzie's CBD Treats (suziespettreats.com) CBD Biscuit Sampler Trio contains a sample bag of pumpkin, apple and original flavors. Each sample bag contains five treats with 4 mg. of CBD per treat. The CBD Biscuit Sampler Trio is suitable for overall health and wellness, easing anxiety, antioxidant support, increased mobility, neurological support and inflammation relief. Suzie's CBD Biscuits are non-GMO, preservative-free and lab tested.