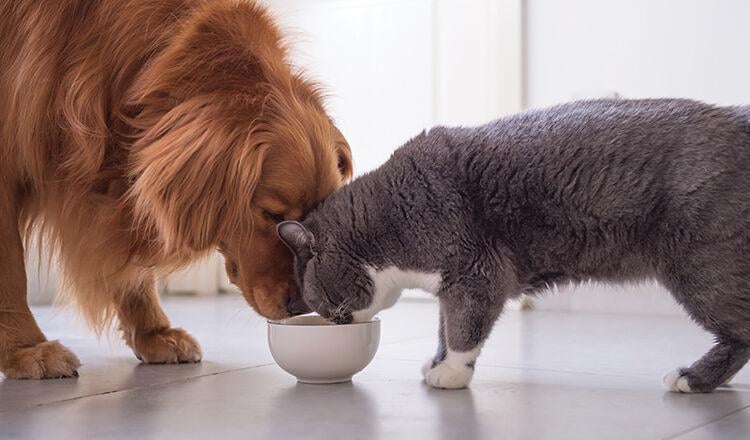 There was a time when grain-inclusive diets started taking a back seat as grain-free diets emerged on the scene—but not anymore. 
Public opinion on grain-free diets shifted in a major way following the Food and Drug Administration's (FDA) statement implying that there was a link between these foods and canine heart disease. This inadvertently prompted pet parents to seek out and vet alternative diets, including grain-inclusive ones, to ensure their pet's diet safely fulfilled their nutritional needs. 
"Since that report launched, we've noticed that consumers have not only become more aware of grain in a pet's diet, but have been more conscious of their pet's diet as a whole," says Kate McCarron, top dog at Portland Pet Food Company. "More than ever, pet owners are looking for variety in their pet's food."
As pet parents investigate and do their due diligence to learn more about how beneficial these diets can be, some are making the switch to grain. Even if the dust has settled on the whole grain-free/DCM controversy, manufacturers have found that more pet parents have opened up to the idea of using grain-inclusive diets. 
"I think the momentum for grain-inclusive formulas has maintained," says Robert Downey, president of Annamaet Petfoods. "I think some pet parents have simply found that their pet does just as well on a grain-inclusive food and they often find these products are less expensive and equally nutritious." 
Despite trends about the popularity of grain-inclusive diets over the years, the bottom line is that pet parents want a formula that can successfully support their pets' health and well being.
"Grains are just one category of ingredients with an excellent profile of nutrients and dietary fiber to include as part of an overall balanced diet," says Heather Acuff, product development manager of Nulo. 
Going for Grains
Within the grain category, there are different varieties to choose from, such as barley, corn, oats, rice, wheat, rye and sorghum.
"Wholesome grains like oatmeal, brown rice and whole oats are carbohydrates which provide a highly-digestible, readily available source of energy for pets," says Natalie Asaro, MSc, companion animal nutritionist with Petcurean. "These grains are also great sources of protein and fiber." 
According to Kathy Gross, Ph.D., worldwide director of clinical nutrition at Hill's Pet Nutrition, grains have a purpose for both dogs and cats of all ages and can serve as a source of energy, plant-based protein, essential vitamins and minerals and healthy fiber.
 "The nutrients in grains nourish the heart, help build strong bones and teeth, maintain healthy digestion and provide the calories needed for our pets' daily play and activity," she says. 
In some cases, grains can also help improve a pet's health and address certain conditions. Dr. Gross shares that grain allergies are rarer than you might think and, "properly balanced foods, designed with the right type and amount of grains, can be used as nutritional aids in the management of many pet health conditions."
Distinguishing the right type of grains is important for retailers and pet parents, since not all grains are viewed the same way.
"While there is no regulatory definition of ancient grains, they are considered grains that are unchanged by selective hybridization and genetic modification over the last several centuries," says Acuff. "The key differences between ancient and modern grains are seen in crop yield, crop hardiness, genetic diversity and nutritional composition." 
However, not all grains offer the same nutritional content, which is something all pet parents should realize before picking out an option for their pet. 
"A diet containing high levels of refined grains does not support immune health and increases the chance of immune mediated diseases in dogs, such as allergies," explains Downey. "Compared to refined grains, most whole grains provide more protein, fiber and other nutrients, including calcium, magnesium, potassium as well as phytonutrients." 
With all the benefits they can offer, certain grains may end up being an important component of pets' diets, with more than one variety infused into a single formula. 
"Grains are a great source of vitamins, minerals and fiber—they aren't just filler," says Downey. "Each grain has its own unique nutritional profile, so adding more than one will often improve the nutrient profile of the whole diet." 
At the end of the day, to provide optimal nutrition for pets, grains are just one type of ingredient in a complete and balanced diet. 
"It is important to have the right balance of nutrients in your dog's food, grains provide dogs with important digestible nutrients including energy, protein, vitamin E and linoleic acid," says Dr. Gross. "It is those nutrients that are crucial to a dog's overall health." 
Selling Solutions
It's imperative for manufacturers to have a crystal clear explanation as to where they source their products because educated pet parents care more than ever before. Pet food manufacturers have to be committed to transparency when it comes to the ingredients they use and their manufacturing procedures. 
Many manufacturers, such as Annamaet, rely on trusted suppliers and conduct their own independent lab testing. 
"Our raw materials coming in are tested for aflatoxins and vomitoxins, and no product is released without salmonella and other bacterial testing as well as proximate analysis to ensure proper nutrient levels," says Downey. 
Each grain product sourced can have a different nutritional value, as a result of how they've been sourced. 
"...I'd recommend looking into the processing of the grains," says McCarron. "If looking at a product cooked in large batches at an extremely high heat, it's unlikely that the grains hold any nutritional value anymore, whereas a slow-cooked meal will still maintain all of the benefits it originally held." 
"We also analyze each product's ingredient profile for essential nutrients to ensure your pet gets the stringent, precise formulation they need," adds Dr. Gross 
Asaro highlights that on top of looking for options that come from a trusted source and are formulated with quality ingredients, pet parents should consult the product's packaging to learn more about it.
"It's...critical to ensure the packaging includes all the important information from a nutrition perspective including an ingredient statement, guaranteed analysis, calorie content, feeding guidelines and a nutritional adequacy statement," says Asaro. 
What's on the packaging matters, including the brand name. Since several companies offer a range of recipes, including those which are grain-free, provide high animal protein, moderate protein, plant-based protein or contain limited ingredients to address food sensitivities, retailers can provide a variety of solutions using one trusted brand. 
"This will help ensure you are selecting a company that is well-experienced and not simply responding to a trend in the market," adds Asaro. 
It's the responsibility of the retailer to convey as much product information as possible so customers can come to their own conclusions. It's also key for retailers to keep in mind that, before altering a pet's diet, a pet parent should consult with their veterinarian about the diet change. 
When it comes to pet nutrition, "there can be a lot of misleading information out there, that's why it's more important than ever that pet parents get the facts needed to make informed decisions," says Dr. Gross. 
Finding the Right Fit
Before anything else, sales associates and retailers need to be educated about the benefits of using grain-inclusive diets. Thankfully, in addition to working with suppliers to secure all information about specific products, there is a ton of information online about grain diets for retailers to tap into. 
"Share case studies, blogs and other information with sales associates so that they can feel confident assisting customers who may not understand the difference between grains and why they are so crucial to pet health," McCarron suggests. 
Using online tools is key in our world today, and finding ways to engage consumers and educate them as much as possible about the options available to them will help you establish trust and authority in their eyes. 
"It's important to provide opportunities to connect with your customers to provide the same level of guidance via chat, email or telephone," says Asaro. 
In stores, sales associates will likely work with customers that have researched the grain diet and have an idea of what they're looking for. Asaro feels that when working with an educated consumer, the best service a sales associate can provide is to help guide them to the final decision that's best for their pet. Being passionate about your products and pet nutrition on the whole will go a long way, too. 
As sales associates discuss diets with customers, it's important for them to not limit their recommendations to one particular diet, but to showcase all the options available. 
"A well-trained sales associate would not advocate for any particular type of diet above others," explains Asaro. "Instead, they will help pet parents understand that dietary requirements will vary by animal, and that the most important thing is ensure those needs are met."  PB