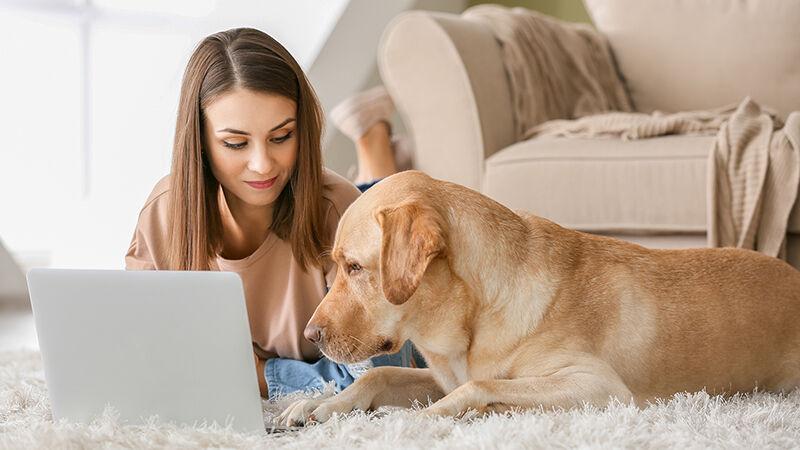 Every now and then, a cosmic shift shakes the pet industry and everyone needs to scramble to figure out the best way to react. When faced with a worldwide pandemic, the pet industry and pet consumers were in the same boat—both in uncertain territory in a strange, scary new world. 
While this time introduced challenges for everyone, the pet industry is fortunate enough to have come out stronger than ever. From the pet adoption surge early on in the pandemic, to pet owners spending more time with their pets than ever before, it's evident just how much people value their pets. 
"Just spending more time together, taking work breaks together, being outdoors more often, all of this has had a calming effect on pet owners during the pandemic," says Jeff Logan, director of marketing for Dexas. 
According to the fourth and final volume of the American Pet Product Association's APPA COVID-19 Pulse Study, 64 percent of pet owners felt as if they bonded more with their pets during the pandemic, the highest percentage out of all four volumes. In such close proximity, it's natural for pet parents to more clearly recognize their pets' needs, and for them to seek out ways to help address any issues their pets may have.
"This awareness helps pet owners look for ways to occupy their pets; whether that's by providing them with the right toy, a softer bed, more walks or more exercise, dog owners become more in-tune with their pet's needs," says Spencer Williams, CEO of West Paw. 
Shifts In Shopping Habits
In spite of early concerns about their financial health, the pandemic had little impact on pet parent's purchasing behavior. This was demonstrated across all different volumes of the APPA study. Pet treats, in particular, appeared to be a consistent purchase. 
However,  while Gen Z and Millennials had the highest percentage of adopting pets (if they had a household income over $100K and lived in urban communities), they also reportedly had the most issues with their pet ownership (by putting off owning a pet or giving a pet up) during this time. Largely, out of all the demographics, Baby Boomers' pet ownership was barely, if at all, impacted by the pandemic, with 92 percent saying there was no change.
When it comes to where these consumers have been shopping, the study indicates that visiting stores in-person continues to be the preferred medium for getting pet products. The survey found that 69 percent of respondents purchased food in particular from brick-and-mortar stores, versus the 16 percent that ordered online and had it delivered to their homes. The APPA study also found that the only pet care category that did better online was vitamin and supplements, as compared to how they perform in-store. 
Still, there's no denying the profound impact of e-commerce. Comparatively, more pet parents have turned to online platforms to order essentials they may have otherwise purchased in stores before 2020. Long after the pandemic ends, the need for a robust social media presence and a strong, informative website will remain. 
"The one shopping habit that stands out to us the most are the behavior shifts happening online at an ever increasing rate," said Williams. "Online shopping has grown substantially in 2020 and we, too, have seen growth in these channels as well."
Trending Products 
As a direct result of the pandemic pet adoption surge, basic products—everything from food and treats to bedding, containment, etc. saw an increase. While spending days at home with pets, consumers naturally picked up on their quirks more and sought out products that could help address potentially disrupting or destructive tendencies. 
"We saw a rise in 'brain game' toys and 'slow feeder' toys," says Williams. "Customers are seeking products that help solve problems such as chewing, boredom or eating too quickly. Dog toys that encourage exercise and mental engagement are driving sales and inspiring pet product manufacturers, like West Paw, to get even more creative in our design of play and chew toys." 
Aside from keeping pets entertained, another factor that become pretty obvious when spending extended time with pets is how messy they can be.
"We certainly have seen heavy demand during the pandemic for our award-winning MudBuster pet paw washers," Logan reveals. "Thousands of pet owners discover the MudBuster each month, and the more time they spend with their pets and the more adventures they have outdoors, there has certainly been an increase in the need for quick grooming solutions."  
Keeping up with a pet's hygiene in-between bath times, and ensuring that the surrounding environment was cleaner for the entire household, became a bigger priority for pet owners during the pandemic. 
"Because of this lifestyle change, consumers have realized the importance of their home environment and have become more aware of the cleanliness of their home," says Kelley Bond, marketing manager at Boxiecat. 
The company's BoxiePro line features Deep Clean formulas, which are made with a blend of probiotics that deep cleans litter on a microscopic level. This helps prevent the spread of waste from the litter box to other areas of the home. 
"In addition to purchasing more products, we believe the trend has been to purchase better products that solve specific problems," adds Bond.  
Of course, although pets can be a challenge from time to time, they bring joy, happiness and serve as a source of stress-relief for their families. 
"We believe that an unexpected benefit of the pandemic has been this increased appreciation of family time and that includes all members of the family," says Logan.  "Interacting and exercising with your dog outdoors has become such a safe haven, and plenty of families have rediscovered some of these simple unplugged pleasures." 
As a result, more consumers continue to look for ways to include pets in activities they'd usually partake in when away from the home, such as going on vacation or even going into work. 
"With many dogs now traveling to and from the office, and needing stimulation while at the office, we have seen an increase in our dog mats, leashes, collars, and mentally stimulating dog toys," says Williams.
Predicting the Post-Pandemic Lifestyle
Now that vaccines have taken hold and more restrictions have been lifted, the day-to-day impact of the pandemic has eased for the overall U.S. population. This change means that pet owners, if they haven't already, will adjust their schedules and will likely spend less time with their pets, even if they don't want to. 
"People will naturally shift back to some habits, but regarding their pets, they will now work harder to take them with them rather than leave them alone, as they may have before," says Williams. 
Some employers are recognizing how much pet owners value their dogs, cats and other pets, and many are more open to keeping employees and their pets together. Whether by making take-you-dog-to-work-days more common, or by shifting to a more flexible work from home schedule, many companies understand that pets and their parents will need time to get used to this new routine. 
"Now that humans are returning to work and school, dogs need to learn how to be alone again," says Williams. "If a dog has always acted out when alone, e.g. has destructive behavior like chewing on things they're not supposed to, barks incessantly etc., we recommend asking for support from a certified dog trainer or dog behaviorist." 
Working with or offering services, such as dog training, is an incredibly valuable resource at this time. As more pet parents, especially those that adopted during the pandemic and never had the chance to socialize their pets, seek out these services, offering them in-store will help retailers introduce new consumers to their business. Dog trainers and dog behavior specialists can help walk pet parents through any issues they may be having with pets, and can recommend ways to help cope with the schedule adjustment. 
"Similarly to humans, pets also need structure and schedules," says Williams. "Implementing a routine back into their lives today will help make the transition back to 'normal.'"
Even if many are understandably excited about the transition, it's still important for retailers to recognize that everyone's comfort levels may be different at this stage. 
"We believe the 'new normal' for retail is a hybrid that allows different comfort and convenience levels for different shoppers," says Bond. "While retailers have more to manage, the new omni-channel options they have added provide more access to consumers and should grow their businesses in positive ways going forward."  PB