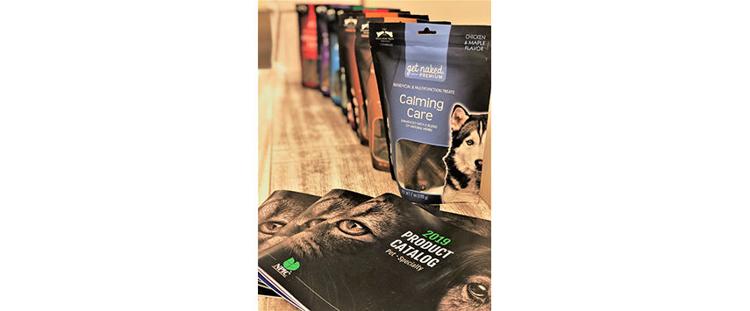 Tell us about NPIC. What is the company's history? What types of products do you offer? Like chocolate chip cookies, popsicles or corn flakes, the success of NPIC premium natural pet treats may be considered accidental but pure serendipity. NPIC was founded in 1996 as a company seeking to develop a natural, biodegradable alternative to plastics by utilizing vegetable proteins. We soon discovered these same vegetable proteins had a wonderful and natural application for dog bones too, eliminating the necessity for harmful, indigestible materials.
With a renewed sense of purpose to make natural and safe dog chews, we introduced N-Bone in 1998. N-Bone is one of the first completely edible, highly digestible dog bones made with wholesome and functional ingredients. The market success of this revolutionary product led to a comprehensive line of natural treats for dogs, cats and ferrets under the N-Bone, Twistix and Get Naked brands. With over 20 years in the pet industry, NPIC continues to take pride in manufacturing treats with quality, innovation, excellence, and a promise to cherish and nurture pets.
What are some of NPIC's most popular products? What makes these products stand out in the marketplace? Some of our most popular treats include N-Bone Puppy Teething Rings and Puppy Teething Treats, Get Naked functional treats, and N-Bone Quado interactive bones for dogs.
N-Bone Puppy Teething Rings and Puppy Teething Treats are specifically designed to satisfy a puppy's chewing urges and promote good dental health. Formulated to be soft and pliable to protect immature teeth, these delicious treats massage and soothe puppies' sore gums while chewing.
N-Bone Puppy Teething Rings and Puppy Teething Treats are made with natural ingredients and added calcium to support healthy teeth and bones. Along with the benefit of its easy-to-hold shape, our Puppy Teething Rings are fortified with DHA Omega fatty acids to support healthy cognitive development. N-Bone Puppy Teething Rings are available in one size with the following flavors: Chicken, Chicken (Grain-Free), Pumpkin and Blueberry & BBQ (Grain-Free). N-Bone Puppy Teething Treats are available in one size in Chicken flavor.
For over a decade, our customers have trusted the Get Naked brand to provide nutritious treats that are functional and not just filler. Formulated to support specific health purposes (such as Digestive Health, Joint Health or Super Antioxidant), the Get Naked brand has also expanded over the years to accommodate a variety of functions and form factors—soft treats for dogs and cats, crunchy treats for cats, and dental sticks and bones for dogs (available in different sizes or with portion control serving options).
N-Bone Quado are uniquely shaped, interactive bones for dogs. With their quad-design, these treats can stand on their own and allow dogs the ability to rotate it easily for the best chewing position, keeping dogs occupied for longer. Available in three sizes (Small Fry, Average Joe and Ginormous) and four flavors (Pumpkin, Peanut, Bacon and BBQ), Quado is made with natural, highly digestible, breath freshening ingredients to provide the added benefit of supporting oral health simply by chewing.
NPIC launched its new Get Naked Premium line at this year's Global Pet Expo. What products are included in this line? What are some of the key features of these products? NPIC introduced Get Naked Premium, a brand expansion of elevated, multifunctional treats to attract the more discerning, care-conscious consumer. This new care series offers dog treats specially formulated to support a primary or specific health purpose, while addressing overall care and well-being with distinctive, multi-benefit ingredients.
On-brand with the original Get Naked promise of using wholesome ingredients, without adding artificial preservatives, Get Naked Premium differentiates by providing notable value-add including:
•  Improved recipes with new, natural ingredients that align with human food and wellness trends;
•  Increased functionality with higher nutritional values derived from fruits, vegetables, vitamins and/or minerals;
•  Enhanced, injection-mold design resulting in a more appealing bone-shaped, break-apart treat for portion control; and
•  Improved palatability with complimentary, layered flavors.
        The Get Naked Premium care series consists of eight treats:
•  Antioxidant Care (Chicken & Blueberry flavor) to support vitality and a healthy immune system with antioxidant-rich ingredients;
•  Calming Care (Chicken & Maple flavor) to support emotional state and promote balanced behavior with a blend of natural herbs;
•  Digestive Care (Chicken & Pineapple Flavor) to promote a healthy digestive system and encourage absorption of nutrients with digestive enzymes, probiotics and several dietary fibers;
•  Fitness Care (Chicken & Pumpkin Flavor) to support healthy weight management and fitness levels with ingredients high in dietary fibers, omega fatty acids and amino acids;
•  Joint Care (Chicken & Salmon flavor) to promote joint health and mobility with anti-inflammatory rich and strength-fortifying ingredients;
•  Puppy Care (Chicken & Apple flavor) to support healthy growth and canine development with nutrient-dense ingredients, vitamins and minerals;
•  Senior Care (Chicken & Salmon flavor) to support senior dogs' health and specific dietary needs with multi-benefit antioxidants, amino acids, omega fatty acids, vitamins and minerals; and
•  Skin & Coat Care (Chicken & Coconut flavor) to promote healthy skin and lustrous coat with nutrient-dense ingredients and omega fatty acids.
Beyond their specific functional ingredients, all Get Naked Premium treats are formulated grain-free, non-GMO, without artificial colors and enhanced with DHA and probiotics.
NPIC recently brought back its Get Naked Cat Health with Cranberry Juice treats, due to consumer demand. What makes these treats so popular with cat owners? In line with the overall pet parent trend, cat owners have become diligent about prioritizing nutrition when it comes to their food and treats.  Rather than feed their feline family members with treats full of fillers and low-quality ingredients, cat owners know they can find flavorful options that also support health and wellness.
One of the most common health concerns for cats includes urinary tract issues. Our Get Naked Cat Health with Cranberry Juice is a grain-free treat to help promote urinary health. Formulated with a crunchy texture cats love, these treats are made with cranberry juice to help cleanse and prevent bacteria buildup, taurine to support vision & heart health and omega fatty acids to support skin health & other benefits.
Has NPIC made any other recent product introductions? Other product introductions within the past year, include some new flavors and packaging.
New flavors include:
• N-Bone Barbeque—the original long-lasting, highly-digestible chew bone is now available in BBQ flavor. Made without plastic, nylon, rubber or rawhide, N-Bone Barbeque also helps remove plaque and tartar while chewing.
• N-Bone Quado interactive treats are now available in two new flavors—Bacon and BBQ.
• N-Bone Puppy Teething Rings are now available in a second grain-free formula and flavor—Blueberry & BBQ.
New packaging introductions include:
• N-Bone Bone-A-Mints Value Box—made with five natural breath fresheners, these dental bone value packs come in four sizes (Mini – 78 pack, Small – 34 pack, Medium – 19 pack, Large – 13 pack).
• N-Bone Puppy Teething Rings, Blueberry & BBQ—in addition to the six-ring bag, these treats are available in a three-ring bag and single-ring overwraps with a display box.
Beyond offering a variety of high-quality products, how does NPIC help retailers drive business? What types of sales and marketing support do you provide retailers? Within the past year, NPIC added key sales and marketing personnel, which expanded our account management capacity.  By revising our sales territories and structure, we've increased the ability to provide more dedicated service, quality customer support and improved communication. With onsite marketing services, we're able to deliver more effective assets to fulfill or leverage promotional opportunities and enable potential areas for growth.
What does the future hold for NPIC? Do you have any new products currently in the pipeline? Emphasized by recent additions in key leadership positions such as sales, marketing, and research and development, NPIC is more dedicated than ever to prioritizing pet health and well being. We are actively reviewing our products and processes, and we have pivotal changes ahead with exciting introductions planned, which we look forward to sharing in the future. In the meantime, we remain deeply committed to continuous treat innovation, nutrition, responsible sourcing, and excellence in manufacturing and safety. NPIC retains certification for Safe Quality Foundation (SQF) level 3 in both safety and quality, which puts us at the top 10 percent of all food manufacturing facilities and among the industry leaders in safe and quality pet treats.
In addition, we plan to strengthen our obligation to establish and foster mutually beneficial relationships with the right distribution and retail partners. As a manufacturer, NPIC relies on the development of these strong partnerships to support our goal of getting our treats into the hands of as many pet lovers as possible.  PB