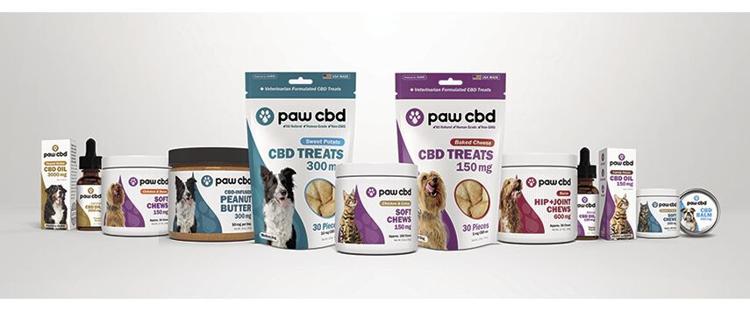 Though Paw CBD was only launched in July 2019, the company is already one to watch in the competitive cannabinoid category. Its Calming Turkey CBD Soft Chews earned a Pet Business Industry Recognition Award last year in the Dog Calming Aids group and its product line is nearly 30 SKUs deep. Now, the company is hoping to further expand its business at brick-and-mortar retailers.
Located in Charlotte, N.C., Paw CBD is part of cbdMD, which manufacturers products for humans. As interest in CBD products for people has grown, so has curiosity about CBD equivalents for pets, explains Paul DiBrito, president of Paw CBD.
"When you're buying yourself something organic or natural, you kind of want the same thing for your pet," he says. "Pets are family."
For these reasons, the CBD pet category has exploded, he added. With Paw CBD's robust product offering, which caters to dogs, cats and even horses, the company is ready to meet growing demand.
Keeping Calm
Paw CBD manufactures premium oil tinctures, treats, soft chews, peanut butter and topicals that are all hemp-derived and THC-free. Many of the products come in fun flavors and are formulated to target specific health needs. For example, the CBD Treats are available in cheese, peanut and sweet potato, while the CBD Hip + Joint Chews are bacon-flavored.
Some of the company's most popular products are its Calming CBD Oil tinctures for dogs, which comes in a blueberry flavor and 250 mg. and 500 mg. varieties.
"The calming products just kind of take the edge off," DiBrito says, citing additional soothing ingredients like melatonin, valerian root and chamomile flower that work alongside the CBD.
He explains that consumers are particularly gravitating towards calming products within the CBD category because of their usefulness in stressful situations. They can make pets less nervous when guests visit or when there are loud noises, and they can lessen general anxiety.
"I have two Irish Wolfhounds, and one of them gets a little crazy. She does really well with it," DiBrito says of Paw CBD's Calming CBD Oil.
However, the expanding CBD category still faces some significant challenges, especially in the form of misconceptions that CBD products will have a psychoactive effect on the animals that take them.
"Some will think, 'Well, that's cannabis, you're going to get high,'" DiBrito says.
However, with THC-free products, like those from Paw CBD, that is definitely not the case. It is often up to manufacturers and retailers to prevent the spread of misinformation.
"One of the biggest things we can do in the industry is to educate the pet owner," DiBrito explains.
Helping potential customers understand the benefits of CBD, such as its anti-inflammatory properties and calming abilities, can aid retailers in making the sale. Paw CBD is doing its part to educate consumers, too—the company recently launched an informative website and plans to add video resources as well.
Another challenge facing retailers trying to sell CBD products is that they can be difficult to merchandise, says Dibrito. With products often being small and expensive, it can be tough for them to stand out within the aisle of a pet store.
However, using a display to highlight the versatility of CBD products can help them get noticed by pet parents. This tactic can showcase one of the major advantages of CBD products, which is that they come in a variety of different forms that can meet the specific needs of customers and their pets.
For example, if a customer has trouble with administering oral supplements to their cats or dogs, they can opt for topical CBD creams that will also deliver positive effects. Paw CBD also offers CBD products that are formulated to be more palatable, such as its CBD Treats and CBD Peanut Butter. Its CBD oil tinctures can even be added to pet food. There are also different concentrations that are tailored to a pet's size.
With the growing CBD market, retailers should also know that not all products are created equal. With the recent flood of new offerings, it's inevitable that some manufacturers will cut corners.
"Make sure you know what you're buying," says DiBrito. "Look at ingredients. Look at what companies are doing."
For Paw CBD's part, the company's natural products are third-party lab tested, non-GMO and vegan. They contain broad spectrum CBD and the hemp they use is from the U.S.
The manufacturer is excited to expand its product selection and wants to further build out its presence in brick-and-mortar retailers. Even if there are challenges with selling CBD items, the satisfaction they bring to customers and their pets is totally worth it.
"Once they try it, people love it," DiBrito says.  PB