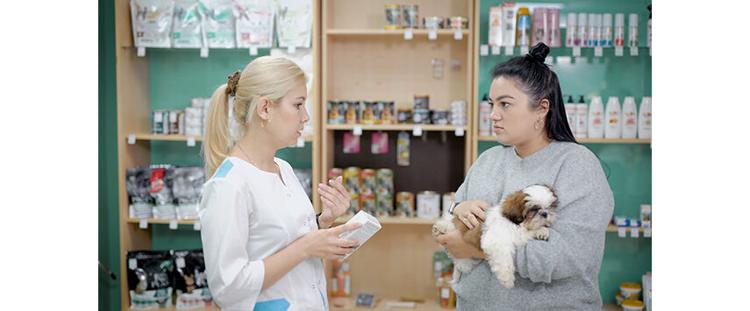 A disease outbreak in your pet store can be extremely harmful to your staff, animals and customers, not to mention to your store's reputation. As a responsible retailer, it is essential that you do everything you can to protect people and animals in your store—and a new Pet Store Pro education chapter can help you safeguard both human and animal health.
This new chapter focuses on preventing the spread of zoonotic diseases, also known as zoonoses, which are diseases caused by bacteria, viruses and parasites that can be transferred between animals and humans. It provides important information to help you and your associates recognize what can make people and other pets sick, and outlines the necessary hygiene and handling steps to avoid occurrences and report issues to management.
Incorporating this information as part of your required associate onboarding, continuing education or both is essential to protecting the health and well being of all who enter your store and demonstrate that pet stores are a responsible and educated source of pets, pet products and services. You know that you and your associates not only provide care for pets, but you care deeply about them and take the steps necessary to safeguard their health. It's important to show your customers you take these steps, too.
We at the Pet Industry Joint Advisory Council created this new Zoonotic Disease Prevention chapter in partnership with the Pet Industry Distributors Association (PIDA) for their Pet Store Pro online training program. Pet Store Pro is a free online resource for independent pet specialty retailers that offers over 30 topics covering retail basics and pet care for associates and management.
This chapter's panel of human and animal health expert developers include Dr. Tom Edling, DVM, MSpVM, MPH. The panel utilized a comprehensive set of fact-based and expert sources, including some Centers for Disease Control and Prevention (CDC) materials, such as "Healthy People, Healthy Pets," and PIJAC's Zoonotic Disease Prevention Series for Retailers, among others.
Within the Zoonotic Disease Prevention chapter, in-depth information and images illustrate proper hygiene, animal and animal product handling practices inside the store, including appropriate management of food, pet supplies, bedding and waste to minimize or eliminate the transmission of germs and bacteria. There are general cleaning guidelines, cautions for individuals with pre-existing conditions, protocols for washing hands and recommendations for sanitizing enclosures and handling animals.
Special sections are species-specific and describe diseases that may occur in dogs, cats, small animals, fish, birds, reptiles and amphibians. Additional information is included that will help store associates identify and explain human and pet symptoms of the diseases, and respond to and report suspected zoonotic disease in both animals and humans.
Training employees on appropriate hygiene and animal handling practices—as well as communicating important pet care information to the public—is an essential part of being a responsible pet retailer. It also helps the pet care community maintain our reputation as a trustworthy, conscientious source of companion animals and the products and services to care for them.
The positive health effects of pet ownership far outweigh any health risks. But as members of the responsible pet care community, and in our role bringing pets and products to care for them into loving homes, we have a responsibility to take action to protect human and animal health by reducing the spread of zoonotic diseases—and this Pet Store Pro chapter is a free, easy way to educate and prepare your associates.
We at PIJAC established a memorandum of understanding with the CDC to serve as the pet industry's liaison on public health issues and zoonotic disease prevention over 10 years ago. We are appreciative for the CDC providing staff time, expertise and assistance in reviewing the chapter for accuracy. This educational resource aimed at zoonotic disease prevention is just the latest of our collaborations with specialists, experts and others across the animal care, veterinary and public health communities to inform, educate and improve the animal care practices of the pet care community and the public.
Every day, PIJAC works to educate, protect and advance the priorities of the pet care community. Your support is more important than ever. Please join us at
pijac.org/join. PB
Savonne Caughey is the Pet Industry Joint Advisory Council's Director of Government Affairs. You can contact her at