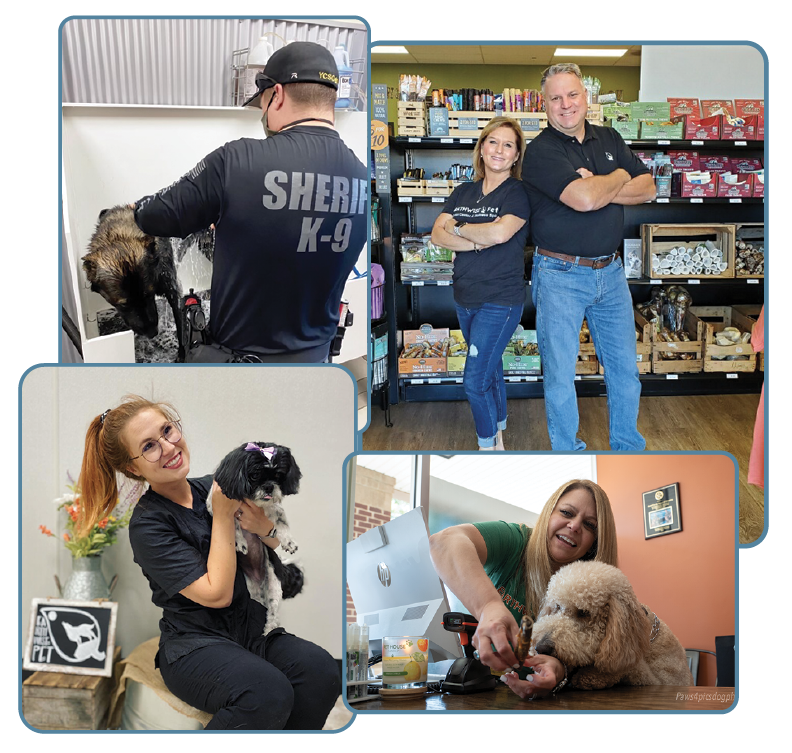 Some people find their way into the pet industry by chance, while others are eventually driven toward it by their passion for animals. Every once in a while, though, someone comes along that was simply born for this business. That certainly seems to be the case with Michael Seitz, CEO of the 54-store EarthWise Pet and 16-store Nature's Pet franchise system.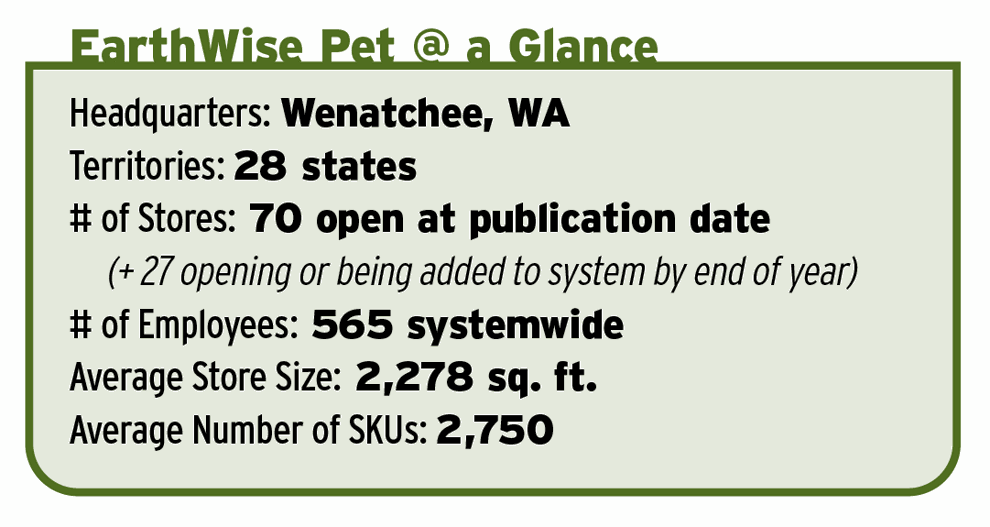 "I grew up on the floor of pet stores," he says of his early life as the son of a pet retailer family that joined the industry nearly 45 years ago.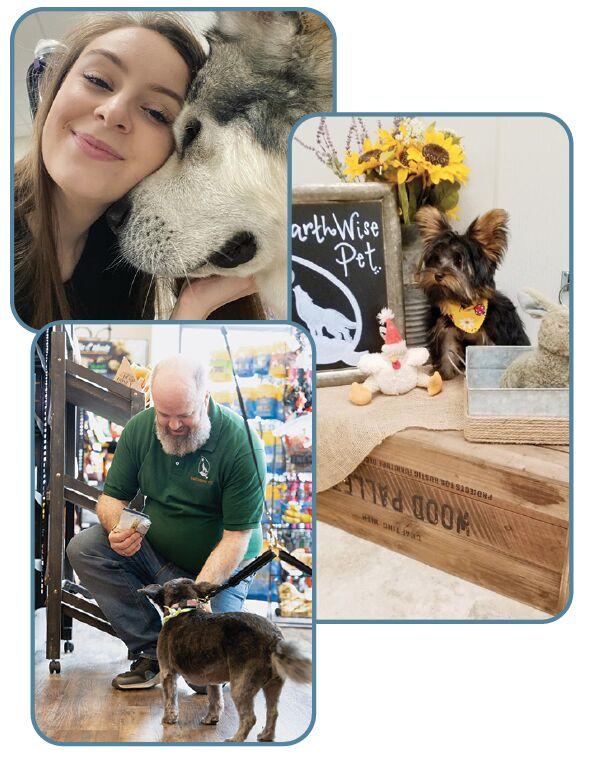 Seeking a business that they could enjoy and be passionate about together, Seitz's parents (his mother a professional groomer, and his father a dissatisfied restauranteur) opened their first pet business—a grooming shop in Westminster, Calif.—in 1977. That was followed by their first pet store, in nearby Huntington Beach, about a year later. Before long, the husband-and-wife team owned and operated several pet stores across the Orange County area of Southern California under different banners, including Plush Puppies, Animal Kingdom, and Pet City. Then, when Seitz was in the third grade, his parents picked up roots and ventured up to the coast to the Pacific Northwest, where they opened a Healthy Pet store in Lake Oswego, Ore.—a store that is still open and family owned today.
While watching his parents build a series of successful pet stores from the ground up provided Seitz with quite an education on the business, he says that his decision to follow in their footsteps was not a forgone conclusion.
"I wasn't originally thinking that I'd go into the pet industry," he recounts. "I actually went to dental school, but I realized that it didn't really fit with my entrepreneurial desires."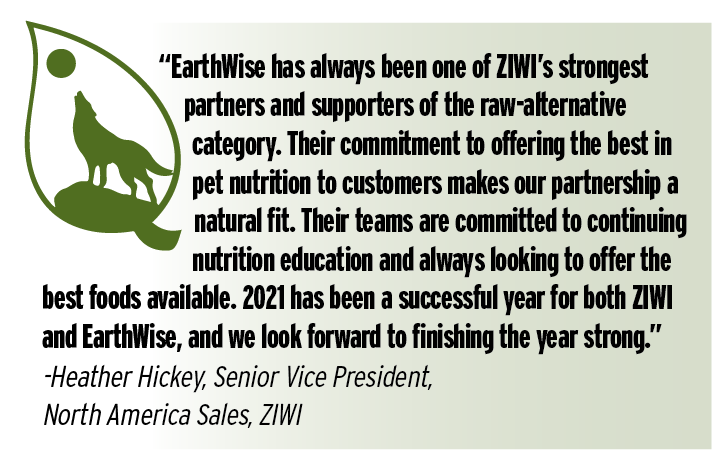 Upon this realization, Seitz approached his father in 2005 with the idea of joining the family business, but with a distinctly different angle. Utilizing new technologies and marketing strategies, he wanted to build a more modern version of a pet retail business that could ultimately be franchised. 
That proved to be a watershed moment in the eventual birth of EarthWise Pet, which Seitz has built into one of the country's premier pet store chains by taking the intimacy and passion of a local, owner-operated business and combining it with the guiding influence and resources of a centralized, broadly focused group of pet retail experts. As a result, this quickly expanding franchise has more than doubled in size over the past four years and is a great example of what neighborhood pet stores can accomplish with the right mix of products, marketing strategies and customer engagement—not to mention a forward-thinking team of executives at the helm.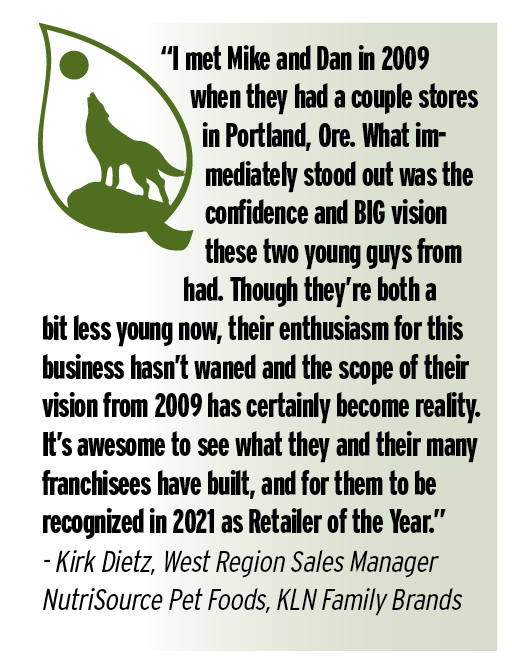 It is for these reasons that Pet Business has selected EarthWise Pet as its 2021 Retailer of the Year.
The Origin Story Within the Origin Story
Although Seitz's ambition would one day lead to the creation of a national pet retail chain in EarthWise Pet, he cut his teeth on building a winning regional franchise model with Nature's Pet Market in the Pacific Northwest. After starting with three prototype stores in Portland, Ore., between 2005 and 2007, and after teaming up with his lifelong friend, Daniel Webb, Nature's Pet Market sold its first franchise store (to a customer) in 2008. For Seitz, it was a huge step in realizing what he believed would be a critical part of creating a fully scalable retail business.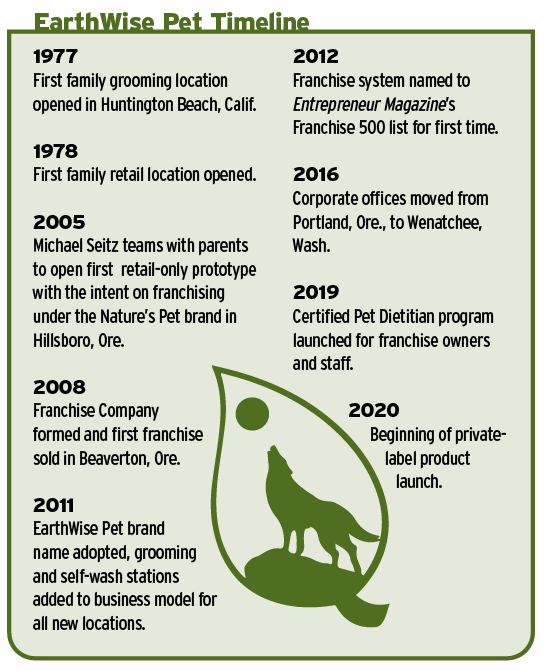 "One of the things that we valued, as a family, was being involved in the community—the locally owned and operated concept," he explains. "And we realized that there was going to be a point where we couldn't continue that mission over the long term unless we went the franchisee route and teamed up with likeminded individuals who were in their local communities and could partner with local rescues, become the experts in their marketplace and be household names."
Another essential element of the EarthWise Pet business model that first manifested within the Nature's Pet Market franchise was a strong focus on natural products. This was largely inspired by Seitz's upbringing, but it would prove to be prescient, given how important the natural trend has been driving growth in the pet industry over the past 15 years. 
"We were ahead of the curve when it came to natural pet products because we live that way ourselves as a family," he says. "We wanted to provide the best standard of living for pets too, so we leaned in that direction very early. Even the stores we had in the '80s were very natural-focused—and nobody else was back then."
While this approach was obviously in line with what would become a pervasive trend within pet care, it also provided a distinct advantage when going up against the proliferation of big-box competitors. When Petco started entering many of the communities Nature's Pet Market served, Seitz observed that many of his local peers struggled under the competitive strain, yet his stores continued to grow year after year because their natural-minded approach catered to what, at the time, was an expanding niche market.
This speaks to one of the biggest drivers of EarthWise Pet's success—the ability of Seitz and his team to proactively identify and react to shifts in the marketplace in order to not only defend but grow the chain's market share. 
"You have to constantly be looking at what trends are coming down the pipeline and stay ahead of them," he says, noting that this is another area in which a franchise often has a distinct advantage. "One of the great things about franchising is that the franchisor can focus on how to keep the stores in business five or 10 years from now, while the individual franchisees can focus on day-to-day operations and providing exceptional customer service."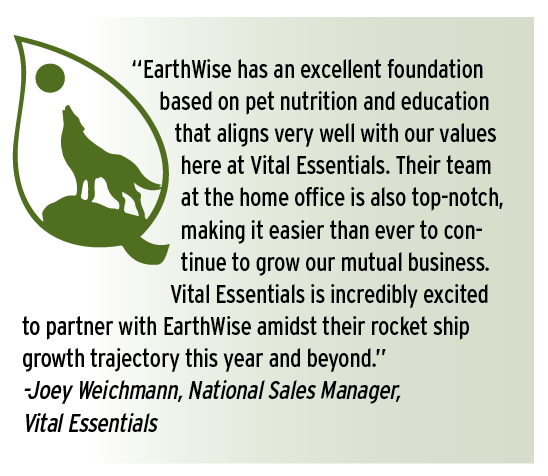 Having proven that he could build a winning franchise model on a regional scale, Seitz eventually turned his attention to leveraging that experience to build a national franchise under the EarthWise Pet banner. However, that doesn't mean the Nature's Pet Market franchisees were left out in the cold. In fact, 16 stores still operate under the Nature's Pet Market banner in the Pacific Northwest today. 
"We consider them our legacy stores," says Seitz. "They're the ones that took the risks with us, and Dan and I were personally involved with the setups and getting them going."
The Ascension of EarthWise Pet
When the EarthWise Pet brand launched in 2011, it shared many similarities with Nature's Pet Market, but it also had some significant differences. First and foremost among these was that instead of a regional approach, EarthWise had nationwide ambitions.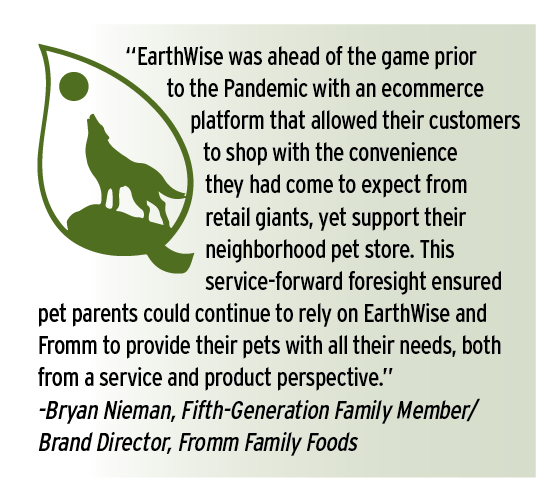 However, there was another important distinction between the two brands. EarthWise Pet made services such as grooming and self-wash stations a cornerstone of its business model, while Nature's Pet Market (at the time) was solely focused on retail.
"We modified our retail fixture design and layout so we could fit just as much retail into a space that was about 60 percent of the size of our [Nature's Pet Market] locations, and we took that other 40 percent of the space and added services," says Seitz, explaining that every EarthWise store includes a service element for a very important reason.
"We see services as a way for us to maintain slimmer retail margins and still be highly competitive. Our blended margins are awesome, and we don't see that changing as long as our service revenues continue to increase."
Having refined the elements that drove success for Nature's Pet Market and combined them with a new emphasis on services, the EarthWise Pet model quickly caught the attention of potential franchisees, so it wasn't long before expansion opportunities began presenting themselves. However, Seitz and his team felt it was important to take a measured approach to growing the chain.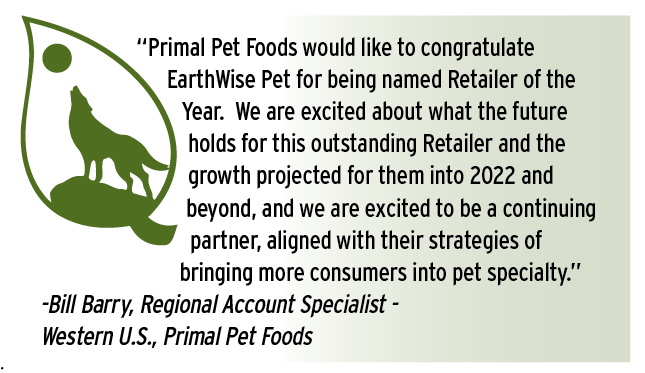 "We took it nice and slow," he says. "We didn't want to outgrow our infrastructure. There is typically a critical mass in franchising, where you have to hit a certain number of units before you can really provide the infrastructure you need, but we went the opposite direction and frontloaded it. We overstaffed in the early stages, fully knowing that 10 stores need just as much support as 50 stores."
Not surprisingly, EarthWise Pet's expansion has gained momentum over the past few years, with the franchise now adding anywhere from 15 to 30 new locations annually. While this has primarily been done organically with new store openings and existing franchisee expansion, Seitz says that the chain is also looking at acquisition opportunities to drive further growth.
"We see a huge opportunity over the next two to three years, in terms of buying independent retailers, re-flagging them and adding services," he says.
As EarthWise Pet goes through this acquisition phase over the next few years, Seitz expects that the corporate stores will eventually represent 15 percent of the chain's locations. This, he says, will create a substantial group of stores that EarthWise Pet can use to pilot new programs before they are rolled out systemwide—a function that is currently handled by a select list of franchisees in different parts of the country.
"We have a group of five to ten franchisees who are very active in trying new things," say Seitz. "And we will often subsidize the pilot programs to some extent, so we bear a significant portion of the risk to try something out."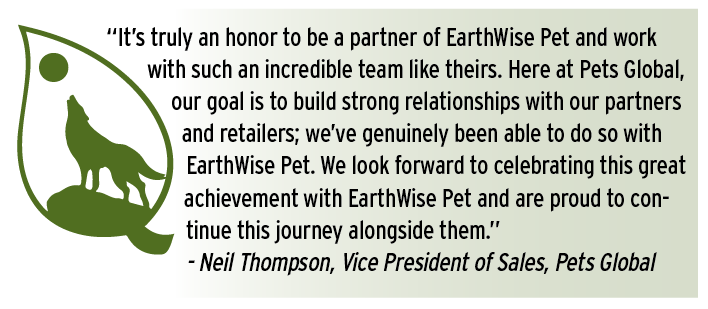 An Ever-Evolving Model
Constantly finding new ways to evolve the EarthWise Pet model has been an essential element to the chain's success so far. So, while franchisees are given a lot of autonomy in deciding which programs they want to implement in their stores, the corporate team takes a bold approach with the initiatives that they see holding the most potential for the chain.
"We build systems out, even if our franchisees don't adopt them," says Seitz. "We will build out our infrastructure and our systems, so when the time comes that [franchisees] need it, it's already in place. That gives us a great competitive edge in the marketplace."
An excellent example of this can be found in EarthWise Pet's approach to building its e-commerce capabilities. While the impact that online shopping is having on pet retail, not to mention preparing for the future growth of this important segment of the business, has been a major focus for Seitz, many franchisees were not as bullish on e-commerce, that is until last year made it too important to ignore.
In fact, the chain only had a handful of stores using any kind of online ordering platform for when COVID hit in early 2020, although the corporate team had spent a considerable amount of time on their own system and then working closely with e-commerce specialist eTailPet to build out an infrastructure years earlier. 
"Essentially, over three days, we went from 11 stores offering eCommerce to more than 50," says Seitz. "But because we had already laid all the groundwork, it was onboarding and flipping the switch on for each store. I don't know what we would have done if we hadn't been prepared for it."

This obviously played a huge role in helping EarthWise Pet stores adapt to the realities of operating in a pandemic, but the chain has much broader ambitions for the role that e-commerce can play in a future where the lines between traditional and online retailing will be increasingly blurred. After all, while consumers are currently exhibiting what Seitz calls "an intense desire … to get out of the house and go to the store," he believes that is temporary, and the purchasing habits retailers saw among their customers last April will become the overwhelming standard within the next several years, if not sooner. 
With that in mind, he is particularly interested in looking at this issue from a consumer experience perspective and focusing on how EarthWise Pet can be a trend setter, instead of playing catch up. 
"You can look at how Amazon and some of the other big [e-commerce] players do things, and there's always been something missing in their approach," Seitz says. "Their big play is convenience and speed—but that's it. In our industry, people still like to network, they like to show off their pet. Those interactions are hugely important and that's missing in the approach of [online retailers]."
Ultimately, EarthWise Pet's goal in developing an e-commerce strategy is to couple the convenience and speed aspects that have become the hallmark of online shopping, while still providing a "white-glove" level of service and community to customers who place value in knowing the person delivering their order, as well as where it's coming from. 
To Seitz, that means enabling customers to come into the store, place an order electronically on-site and then have their purchases delivered before they get home. And while EarthWise Pet isn't quite at that point yet, the goal is still firmly in place.
"At some point in the future—and it won't be very far—people will be able go on their phone, place their order, or tell their home network what they want to order, and have immediate delivery," he says, explaining that he wants EarthWise Pet to be able provide that capability coupled with service, and more. "If we can pick up their dog from their house, take it to the groomer, and then bring that dog home with all their products—kind of a concierge-type concept—that would be a perfect world."
The overriding idea is to make retail a service, a model that EarthWise Pet has moved closer to with the development of its Certified Pet Dietitian program, which enables the chain to offer nutrition consultations to customers and ensures the products being recommended in its stores are endorsed by a certified dietitian.
Open to storeowners, managers and staff, this extensive nutrition training program has two levels—Pet Nutrition Specialist and Certified Pet Dietitian. According to Seitz, the Pet Nutrition Specialist training takes about 20 to 25 hours, so it's not super long, but it creates consistency in the type of nutrition information that shoppers will find in EarthWise Pet stores across the country. The Certified Pet Dietitian program, on the other hand, is much more extensive—lasting between 150 to 250 hours—and produces a high level of expertise that can enhance a store's status as a valuable resource for pet owners. 
Whether it's leveraging emerging concepts in e-commerce or developing new capabilities in stores, the goal is always to stay one step ahead of an ever-evolving marketplace.
"Retail isn't going anywhere, it's just changing," say Seitz. "Pet retailers have to be comfortable with those changes or they're going to be in serious trouble in a few years."
Creating Consistency
For every retail franchise, being made up of a network of unique owner-operators is both a key strength and a significant ongoing challenge—and EarthWise Pet is no exception. While this type of business model goes a long way in infusing the chain with local flavor and entrepreneurial energy, it also requires careful consideration of each prospective franchisee and diligence in making sure shoppers find a consistent experience in every store. By all accounts, EarthWise Pet has done a phenomenal job in managing this aspect of the business, largely because the chain prioritizes quality partners and processes over its rate of expansion.
"We do not sign anybody to a franchise agreement unless we've physically met them in person—and not at our office," Seitz explains, distinguishing EarthWise Pet's approach from that of franchises that host what are called 'discovery days,' which basically gather prospective franchisees together at the chain's corporate office for a sales pitch. 
Instead, the EarthWise Pet team makes a point of going to meet prospective franchisees in their local communities. This way, they can evaluate whether or not a prospect is the right fit for the chain's overall brand, as well as the market they serve. 
"We can look at all the data we want on paper, but there's nothing like going to the area to see if it's going to make sense," says Seitz. 
When looking for franchisees, there are two kinds of personalities that EarthWise Pet looks for—those who really know how to follow direction, and those who are just good business people. While the latter may not necessarily be very good at following direction, Seitz says they are still great operators who represent the brand well. 
Still, maintaining a cohesive retail brand goes beyond the process of selecting franchisees and markets—it also means providing consistent guidance in merchandising, marketing and product selection chainwide. For that, it is critical to understand why customers are drawn to EarthWise Pet stores. 
"When we look at how the [EarthWise Pet] brand presents to the consumer, and we look at all the data we get from surveys and things like that, we can see that there are certain key drivers that are bringing people into our locations," says Seitz. "And as a franchisor, we really have to be able to do a good job educating [our franchisees] on those drivers.
"So, while there is uniqueness to every one of our stores—they are not identical across the board—there are certain key elements that say, 'Okay, this is an EarthWise Pet store.'"
Of course, this includes elements like consistent color schemes, fixturing and signage, but there may be no more important aspect to maintaining a consistent in-store experience than product selection. With this in mind, EarthWise Pet has worked hard to create a balanced mix of items that can be found in every location, and those that can only be found in certain stores or regions.
According to Seitz, mandatory brands make up about 25 to 35 percent of the SKUs on each store's shelves. "Those are the items that you will find in every location," he says. "They're going to be prominently displayed and consistently recommended by those stores."
Meanwhile, items that are unique to a particular store or region, he says, help "maintain that local feel."
Overcoming COVID
Having a centralized organization supporting and guiding EarthWise Pet's owner-operated and manager-operated locations does more than just provide a consistent shopping experience from one location to the next, it also serves as a valuable communications hub for the chain's network of stores. This proved to be particularly important last year as the COVID-19 pandemic spread across the country, as Seitz and his team were able to coordinate best practices and deploy resources for their franchisees. 
"Because we have the luxury of having stores in the Seattle market that was affected first, we could see what was going to happen across the country and we could prepare stores in Texas, Florida and the Northeast for what was coming a couple weeks down the line," he says. 
For example, knowing that curbside pickup would become an important offering for stores as lockdown restrictions rolled out, EarthWise Pet's corporate staff designed and distributed materials for signage that the stores could easily build out with just a few basic materials. The company also hosted webinars on a range of topics, including how to get government assistance, set up COVID pages with links to every state's COVID policies and restrictions, and got involved in signing petitions to make sure grooming was considered an essential business alongside retail.
"It was nonstop for our team for weeks in making sure all of the stores had the support to accomplish what they needed during that time," says Seitz, noting that having a network of owner-operators was a blessing in itself as the chain dealt with an emerging crisis. 
"Franchising buffered us a little bit. If we had 70 corporate-owned locations, it would have been virtually impossible to keep the stores open at all times. Because we are a franchise system, if a staff member had to quarantine, the owner could step in. It was almost like having 60 corporate staff members out in the field."
As a result, not only did EarthWise Pet see positive results from its existing locations, it continued to expand with the opening of new stores through the pandemic.
Putting the Future in Focus
Looking forward, the EarthWise Pet team remains focused on the future that Seitz has seen in his crystal ball—one in which e-commerce is further integrated into the in-store experience and services continue to play an increasingly important role in driving traffic and maintaining healthy margins for brick-and-mortar pet retailers. 
"We're really trying to become the pet services leader—and I'm including making retail a service, as well," says Seitz, explaining that mobile services like grooming, training and pet shuttles currently being piloted could very well be systemwide future service offerings from EarthWise Pet.
As EarthWise Pet's service offerings grow, so too will the chain itself. Announcing that his team will soon be rolling out small store models, Seitz explains that these compact units will enable EarthWise Pet to penetrate smaller markets, further opening up opportunities for expansion. 
"I think we can easily reach 200 to 300 traditional locations in the next couple years, but with the smaller model, we could go a lot bigger than that," he says, noting that much of the chain's expansion will be focused on markets in which it is already competing. "When you have an existing brand strength in the market, it makes the brand and store grow faster."
When considering the future of EarthWise Pet, Seitz can't help but to also consider the future of neighborhood pet stores overall. That's because the way he sees it, the fortunes of both sides are inextricably linked.
"I think it's really shortsighted to think that any of us can go it alone in this environment; we have to think of ourselves as a collective unit," he says of neighborhood pet retailers. 
"[EarthWise Pet does] have a national presence, so we go up against competitors across the country. But the reality is that if a customer goes into a local pet store that isn't an EarthWise Pet location, has a really positive experience, buys into the idea of local expertise and that personalized experience, and then relocates somewhere else, it's benefiting everyone."  PB