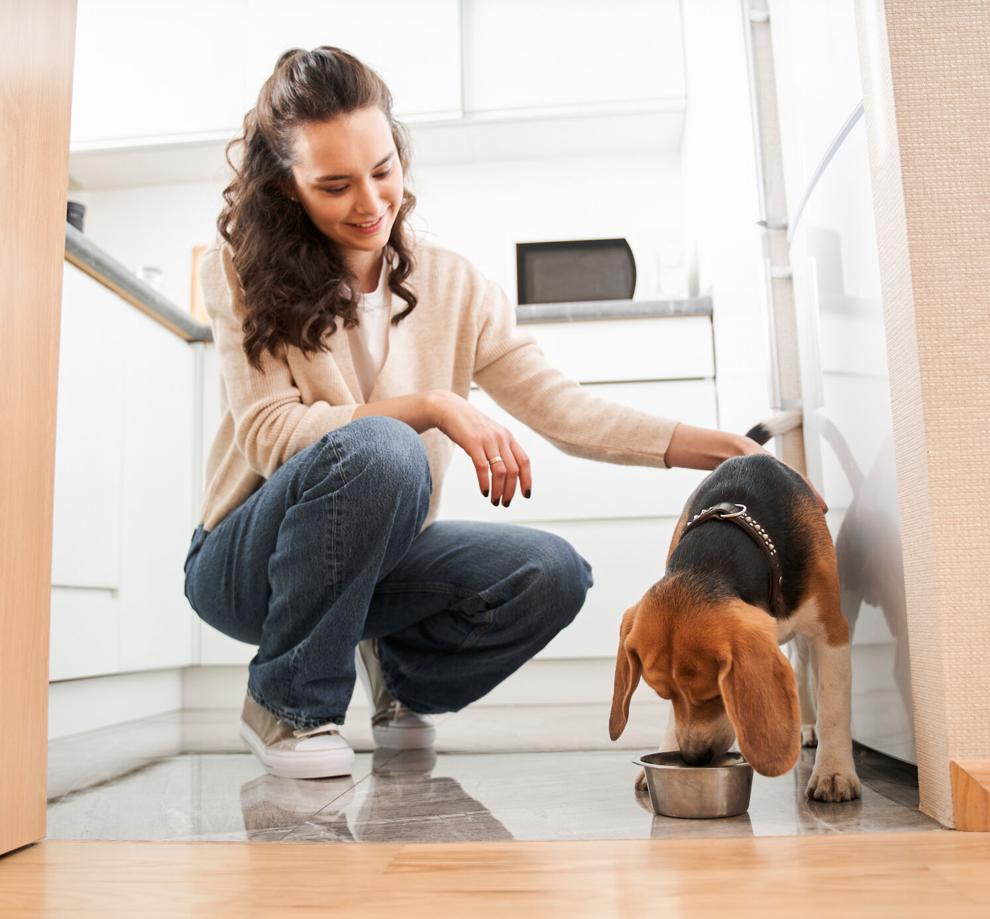 People are becoming increasingly focused on sustainability and eco-friendly practices and pet owners are no exception—an attitude not lost on manufacturers of pet foods and treats. According to Patti Salladay, sales and marketing manager for Northwest Naturals (NWN), consumers want to be sure that what they're feeding their pets will have as little negative environmental impact as possible.
Dan Goodnow, founder and CEO of The Natural Dog Company, which carries over 250 SKUs of single and LID chews like bully sticks, tendons, bones, yak cheese, alligator chews, antlers and others, says the same. 
The Natural Dog Company made sustainability a priority from the start, says Goodnow. For example, its first warehouse was 100-percent wind-powered. This year, increasingly worried over garbage ending up in the oceans and landfills, the company took steps to mitigate this impact. First, the company converted its packaged dog chews to 100-percent recyclable #4 LDPE bags, a change allowing its customers to drop the bags off at stores for recycling once they're done with them. 
"The second step we took was to offset 100 percent of our plastic bag usage through rePurpose Global to become a certified plastic-neutral company," he says. "We estimate we'll offset 9,000 kilograms of plastic this year through the program."
NWN, a division of Morasch Meats, Inc., has also always focused on green practices, says Salladay. Morasch Meats is a processor and producer of meats for stores and restaurants and utilizes a human-edible, USDA facility. NWN's raw and freeze-dried products for dogs and cats are made in the same facility.
Salladay ticks off a list of a few of the company's sustainability initiatives. These include:
• 85-percent recovery for corrugated office supplies, metals and plastics, recycling approximately 36.5 tons of material annually.
• A 100-percent recycled lubricant program.
• Reduce and reuse incentives for employees.
• Energy-efficiency programs for lighting, refrigeration and electrical. Additionally, increasing their use of solar this year.
• Adding a well to reduce the use of city water and to become more self-sufficient.
The company's Trout Recipe for dogs (available in frozen nuggets, chubs and dinner bars) and cats (in frozen nibbles) is made with locally sourced trout from the Columbia River, resulting in a low-carbon footprint, says Salladay.
"Pacific Seafood Co., which provides our trout, is a four-star (the highest rating) Best Aquatics Practices (BAP) company that works with NOAA and regional fisheries councils, achieving highest sanitation and safety standards," she explains, adding that there are no hormone, pesticides or herbicides used on this "Best Choice" sustainable fish.
It's Not Easy
As a famous frog once said, "It's not easy being green," and companies striving to reduce their environmental footprint would agree. One issue is the availability of high-quality ingredients as well as suppliers who meet NWN's stringent green criteria, says Salladay.
Another is actually quantifying the footprint of dog and cat consumables, made challenging because of all that goes into ingredients and sourcing, manufacturing and packaging, says Dr. Heather Acuff, director of research and development for Nulo, a company that produces a wide assortment of dog and cat foods and treats. 
Included in the lineup is Nulo Challenger, a premium, high-meat kibble featuring ingredients sourced from sustainable agricultural systems, such as pasture-raised lamb, U.S.-raised guinea fowl and wild-caught Acadian redfish. These are paired with ancient grains, including oats, barley and millet (all organic). 
The company also recently launched the Nulo Challenger Stews, a human-grade wet pairing to the (exclusively brick-and-mortar) kibble featuring beef, turkey or chicken in a broth with diced veggies. The Challenger kibble packaging is part of the TerraCycle recycling envelope program; the Challenger Stews are packaged in recyclable Tetra Pak cartons. Nulo is working to reduce excess packaging and to also optimize logistic transport efficiencies. 
"There are two defining attributes that influence the magnitude of a pet food product's environmental footprints," says Acuff. "The product design, which dictates the intended species, life stage, food format and packaging type; and nutritional composition, which determines the level of raw materials needed to achieve the desired nutrient levels, both of which have a direct impact on a product's path from cradle to grave.
"The complexity of performing life-cycle analysis can be a barrier to companies who want to improve but simply don't know where to start," she continues. "Fortunately, there are several resources available that can be used as model frameworks, such as published LCA studies, globally recognized standards like ISO 14044:2006, the E.U. Product Environmental Footprint Category Rules (PEFCRs), and sustainability-focused organizations that can help businesses identify key opportunities for improvement."
Nulo is working to optimize logistic transport efficiencies and to reduce packaging excesses. The latter can prove particularly vexing.
"When it comes to packaging, pet treat manufacturers face many challenges," says Goodnow. "Products need to maintain their freshness and be protected until the consumer opens the bag. Striking a balance between recyclability and package performance is one of the biggest challenges manufacturers who prioritize sustainability face today."
Heather Hickey, vice president of sales, North American for ZIWI USA, concurs. "ZIWI continues to explore the sustainability of eco-friendly packaging while being able to meet the challenges of finding a product that matches or exceeds the shelf-life of our product," she says.
ZIWI provides air-dried and canned recipes for dogs and cats, as well as treats and chews for dogs, all ethically and sustainably sourced from farmers and fishermen in New Zealand. As Hickey explains, both groups regard themselves as the guardians of the land and sea, with sustainability practices including that country's Five Freedom Principles of farming (animal well being and welfare and the sustainability of farming for generations to come), and the fishing following strict standards established by the Marine Stewardship Council. Included among these is never fishing more than 35 percent of its native waters.
Generating Greener Sales
"Sustainable and eco-friendly consumables will continue to be a focus for pet specialty retailers," says Hickey. "As the competition for earth's resources continues to rise, the demand for sustainable products will become commonplace and retailers without these products could face future customer-retention challenges."
That is likely true but, at the same time, the challenges don't stop with just offering eco-friendlier foods and treats. For one thing, such products are generally more expensive than more conventional, highly processed foods, says Salladay. Consequently, in order to encourage sales, pet specialty retailers must educate their customers on their benefits to health and to the earth, she says.
Acuff says the same, stressing that it is essential retailers help consumers link the value to the product—a task she expects will get easier over time as the demand for sustainable products and packaging grows. In the meantime, it's important that pet specialty retailers help their customers understand the tradeoffs.
"Building a better future takes a pay-it-forward mindset and doesn't always translate to immediate benefits for consumers or their pets," Acuff explains. "In fact, consumers may be faced with trading convenience or lower costs in and effort to support the sustainable-products market. But the rewards have potential to be substantial for everyone in the long-term."
Customer education can prove frustrating, but there are ways to get the message across more easily. One of the best is calling out the product's sustainable qualities on signage, says Goodnow, adding that his company has printed the plastic-neutral logo on their packaging and has posted about its sustainability efforts on their website. One-on-one conversations with customers are also effective.
"While looking for sustainable solutions, customers don't always walk into the store with a specific need in mind," Goodnow says. "Often, they just want to feel good about what they're buying. This presents a great opportunity for retailers to educate customers on the sustainability of certain products so they can walk out of the store feeling good about their purchasing decisions."
NWN provides its stores with training manuals containing eco-friendly information. The company also touts its green philosophy on its website and social media, letting consumers know, for example, that they recently joined the Pet Sustainability Coalition. ZIWI as well enforces their ethical and sustainable message on social media and website, says Hickey, adding that they "work hard" to train retailers via the company's online training modules about the importance of these practices.
Nulo provides recycling information on its Tetra Pak cartons and also encourages its customers to participate in its TerraCycle flexible packaging recycling program, says Acuff.
"Clearly articulating the reasons sustainability is a priority for your business and providing evidence of meaningful action will help build rapport with environmentally conscious consumers," she says. "Many people are already making changes to their own lifestyles in support of sustainability but it may not have occurred to some that the choices they make for their pets can have an impact on the environment as well."