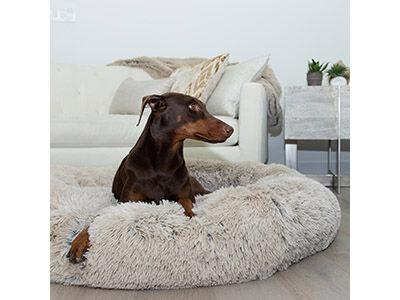 With the pet furniture category growing in both size and popularity, manufacturers have had to ensure their offerings make the grade. In order to produce items that stand out, Sentiments, Inc. relies on four guiding pillars—pet health, beautiful design, high quality and value.
"At Sentiments, not only do we study the trends in home textiles and develop products to match the current market colors, patterns and textures, but we also strive to create our own trends within the pet industry," says Sherry Samani, CEO.
Samani founded Sentiments in 2006. Originally a home textiles company focused on decorative pillows and table linens, the manufacturer now produces a diverse range of pet furniture that complements contemporary home décor, while improving the lives of both pets and their owners.
"Our relationships with leading U.S. home fabric suppliers and our visits to home textiles industry events allow us to keep a pulse on current home textiles market trends," says Samani.
Based in Los Angeles, the company offers products under the Best Friends By Sheri, PAWSH and Disney brands, and distributes them on a global scale. Samani says the interest in pet furniture has only increased in recent years.
"With sales of approximately $5.8 billion annually, and growth estimates to be five percent in 2020, pet furniture—specifically beds—are no longer nice to have in a store, but rather a must-have," she says.
Getting Specific
In order to take advantage of the category's burgeoning popularity, retailers need to carry a diverse product selection that matches pet parents' different needs.
"Many pet specialty retailers prefer to play it safe and stick to neutral colors in their pet bedding assortment," says Samani. "However, we suggest that they add pop colors to their assortment to bring life to their bedding displays."
Sentiments has a wide range of products tailored to the specific requirements of various pets, including senior animals. Approximately 45 percent of all dog owners have a canine that is seven years old or older that may be prone to arthritis, explains Samani. Sentiments offers orthopedic pet beds that can help ease aches and pains.
"Orthopedic beds allow for total support for back and joints, allowing better sleep," Samani says. "As we say at Sentiments, 'Better Sleep, Better Life.'"
Sentiments also offers the Calming Shag Vegan Fur Donut Cuddler under its Best Friends By Sheri brand. Though it looks more like a fun, furry cushion that would blend in well among a variety of furnishings, the Donut Cuddler is actually a soothing pet bed that cradles a dog's body. The cozy shag fabric is even meant to mimic a mother dog's fur and help a pup sleep more deeply.
In addition to catering to dogs' needs, Sentiments also creates products suited to cats. Though felines may be more likely to run, jump, hide and climb, they share some similarities with canines when it comes to comfort.
"When it comes specifically to pet bedding, there is a lot of overlap in terms of the needs for dogs and cats," Samani says. "Both animals generally appreciate beds that provide a sense of security and shelter, as well as beds that offer plush fur that is reminiscent of a mother's coat."
Beyond Bedding
Besides beds, Sentiments offers feeders specifically designed to make mealtime as easy as possible for both pet parents and their animal companions. All of the company's bowls are dishwasher-safe, making them convenient to clean.
"When creating a feeder, we consider the needs of the pet by having a wide range of heights/sizes," Samani says. "For different breeds of pets, we create slow feeders in functional shapes to better their eating habits."
For beds, feeders and other pet furniture products, Samani recommends that retailers educate their sales teams on the different benefits and features of each item to ensure that they can help customers find what they're looking for and make the sale.
In addition to ensuring that its products meet pets' unique needs, Sentiments takes pride in creating items with exciting and appealing designs. For example, the manufacturer partnered with Disney to offer products that are both fun and familiar for pet parents. Samani says the company was excited to work with Disney in order to help deliver its iconic characters to the pet industry.
"The Disney brand is one of the top brands globally," Samani says. "The brand is trusted and known for quality and that matches up with our brand pillars."
The result of the collaboration is a range of premium beds, feeders and toys influenced by Disney classics. Highlights include a domed pet bed shaped like Minnie Mouse (ears included), a bowl patterned with roses from Beauty and the Beast and balls shaped like Jack Skellington's head from The Nightmare Before Christmas.
Sentiments also takes pride in designing products that complement modern décor, taking inspiration from its roots in home textiles.
"We leverage colors and patterns to create a piece that is both functional and elegant," Samani says.
The company has incorporated popular colors like Champagne, Navy Blue and Olive Green into its furniture design, as well as retro shapes that provide both comfort and style, according to Samani.
Fueled by this contemporary flair, the manufacturer delivers products with an elevated look, allowing them to fit seamlessly into a home's interior design. With these offerings in mind, Sentiments has established itself as a major contender in the pet furniture category.  PB