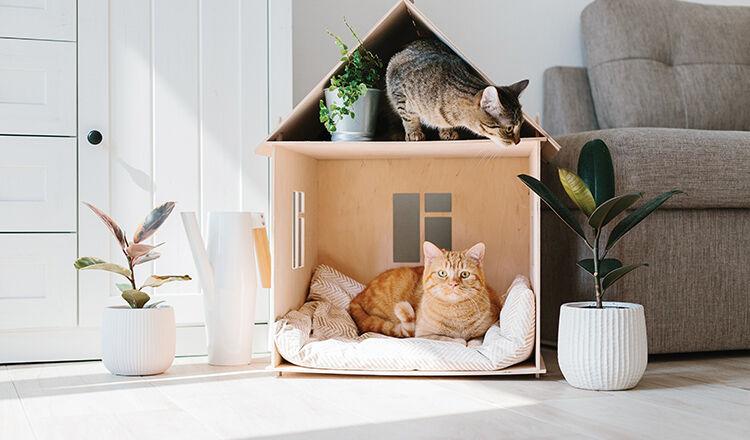 As the new year rolls in, consumers are looking to revitalize their living spaces with their furry friends in mind. In the midst of the pandemic, pet furniture sales haven't dipped like other industries—they've actually spiked, due to increased time at home and a marked increase in pet adoption. 
The uptick in pet ownership, "has brought increased awareness to the needs of the pets in the home and the significance of them having their own space, even if that's just their own bed to lounge in being incorporated into more areas of the living space," explains Sarah Johnson, account manager at P.L.A.Y. Pet Lifestyle and You.
This spike has accompanied the overall increased interest in pet furniture over the past few years. Trends in pet products are mirroring the increased humanization of pets, and pet furniture is no exception. 
"The trend of humanizing pets and treating pets as true members of the family has helped the category grow," says Tara Whitehead, director of marketing and communications at MidWest Homes for Pets. "For many, the family dog or cat are considered 'fur kids,' and they are pampered with premium foods, boutique-style clothing and items such as pet furniture, some that are even meant to mimic traditional household bedroom and living room furniture for humans."
In addition to looking cute and being a way to pamper your pets, pet furniture can serve various purposes in the home. With pets integrated in the family, consumers are increasingly looking for their furniture to blend into the décor of the home, as well. 
"From cat trees that encourage exercise to beds that offer a comfortable spot and personal space of their very own for both dogs and cats, they're items that you will see a need for in every pet home," says Johnson. "People want to integrate their pet furniture into the home without need to hide it away when guests come over. This need is being met with patterns following home décor trends and uniquely designed products."
In Stock
Retailers should keep an eye on furniture trends in the human world, know their customer base and lean into their store's aesthetic so they can make sure they're stocking furniture items consumers will want to display in their homes. 
"A retailer should consider playing off the preferences of its primary customer base, as well as the store's individual style," says Victoria Bouldin, vice president of operations at Primetime Petz. "If a store's style is more modern, it will likely draw customers who love that modern flair, therefore opt for a small selection of modern pet furniture that fits in with the store's look and feel as well as what the clientele might expect to find. If the store veers more toward the traditional side, then select pieces that complement the timeless style of the store."
Including a smaller selection tailored to the store's customer base also helps minimize the space furniture items take up in store. Despite the bulk nature of these items, retailers have to stock them. 
"Pet furniture is an essential category," says Johnson. "While it can be a challenge for stores with smaller square footage to carry a large assortment, it's still important to make room for these items. These are products that are significant for the health and comfort of any pet. One of the first things new pet parents often look to purchase are furniture items to accommodate their pet, so those are sales a retailer does not want to miss out on."
With a lack of floor space, many retailers prioritize smaller items, but those who do are missing out on a major part of the pet product market. 
"Pet furniture should be prioritized by retailers because it yields higher margin dollars with fewer sales than other items, such as consumables and other pet supplies," adds Bouldin. "When properly displayed and creatively merchandised, pet furniture can be a rock star category for retailers."
Designs on Display
Eye-catching displays can help boost sales, so retailers should take the time to put together unique visuals rather than just displaying the products themselves. Bouldin explains that when pet furniture is displayed properly and creatively merchandised, it can yield major profits for retailers.
"There is nothing more effective than having a visually-pleasing display," adds Long Liu, marketing specialist for PetPals. "It's important to have a theme, and to set up according to that said theme. For pet furniture, you want the customer to visualize the product displayed in their home. With a theme, you can [also] add similar products that will compliment your display and boost your sales."
Balancing the importance of displaying pet furniture with limited space requires some creative thinking, and manufacturers are working to help out retailers in any way they can. 
"Pet furniture is best displayed out of its packaging, but we know retail space can be limited for many," says Whitehead. "MidWest has been developing display solutions for retail using our expertise in wire forming and steel tube fabrication. Today we offer wire bins, freestanding modular and moveable displays, and various customizable in-line displays for gondolas that can showcase hanging and free-standing beds as well as product cartons."
Many manufacturers also offer special ordering, so retailers can provide a larger selection than what they are able to physically keep in stores. 
"It's also always good to know whether special order options are available in the event that a customer is looking for a color or style not stocked, especially in stores with less space for larger furniture items," Johnson explains.
Going Online
Digital marketing in general is a great way for retailers to include a wider selection than can be effectively displayed on the show floor. A good website and social media presence, along with videos showcasing available products, can go a long way.
"Video/digital marketing are the most effective merchandising strategy, because you can visually catch a consumer's attention and feed them information," says Kathy Tsai, president of Petique. "We create videos about the product, address the problems consumers may have and present solutions. We put the videos on every social media platform possible to reach different consumers... People notice the pet furniture and realize it can benefit them and their pet's lifestyle."
Especially with limited items on display, it's important for retailers to be familiar with all aspects of the products they sell to help customers find products that are best for them and their furry friends. 
"Retailers need to provide their customers with information that can solve problems," adds Tsai. "Depending on each product, retailers need to list out and know the features, the problems of the product and what it helps solve. When retailers know every single problem a product can solve, it will be easier for them to market to potential new buyers."
Pet furniture, then, is an essential part of a well-rounded pet retail store, and the category's popularity will likely only continue to increase. 
"This category will remain strong with the ever-increasing number of pet parents who want to provide their pets with their own furniture that blends in with the home as naturally as something the buyer might purchase for themselves," says Johnson. "The needs of pets are increasingly being recognized and addressed, so with this we should continue to see new innovations alongside interpretations of classic products newly designed for modern pets and their parents."  PB