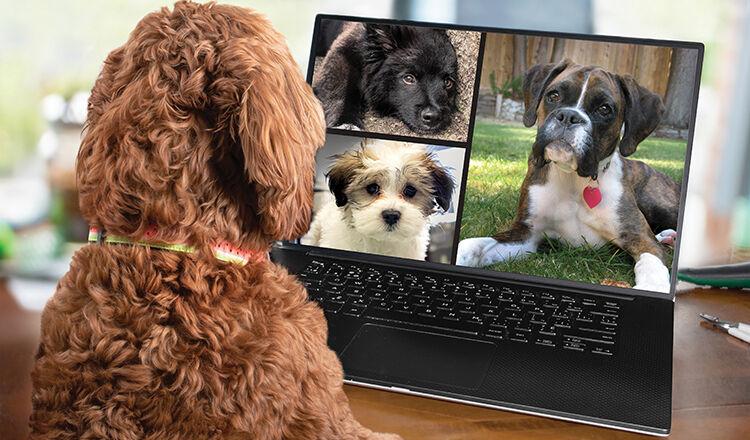 Technology product sales have exploded during the pandemic—and consumers bought more than just laptops and earbuds.
With more people working from home, high-tech pet products have emerged as a solution for customers looking to keep their pets occupied and entertained while they focus on other concerns. According to several manufacturers, pet owners are especially interested in products that automate playtime, feeding and assist with other daily tasks.
"We love any product that uses technology to keep dogs healthy, safe, physically active and mentally engaged," says Denny Hamill, CEO of iFetch. "Enrichment is so important for all life stages, from puppy to senior."
Of course, the pandemic is just one factor driving customers to purchase high-tech pet products. According to the Consumer Technology Association (CTA), in its Five-Year Industry Forecast, 2019-2024, 16 percent of U.S. households owned at least one pet technology device in 2020, and another 12 percent indicated they plan to buy a pet technology device over the next year. 
Technical Solutions
As humans have found more ways to integrate technology to help make their own lives run smoother, manufacturers have created products that aim to make pet ownership more manageable. As a result, pet-related tech products, such as cameras that help pet owners keep an eye on their pets, smart treat dispensers, interactive toys, among others, have been receiving more attention lately. 
Of course, the primary concern for pet owners is that their pets are well taken care of and have everything they need to live a long, healthy life. 
"A lot of pet owners see their pets as part of the family, and they want to be the best pet parent they can be," says Celeste Vlok, marketing manager for PetSafe. "They also crave products that make life more convenient to have more time to relax with their pet."
On top of looking for convenient products, consumers have had more time to observe their pets and find innovative products to help address their needs and behaviors. For instance, Vlok highlights that owners can address nuisance barking with a high-tech collar, which can "help pet parents safely condition their dogs to bark less and improve the relationship between pets and their parents." 
"As people stay home during the pandemic, pet parents may have more sensitivity towards their pet's needs," says Vlok. "They are looking for products that help keep their pet entertained while they are working, such as electronic dog and cat toys that can serve as boredom busters and electronic pet fences and pet doors to give their pets the freedom to safely play in their yard and come and go inside the house as they please."
To help pets go outside when they please, Ideal Pet Products offers high-tech pet doors for both dogs and cats. For dogs, there is the E-Z Pass Radio Frequency Electronic Pet Door, which has a sensor fob attached to a collar that automatically opens the door when the dog approaches. The cat version is the E-Cat Electromagnetic Door, a magnetic collar that activates the door. 
Tony DeSavia, director of marketing for Ideal Pet Products, says sales of analog and high-tech pet doors at Ideal Pet Products increased 30 to 35 percent during the pandemic. 
"What made it appealing is it's a real easy home project," DeSavia says. "You don't have to be a rocket scientist, and you need only a few basic tools." 
Since pets—and their pet parents—may be spending more time outside, there has also been demand for training products such as remote trainers, which consist of a dog collar and a remote. The human pushes a button to activate a spray, static, ultrasonic or vibration stimulation on the collar. These items can serve as an invisible leash that's 10, 50 or even hundreds of yards long, says Vlok. 
Beyond inside the home or outdoors, businesses are also looking to technology for ways to keep customers and their pets safe when they visit. The pandemic has made people think about the air they breathe, and manufacturers have developed technology to purify the air. 
"As pet owners, boarding, daycare facilities, grooming and veterinarians become more health conscience for the health of their animals as well as COVID-19, air-purification is becoming an important factor in our daily lives," says Robert Hughes, president of Air-Vac Systems, which makes commercial grade clean air solutions for pet boarding, daycare, grooming and veterinary facilities.
According to Hughes, the hottest trend now in air filtration systems is filterless purification technology. Photo Catalytic Oxidation and Ionization is a type of air purification that does not use traditional media filtration like a paper, micro-glass or HEPA filters typically found in air cleaning equipment. The two technologies neutralize odors, VOCs, gases, mold, bacteria and viruses. 
"Photo Catalytic Oxidation uses a UV light, different metals as a catalyst which creates natural cleaning agents as a process that works exactly like the earth's natural cleanser, the sun," Hughes explains. "Ionization technology uses positive and negative ions to treat the air." 
Selling Tech
On the whole, it's important for manufacturers and retailers to draw attention to how technology can benefit pets. One way to demonstrate the value of these tech products is by creating or sharing videos that showcase how a product can be used. As with other products, videos shared on a company's website can help drive sales.
"More and more of these retailers rely on their websites," DeSavia says. "The brochures and point of purchase materials in stores are going the way of the dinosaur."   
Retailers can also offer demos in-store so customers can see first-hand how they can use a product and why it may be a good fit for them. Products that involve technology have higher retail prices than food or plush toys, Hamill says, so it helps to have a visual demonstration showing how to use the toys. 
Although the tech category has gained attention because of the pandemic, it shows no signs of slowing down once it's passed. According to another CTA study, Future of Consumer Behavior Amid COVID-19, consumers expect to continue certain purchase behaviors after the pandemic ends; 57 percent indicated they will spend about the same amount on consumer technology products as they did pre-pandemic, and 15 percent indicate they will spend more. 
DeSavia predicts sales will continue to climb post-pandemic because people will likely still spend time in their homes. 
"We're tapping into the do it yourselfer and the stay-at-home family," he says. "People won't be traveling as much, and less people are going to be boarding pets…I think a lot of this is here to stay."  PB