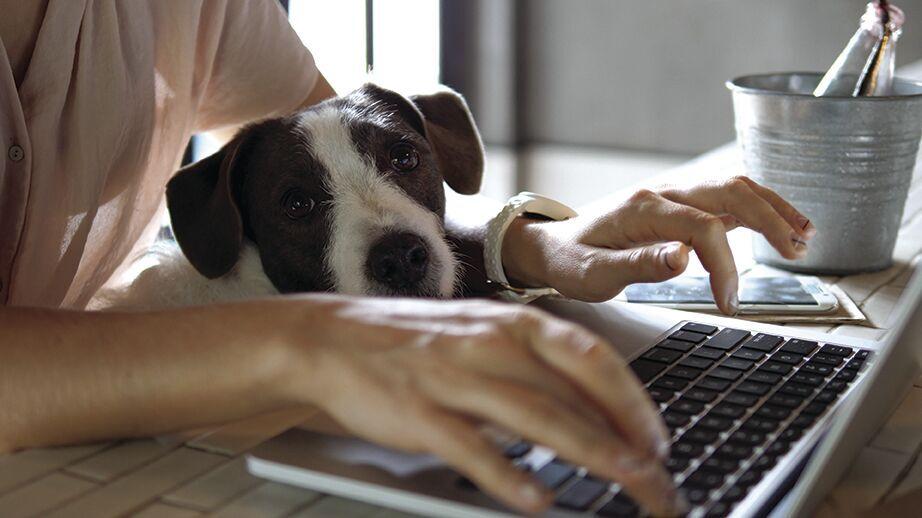 In a world filled with uncertainty, one thing that's constant is the love people have for their pets. However, the unique lockdown/social distancing situations presented by the COVID-19 pandemic left pet parents with a no-win situation: Do they prioritize their pets' well-being or their own in the face of highly contagious variants and viruses? 
Thanks to highly adaptive retailers, the pet industry dramatically changed its retail landscape over the past 20 months—and the overwhelming expert consensus is that it changed for the better. 
As businesses were forced to pivot on a moment's notice and refine their shopping experiences to adhere to the changing safety regulations, they prioritized implementation or expansion of e-commerce options—including buy online, pick up in store (BOPIS), curbside pick-up or delivery services—to continue providing their consumers with the necessities their pets need while striving to serve the "in-store experience" in an online medium.
"It's not just important to offer e-commerce services; it's vital and trending toward essential," explains Berenice Giannini, co-founder of eTailPet, a pet business-specific all-in-one solution for POS and appointments. "We're not far from a time when someone will ask, 'What happened to that pet store?' and the answer will primarily be, 'They didn't have e-commerce.' While the pandemic accelerated brick-and-mortar pet stores' adoption of e-commerce, consumer behavior has been trending this way for over a decade."
In fact, the U.S. Department of Commerce found that in Q2 of 2011, e-commerce represented just five percent of total U.S. retail sales. However, that number spiked to almost 20 percent in Q2 of 2020—a dramatic increase that's poised to keep growing over time.
"When you combine that with the fact that 93 percent of consumers use the internet to find local businesses, the pet parent preference is clear," says Giannini. "The in-store option isn't dead—it just starts online. Having e-commerce available simply builds a bridge to allow consumers to support your local, thoughtful store presence."
To provide a cohesive experience between in-store and online shopping, retailers are tasked with refining and improving their e-commerce offerings to continue satisfying their customers. However, navigating the technology needed to deliver seamless buying experiences online and in-store is challenging and includes several key considerations and strategies.
Closing The Gap Between Digital & Online

 
Aside from budgetary and manpower concerns, much of pet retailers' biggest hesitations for avoiding online shopping offerings simply revolves around delivering a high-quality customer experience. Obviously, the online shopping experience is drastically different from an in-store shopping experience, and many retailers—including Lisa Gangloff, co-founder and owner of Delaware-based Riverfront Pets—are wary of embracing e-commerce offerings due to the perceived experience disconnect. 
That brings us to the industry's beloved, game-changing Millennials. As memes-a-plenty increase the visibility of all kinds of pets, it's even more important for retailers to put their hesitations aside and fully embrace the pet-owning demographic born from the '80s and '90s where they are—online. 
For retailers unsure of where to start or where to expand, Retail TouchPoints' 10th Annual State Of Store Operations Benchmark Survey discovered that 65 percent of retailers are utilizing BOPIS options, while 62 percent rely on buy via mobile or website and ship to home. Additionally, the top two contactless options retailers use are payment/POS (67 percent) and curbside pickup (47 percent).
"Retail and technology are becoming synonymous," says Michael Seitz, founder of Earthwise Pet. "We have developers on our team now, which we never had before. In fact, we are constantly developing new state-of-the-art technology that hasn't even been deployed yet systemwide. If I were a single-store owner, I would look for a system that is an all-in-one solution that has local POS, online e-commerce, ship-to-home integration, local delivery integration and auto-ship. Without in-house developers to build the connections between systems, you really do need an all-in-one solution."
Refining Online Presence
Technology is just the vehicle to get consumers to a pet retailer's online storefront and aide in their purchasing—what's just as important is providing a branded experience in both the physical and digital medium. Retailers might be surprised to find out how similarly online and in-store operations run—on paper the two seem like night and day, but strategically, there are several commonalities.
"Just like when you have a brick-and-mortar store and you're worried about how you're going to get in-store traffic, e-commerce has the same need—but that doesn't mean marketing strategies are exclusive to the medium," Giannini explains.
To curate a stronger online presence and lend more credibility to brands, Giannini dove into four key areas retailers must prioritize to see success with e-commerce offerings.
1) Claim Your Google My Business (GMB) Listing
Giannini explains that retailers should "focus on keeping the basics accurate" when claiming GMB listings. However, they can increase its value by:
•  Ensuring your address is accurate and your store's QR code that links to the listing is on your door
•  Checking that your phone number is accurate and consistently calling it to make sure it works as intended, as more consumers are utilizing the "click to call" function on GMB listings
•  Inviting your customers, whether it's in-person, via text or over email, to write a review
2) Develop & Execute A Social Media Content Calendar
Giannini suggests that pet stores should be posting two to three times per week on each of their social channels—while Facebook and Instagram are "essential," there's also Twitter, TikTok and even Pinterest to consider. As such, retailers should consider each additional social platform as new customer base.
"You lost 100 percent of the sales of the people who utilize channels you don't talk to," Giannini explains. "Don't forget to always include a link to your online store and post your content on your GMB listing to build your Google clout."
3) Utilize An Email Marketing Tool
Ginanni recommends a "simple" tool such as MailChimp or ActiveCampaign to update your customers on special offers and events. She continues that all emails should always include a link to your online store, and clicks can be encouraged by providing email-exclusive coupons. Additionally, email is the best place to follow up with customers to write a review after in-person and text.
4) Elevate Your Branded Experience Across Channels
"Utilize Canva to elevate your branded content across all of these channels," says Giannini. "You can get pretty far on a free account—even sticking with a pre-built template you really like will bring consistent brand experiences to potential customers."
Ensuring Websites Remain Functional & Simple
Spending all the time and manpower refining your online presence is a time-consuming feat, and it's all for naught if retailers don't provide a cohesive, functional landing page for all that traffic to land on. Ensuring digital engagement is maximized to see continued success includes ensuring your online storefront is fully functional across all devices, including mobile, desktop and even Smart TVs.
"It's more important than ever to enhance your e-commerce offerings because young adults today are never without a phone in their hand," explains Nancy Guinn, president and founder of Virginia-based Dog Krazy. "When someone sees a new product on social media, the first instinct is to look it up and see who has the item nearby. If your website is not user-friendly and doesn't show what products and services you offer, you are losing potential customers."
It's here where the concern about a cohesive in-store and online experience is raised again. Pet retailers pride themselves on providing an exceptional, personalized experience to keep pet owners feeling valued and patronizing their store. 
"Our highest priority is always to provide superior customer service—we want to help our customers fit harnesses properly, discuss nutritional concern and provide guidance with supplements and toys," explains Riverfront Pets' Gangloff. "We love being a destination, and didn't want to lose that experience."
To close that gap, retailers should carry their brands' voice across their marketing strategies, including blog and social media posts, email campaigns and even via its website. If your store is designed to create a warm and fuzzy feeling, carry that warmness over to your website; if you're striving for a higher end boutique vibe, ensure your website templates and online imagery reflect that.
"You have built your store to operate within one of three experiences: a representation of the owner, a representation of your brand, or a blend of both," says Giannini. "However, you have built that experience (what can also be known as your brand) to be appreciated by your customers in-person must be translated into your online interactions. You want people to have the same feeling they have when they walk in your store when they visit your website." 
She continues that digital experiences do not strip your customer of a personal touch or from the experience you've built in-store; instead, they carry those personalized touchpoints to a different medium. That serves as "proof" to your customer that you will meet them where they are because their loyalty will only become more evident.
For example, Guinn and her team work to incorporate those in-store touches by utilizing the store profiles they have on-hand for customers to identify other items of interest or if there are any special deals the customer might be missing.
"When we have a promotion on an item, I look up who we are delivering to that would use that product and I call them and let them know about the deal," she explains. "We had a BOGO on one of our lines last month, and I made four quick phone calls that resulted in close to $800 in additional sales—just by a simple phone call. Our webstore employees still communicate and get to know our customers through what they order online."
Some successful examples of personalized touches that Giannini has seen include:
•  Extending the "let me carry the big bag of food to your car" personality to curbside pick-up for online orders.
•  Ensuring the products available online are in-stock in stores.
•  Making sure your brand is unified between the store and your site by sticking to your "brand guidelines" while picking logos, colors, fonts and other design elements.
•  Adding personalized touches, such as handwritten notes placed in delivery order or placing a friendly call to check in with pet parents on their online experience.
Guinn explains that she had to innovate her online-based services to replicate the in-store Dog Krazy experiences her customers expect, as the store is known for its customer service. In addition to handwritten thank-you notes, Guinn reflects the in-store browsing experience through online delivery orders.
"We look up the customer's buying history and add a sample of a product they have never used, along with a promo code to save 20 percent when adding it to their next order," she continues. "That adds a way to show our products to them even at home. We keep a delivery log and write what sample is sent so we don't send the same sample twice."
No matter what new technologies and e-commerce offerings are enhanced or implemented, what keeps small pet retailers in business is their ability to connect with consumers (and their pets) on a human level to ensure they're not just another number or sale. The beauty of independent retailers is that they care about their businesses and prioritize customer experience and pet wellness as much as they prioritize making a profit—and no matter how much technology is implemented, the familial feeling of your local pet store will never change. 
"About two months into COVID, our community was pretty quiet," says Riverfront Pets' Gangloff. "Dogs still needed to be fed and groomed, so we were doing okay. One day, a woman came in our shop—she was in her pajamas and her hair was a mess. We asked if we could help her and she said, 'I don't actually have a pet, I just needed somewhere to go.' I remember that feeling; I was so sick of my house and my store that going to the grocery store was an exotic road trip. I am enough of an optimist to believe that our human-to-human business model will not become obsolete."  PB