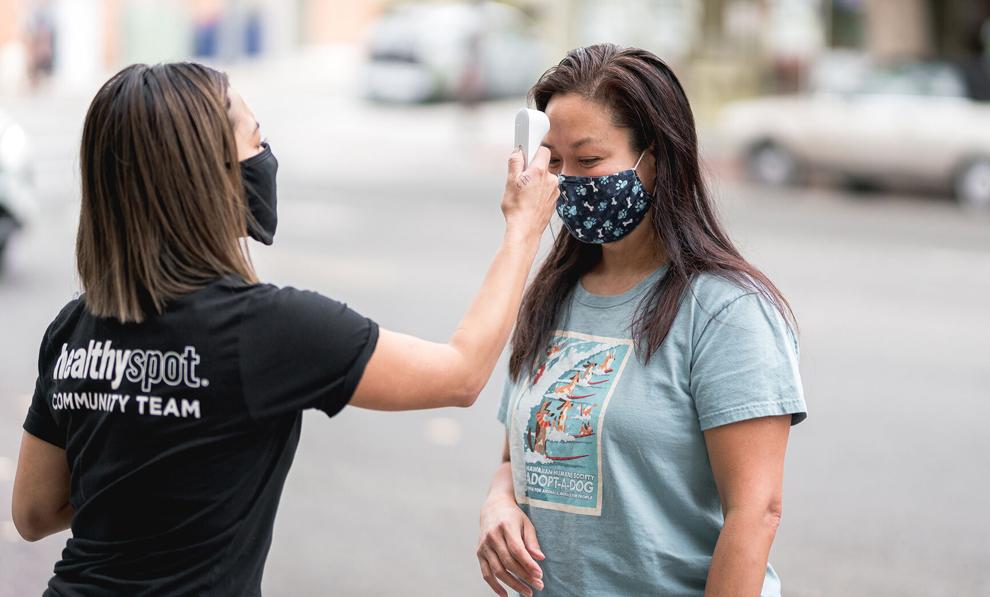 As if it was not enough that 2020 delivered a worldwide pandemic that threatened the lives of millions of Americans, it has also been a year marked by ongoing civil unrest and a variety of natural disasters—all of which have combined to wreak economic devastation, particularly for small businesses. While the pet industry has generally fared better than others, it obviously has not been immune, with the hardest-hit segment being independent brick-and-mortar stores. Not only have these businesses had to navigate all of the hurdles thrown in front of them this year, they've also had to do so without the benefit of deep corporate pockets or a safety net of investors.
That's all on top of the challenges that independents have been facing for years—you know, things like big-box retailers adopting brands that were once the exclusive domain of mom-and-pop shops, internet retailers like Chewy undercutting everyone when it comes to pricing and the daily complexities of running a small business. It takes a lot of resilience to survive, and even thrive, under such pressure, but that's exactly what independent pet retailers across the country have been doing all year. What's more, they've been doing it while also providing their local communities and business partners with the type of support that only small, independent businesses can deliver. It is for these reasons that Pet Business had decided to honor all independent and neighborhood pet stores as our 2020 Retailers of the Year.
Clearly, we are not alone in recognizing the mettle of neighborhood pet retailers and the valuable role they play in keeping pets, pet owners and our industry healthy in good times and—more importantly—in bad. 
"We are really just in awe of the brick-and-mortar retailers who've thought on their feet, adjusted the way they do business and been able to continue to serve their communities through shutdowns by offering delivery or curbside order pick up," says Lindsy Argenti, marketing manager for Coastal Pet Products. "Retailers created solutions in weeks—[solutions that] might have taken them years to work through without the unique circumstances created by COVID-19, and that's no small feat."
No small feat, indeed. Despite being considered critical businesses and given the green light to remain open, many pet stores simply didn't know where to start in wading through the murky information and variety of rules and regulations that needed to be understood to ensure the safety of their customers and employees during the pandemic.
"There was no clear guidance of what we needed to do to operate safely, but everyone was telling us that we were 'essential,'" says AdreAnne Tesene, owner of Two Bostons, which has five locations in the Chicago metropolitan area. "We took this opportunity to become the trusted authority with our team by sifting through all the information at the time and provide them with facts and reassurance that we were operating in a manner that was aligned with their safety."
To that end, retailers like Two Bostons prioritized and streamlined communications with their staff and their customers through a variety of contact-free techniques, including video chats, personalized phone calls and social media profiles/websites that were kept more up-to-date than ever.
"While we did not have an answer for everything in the moment, we felt it critical to help inform our pack what was going on, regardless," says Andrew Kim, founder and CEO of Culver City, Calif.-based Healthy Spot. "Being aligned top to bottom helped us remain connected and agile, and execute with clear objectives." 
Even as they faced the challenges presented by a pandemic, independent pet retailers also had to deal with the typical problems afflicting their stores—just on a heightened scale and with a greater sense of urgency.
"From diminished customer traffic and changing shopping patterns, staffing dilemmas and merchandise out-of-stock positions, COVID has been the driving force behind decisions and adjustments to our business this year," says Teresa Miller, owner and founder of Treats Unleashed, which operates 17 stores in Missouri and Kansas. "We have overcome it by going back to basics—working with our teams to do what makes them comfortable has made our customers comfortable in returning to the stores; [shifting] our delivery methods and [making] changes to our assortment to go back to that basic customer-centric model of business."
Challenges Beyond COVID
Yet, it isn't just the pandemic-related trials and tribulations that pet stores have had to deal with in 2020. A variety of social justice issues have come to a head this year, spurring peaceful protests, and even rioting and looting, in many parts of the country. Mother Nature has sowed chaos, too. From the devastating wildfires raging up and down the West Coast to a historic hurricane season battering the Gulf states and East Coast, natural disasters have tested the limits of our industry's independent retailers. 
While Kim notes that none of Healthy Spot's 21 stores in California were directly in the immediate fire danger zones, he says, "the air quality throughout the surrounding areas was significantly impacted, keeping many people indoors during that time."
Luckily, the business was prepared, thanks to all the COVID safety protocols that had been put into place. Consumers who opted (or were forced) to stay inside were able to turn to Healthy Spot's online shopping, delivery, phone orders and curbside pick-up options to maintain their health and keep their pets in tip-top shape. 
While natural disasters have not added to the challenges facing Two Bostons, civil unrest in Chicago and the surrounding areas certainly did—especially as peaceful protests gave way to rioting and looting. 
"One of our stores is located in a large downtown area and we experienced several protests," says Tesene. "A few of the protests resulted in rioting—we acknowledge these were different groups of people—with significant damage done to several of our neighbors. This location happens to have a couple of steps at our front door, which normally we curse, but we were thankful for them since the police were able to use them to see over the crowds. This helped keep our storefront safe, as did boarding up our windows. We chose to close early several times during this period to keep our team members safe and ensure they were able to leave the area before any rioting occurred."
Still, while the threats posed by natural and social upheaval have certainly presented formidable challenges, they've also given independent pet retailers an opportunity to demonstrate their commitment to their communities by opening clear lines of communication and serving a vital role in the healing process.
"We keep our community, internal and external, informed and supported through a difficult time in our country around the social justice matters," says Kim. "We look forward to a time of healing and unity for our communities."
Changes and Adaptation
When contact-free shopping options—online ordering, curbside pick-up and delivery—took off, companies were faced with implementing, updating or expanding their e-commerce options.
"We already had about 80 percent of our inventory online, but immediately went to work adding the rest of our products and making our online store easier to navigate," says Tesene. "This allowed us to provide more hours to some of our part-time team members who were laid off from their other jobs."
Agri Feed Pet Supply, which operates two stores in Knoxville, Tenn., took things to the next level when it implemented an unusual—but extremely effective—solution to the challenge presented by the need for social distancing.
"We already had a road paved around one of our buildings with doors to allow us to open a drive-thru," says Britt Sturm, Agri Feed's vice president. "[This] allowed customers to place their order online, over the phone or as they came through the drive-thru."
Of course, this new concept in pet retailing did come with a learning curve—"add-ons and tickets weren't adding up like normal," notes Sturm. However, once the kinks were worked out, the retailer was able to focus on inspiring purchases of items like treats and toys. In fact, Agri Feed added an entirely new category of products to the store for a "nice boost of sales each month"—personal protective equipment in the form of face masks and mask filters, as well as hand sanitizer and disinfectants. 
Not Alone
As independent pet retailers have quickly adjusted to doing business during these turbulent times, they have done so knowing that what is at stake goes well beyond the confines of their stores. In fact, the ongoing success of the pet industry overall greatly depends on the health of this vibrant and diverse class of pet care professionals, which acts as an invaluable resource in incubating product trends, educating pet owners and providing key feedback to vendor partners about the needs of consumers. Argenti explains that if the pandemic-related protocol changes has manufacturers running, it must feel like a marathon to retailers. 
"We're grateful for that resilience, because in a world where cheap online imitations crop up every day and push reputable brands down the page, it's the independent retailers' reputation for knowledge and high-quality products that keeps consumers coming to them and finding our brands," she explains. "It's that level of integrity that generates repeat customers and helps drive sustained growth."
Luckily, retailers haven't been alone in tackling all the adversity they've faced in 2020; they've been able to lean on the pet industry's distributors and manufacturers for much-needed support. However, these vendor partners have had to contend with their own challenges in order to rise to the occasion.
For example, Pawtucket, R.I.-based pet specialty distributor Pet Food Experts, "simply wasn't staffed to handle such a massive volume increase, both inbound and outbound," says Michael Baker, the distributor's founder and president. 
Like Pet Food Experts, many pet industry vendors had to roll up their sleeves and examine the best ways they could provide support for their retailers.
"During the height of pantry-loading, many of our independent retailers were seeing as much as a 300 percent increase in day versus day and week versus week sales," says Chase Rasmussen, vice president of sales for Perham, Minn.-based pet food manufacturer KLN Family Brands. This led to company to ramp up production and logistics efforts to ensure they were meeting the increased demand.
Earth Animal, a manufacturer of pet food, treats and supplements based in Southport, Conn., decided to take a step back and evaluate the situation from a broad perspective.
"We said, 'Okay, what's going on here?" explains Chris Moore, the company's president and COO. "It feels different—consumer are going online because they're not going out, stores are shuttered, what's the consumer feeling?" 
According to Moore, the next step for Earth Animal was to consider, "The things we can do to make our retailers stronger." 
He points to the company's realization that the future of retail (now and for the foreseeable future) revolves around a suite of digital activations. To that end, Earth Animal is providing its retail partners with content they can upload to their social media profiles, as well as email lists that can be used to engage their communities and raise awareness about the importance of shopping local.
KLN Family Brands also viewed social media as a key resource for supporting its retailer partners and shifted its strategy in this area to place a heavier emphasis on encouraging consumers to support independent pet retailers. To this end, the company deployed graphics and posts that retailers could use to highlight the fact that they are essential businesses, open and prepared with alternative buying methods. 
Further, KLN Family Brands created a #shoplocalpetchallenge social media campaign to encourage both retailers and consumers to spread the word about the importance of supporting independent brick-and-mortars. As a result, the company's NutriSource brand donated $1,000 worth of dog food to five nonprofits chosen by randomly selected participating retailers.
As much as retailers appreciate the support of their vendor partners through this difficult period, they also make it clear that it must continue once things return to some sense of normalcy. They understand that it will take strong partnership between manufacturers, distributors and retailers alike to keep pet channel healthy moving forward.
It's this idea of long-term, prospective partnerships that has Kim excited about the launch of the new IndiePet retailer trade association. Now more than ever, he says, "we need to come together, share leading practices and keep connected as we move through this time collectively. I believe this trade association can help facilitate this connection and help us be successful individually as operators and as an industry, moving forward."
Giving Back
Even as retailers have struggled to overcome one challenge after the next this year, independent pet store owners have found the time, money, determination and passion to support both the two-legged and four-legged members of their local communities.
For example, Tesene explains that Two Bostons is in the middle of its virtual Adopt-a-Rama event, which puts a different rescue group in the spotlight each day and strives to education the community about the importance of rescue and adoption.
"This also allows us to highlight each groups' needs and animals they are trying to adopt," she says. "Along with this, we are promoting our can drive for these groups and have already reached over 8,000 donations. The winning group will get their donations doubled by Two Bostons."
For its part, Treats Unleashed has made sure its local pet food pantries are stocked well enough to handle the increased demand that has resulted from an uptick in unemployment within the community. 
"Being able to support their mission of keeping pets in homes with the donation of free pet food aligns with our mission of caring for the pets in our community," says Miller. "If we can keep pets at home instead of being dropped off at a shelter while pet parents are struggling, we are helping our community."
It's not just retailers that are getting in on the action, though. Baker explains that being that part of Pet Food Experts' mission is to give back to the communities where it houses its operations. "We consistently donate as much food and litter as we possibly can to pets, people and businesses in need," he says. "In fact, we accepted the Vital Challenge from one of our amazing vendors, Vital Essentials, and have surpassed over $100,000 in donations (cash and in-kind) since April."
Looking Ahead
If there is any silver lining to all the hardships that independent pet retailers have had to endure this year, it is knowing that they are sure to come through the experience stronger than ever. Operational improvements like the addition or expansion of e-commerce and delivery services, the tempering of their relationships with vendor partners and local communities, and the ongoing impact of a pet adoption surge should all help pet retailers drive their businesses to heights. 
"The modern consumer has come to expect options when shopping, such as in-store, online, by mobile app, by phone, curbside pick-up and home delivery," says Baker. 
"Our research helped us discover that pet retailers who had executed a multi-option strategy with both in-store/curbside pick-up options, in addition to online [services], outsold retailers with no online ordering options by over 25 percent." 
"Customers want to have choices on how to shop, based on their comfort level and what they are looking for," agrees Miller, noting that 2020 has provided an unwelcome but much-needed springboard to catapult independent pet retailers to the next level and secure their place as a worthy competitor in the fight against big-box retailers and other e-commerce giants. With their own resilience, strength and determination, independent pet retailers are better poised than ever to take back the pet industry. 
"I think we can all agree that 2020 has tested and challenged all of us in many ways, both personally and professionally," says Baker. "My biggest takeaway for 2020 so far is that the pet industry is essential, inclusive and resilient. This crisis, although devastating to families and communities across the globe, is also springing forth new levels of innovation, collaboration and compassion from those that have endured it. All that we have learned and all that has made us stronger, as a result, will shape the future of our world." PB