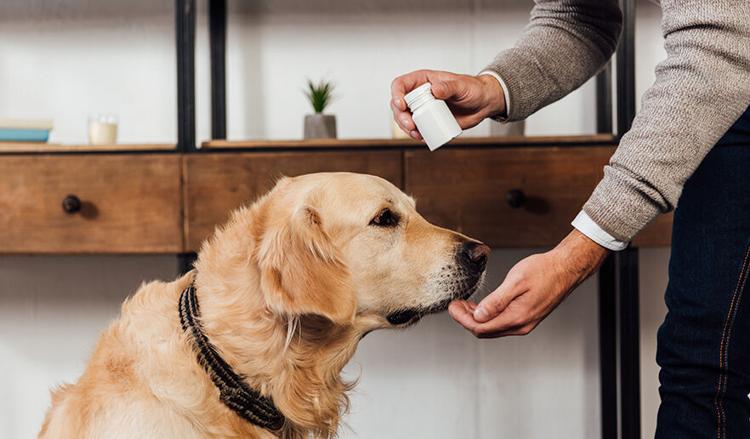 Wander down any drugstore aisle and you'll see shelf after shelf filled with supplements championing support for a variety of health issues. With their generally low-risk of side effects, supplements have resonated with consumers as they look for more natural, non-prescription alternatives to manage their health. As more people become cognizant of how supplements can contribute to their dog's or cat's well being, this category is experiencing an upswing in both consumer interest and product development.
According to Jean Jacobs, leader of business development for Silver Star Brands, the category's growth is being driven by pets' longer life spans and the challenges related to aging, such as joint pain, kidney trouble, urinary tract problems, thyroid complications and digestive issues, among others. Of course, then there are the hemp/CBD formulas, which have added rocket fuel to this category.
"All animals have an endocannabinoid system and hemp/CBD offer the same benefits to pets as it does to their owners," says Jacobs. "Pet parents are turning to hemp for natural relief from chronic pain and other conditions for their pets."
Pet owners also feel they need to take care of their pets as they do themselves or their children, says Michael Stoeckle, president/CEO of Ark Naturals Company. However, their attempts may be misguided if they're not properly educated.
"[Pet stores] are doing a really great job of educating their staff to understand the specific benefits of ingredients and combinations of ingredients to satisfy a need," he explains. "The category can be confusing for pet parents and having staff members with the ability to provide some clarity and recommendations is essential."
Embracing the Science
When it comes to pet supplements, people are less inclined to automatically assume the claims on the label are valid. Instead of taking these products at face value, consumers research the science behind the supplements.
Geoff Hamby, director of marketing for Vetericyn Animal Wellness, acknowledges today's consumers are more knowledgeable than ever, as they check out ingredients, compare products and read reviews, which can be a "revelation" for them.
"Many [consumers] have told us that once they started researching, they were shocked to see how difficult it was to find supplements that are backed by evidence and clinically-proven," he says. "[When we looked] at the supplements category… we saw a lot of label claims touting excessive ingredient amounts as being better. The issue with this is dogs can only absorb so much supplemental vitamins and minerals—the rest just passes through as waste. Worse, this can lead to overdosing and toxicity."
In response, Vetericyn partnered with a medical microbiologist/immunologist, Dr A.S. Naidu, who has over 35 years of research experience, to develop the company's ALL-IN, a new life-stage supplement for dogs. Hamby explains the supplement combines age-specific bioactive complexes with a patented absorption technology that actively transports the ingredients and unlocks the dog's cells so they get absorbed. ALL-IN is designed to provide complete nutritional support of digestive, cellular, bone and joint, cardiovascular, mental and immune health.
"Because the nutritional requirements of dogs change with age, we created three life-stage formulas—puppy, adult and senior," says Hamby. "The ingredients in each formula were tailor-made to support the biological needs of a dog in that age group. Each patented complex contains a propriety blend of ingredients designed to work in conjunction with the protein-based transport and delivery system."
Hamby says what made this product possible was achieving an understanding of how the body absorbs supplements, enabling them to identify a more efficient transport system—endocytosis or active transport—than what is found in many supplements, which rely on passive diffusion (where the ingredients sit in the gut until the molecules can move inside the body, resulting in many being passed through as waste, he explains). Instead, their process moves the nutrients through the body, delivering them to the cells where they can be absorbed. 
Pet Alive, which provides a large selection of herbal supplements and homeopathic medicines for a range of ailments and conditions, incorporates "scientifically-chosen" ingredients in its products. For example, among the company's top-selling products are Cushex Drops-S and Cushex Drops-M, both formulated to address common symptoms of Cushing's Disease.
As Jacobs explains, Pet Alive takes a "dual-modality" approach, where the "S" stands for herbal items and the "M" indicates homeopathic formulas. For the Cushex Drops-S, the company uses only premium whole-herb manufacturing, says Jacobs, a process that excludes the use of any chemical solvents during extraction and maintains the, "balance and harmony of the whole herb." 
The homeopathic Cushex Drops-M were formulated by the company's team of experts in natural medicine. In addition to supporting healthy energy, strong skin and coat and digestive health, both formulas help mitigate the effects of long-term exposure to high levels of cortisol without serious side effects, says Jacobs.
Among Ark Naturals' current portfolio are dental chews and brushless toothpaste products that provide a 4-in-1 solution. Exterior ridges provide abrasive cleaning action for plaque and tarter control, while the toothpaste center also cleans and acts as a breath freshener. The ingredients include honey, cinnamon, clove, alfalfa and vanilla. For the company's part, its formulas are partly formulated by researching trends on the human side of the supplement category.
"The technology of harnessing the power and effectiveness of ingredients that have worked well on the human side have certainly benefited supplements for pets," adds Stoeckle. "We hope to introduce some technology that will enhance one of our product segments significantly in 2021."
As is the case with all of its products, Ark Naturals teamed up with holistic veterinarian Nancy Scanlan and food scientist Leigh Broadhurst to council the company in product formulation and development.
"[Scanlan and Broadhurst] understand the value and efficacy of the ingredients we use but they also know and understand the science behind our formulas," says Stoeckle. "We scour the U.S. for the key ingredients Mother Nature provides and if we don't find an acceptable domestic source, we will turn to the world to provide that ingredient—after much inspection and scrutiny."
Meeting the Challenges
Though the pandemic helped drive pet ownership up, sheltering in place forced consumers to turn toward e-commerce. While online shopping initially started as a short-term solution, it could turn into a long-term embracement that will siphon foot traffic away from brick-and-mortar retailers. Then there's the global supply chain to contend with, which has felt economic and financial ramifications everywhere from the raw materials to the finished product, says Jacobs.
"The production side could not meet the demand in many cases, which caused disruptions to the availability of goods," she explains. "The challenges aren't over, so the supply chain has had to develop a resourcefulness and adaptability moving forward."
To counter the challenges presented by e-commerce, pet specialty retailers must provide pet owners with a thorough understanding of the features, benefits and applications of the supplements they carry. This interaction and assistance can prove appealing to internet-weary consumers who often struggle to make sense out of the information presented online. 
Additionally, pet specialty retailers typically serve as a trusted source of information, providing another layer of comfort and personalizing the shopping experience. To that end, retailers should take full advantage of the support, education and training offered by supplements product manufacturers. 
At the same time, says Hamby, pet specialty retailers should make good use of online opportunities, connecting with customers on social media, blogging or even holding zoom classes (and on-site ones, if local COVID-19 guidelines allow).
In-store classes and demos, along the lines of those held by Home Depot and Lowe's, can be effective in educating customers about supplements, adds Stoeckle.
"I would also suggest retailers try to find a couple of holistic practitioners who can explain product benefits and provide insight on clinical questions," he adds. "They could be a very good and credible source of information for their staff and, most importantly, for their customers."  PB