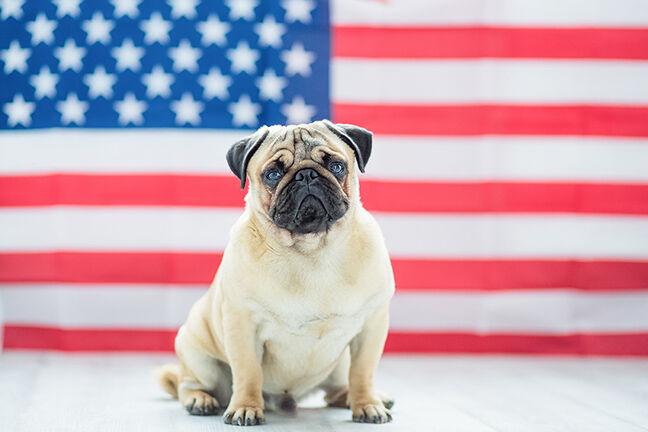 Most journalists agree that we're starting to sound like a broken record when we begin every article with a bit about the COVID-19 pandemic. But the global shutdown was so influential and touched every aspect of life it's impossible to ignore. Of course, U.S.-made products—specifically pet products—weren't immune to the supply chain and quality perceptions that were warped by the pandemic. 
Fifty-six percent of retailers experienced moderate disruption from the pandemic, according to research from Retailnext.com, an in-store analytics platform. However, despite these disruptions, 70 percent of the respondents indicated that they prefer American-made products, revealed an Oct. 2020 survey by The Reshoring Institute, an organization that supports companies starting, restarting or expanding manufacturing in the U.S.
For pet store owners, this signals the power carrying U.S.-made products in stores can have for their bottom line. Retailers should harness this clear preference toward U.S.-made products, and take advantage of the quality typically associated with them. 
In fact, a July 19-26 Gallup survey conducted on the web using the nationally represented Gallup Panel found that over 46 percent of respondents believe that products manufactured in America are of better quality than those manufactured in other countries

"The goods that are produced in America are distinguished by their quality," says Michael Milshtain, founder and owner of Talis US, an online pet retail store. "They are more reliable, created from better raw materials and are safer to use." 
Given its status as an online only pet store, Talis US provides the perfect view through the lens of Made in the USA products and rolling with the punches dished out by the COVID-19 pandemic. While it's clear consumers still prefer U.S.-made products and will purchase them whenever possible, the supply chain challenges presented by the COVID-19 pandemic severely impacted the availability of them.
Throughout this report, we'll take a look into U.S.-made products with an analytic, numbers-based view backed up by firsthand accounts from Milshtain that strengthen the case for why it's beneficial for pet retailers to carry U.S.-made goods in their stores and how to anticipate the upcoming trends and challenges. 


Current Supply Chain Issues
Everyone who's tried to shop online or even in store has likely been met with a shortage of products, making it difficult to get necessities. Just look at the wood shortage in the U.S.—supply is struggling to keep up with demand due to supply chain demands. Pet owners weren't immune to this either as their trusted local retailer often struggled to keep their products in stock. Unfortunately, that difficulty in ensuring shelves remained full isn't because pet toys, food and treats were flying off the shelf. Instead, these challenges were the result of the worldwide shutdowns that shut down manufacturing facilities, creating a manufacturing back-up retailers are struggling to get over.
According to the Gallup study, 60 percent of U.S. adults said they have been unable to get a product they wanted in the past two months because of shortages, and 57 percent have experienced significant delays in receiving a product they ordered. Additionally, 70 percent of Americans overall have had at least one of these issues, while 46 percent have had both. This indicates a severe delay in receiving products, which is particularly challenging with the influx and preference for online shopping.
While the U.S. itself isn't immune to shortages, U.S-made products are still thriving in the pet space for two key reasons:
• Despite the supply chain issues, U.S.-made products are comparably cheaper
• Consumers are willing to pay more for U.S.-made products

"Many of our customers prefer to buy products Made in the USA as they are more affordable due to supply chain issues," says Milshtain. "We really want our store to have as many American products as possible to reduce dependence on foreign supply."
Backing up Milshtain's claims is the aforementioned Gallup survey, which showed that 83 percent of adults have experienced "significant price increases" in the past two months. While the supply chain isn't perfect in the U.S., it does back up its slightly higher prices with better quality products.
Superior Quality
Quality and price often go hand-in-hand, as most consumer realize they have to pay a couple more dollars for a longer-lasting, more effective and generally safer products. In fact, the study from the Researching Institute found that more than 83 percent of respondents indicated that they would pay up to 20 percent more for products made domestically.
It's already common industry knowledge that pet parents want the absolute best for their pets, and that desire often translates into paying more money to ensure their fur baby is chewing or consuming something that's harmless.

Adding onto that is the belief about label claims, as 60 percent of respondents in the Reshoring Institute study said they believe the information on the "Made In" labels on products. As such, Talis US vets its partners and supplies to ensure the information on Talis' packaging is valid—"Information about our products is always accurate, which makes our work easier and more protected," Milshtain notes.
Part of that quality is the strict levels of control U.S manufacturing facilities have over their products. With strict standards and regulations in place from the U.S. Food & Drug Administration, U.S.-based production facilities have a higher degree of oversights to ensure quality remains high.
"Checks are performed to ensure quality requirements in America," said Milshtain. "This is very important because that way we can ensure high product quality. We can always contact the manufacturer with questions and we know that we will always get an answer."
Despite the current climate presented by the pandemic, pet products that are U.S.-made will ultimately stand the test of time—and so will pet specialty retailers. In fact, Milshtain expressed optimism regarding the future, as he hopes to expand Talis US to help stimulate the economy.
"We have a lot of plans for the future, from expanding our store to developing new products for our brand," he explained. "We really hope that we will be able to create new jobs for people."  PB