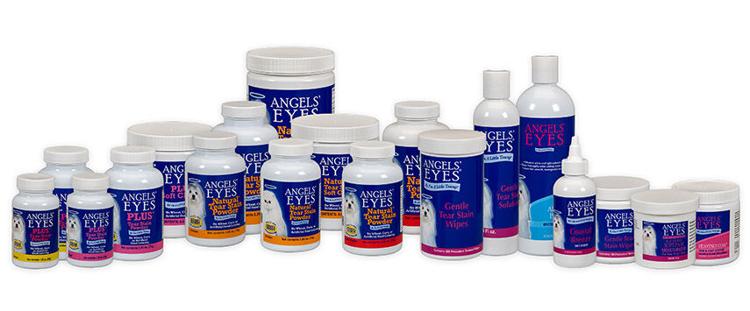 In the pet care market, it's not often that we see a brand so dominate a particular product category that it is difficult to even think of a single significant competitor. Yet, that is what Angels' Eyes has almost certainly accomplished with its lineup of tear stain solutions.  
Founded in 2003 by Lynda Winkowski, the company revolutionized how pet owners addressed tear staining on dogs by taking an inside-out approach. It was an innovation that—as is so often the case in this industry—was born out of necessity.
"We had a little Maltese named Walter who had terrible tear stains," says Winkowski. "We tried everything, but at the time, the only products on the market were topicals, and they just didn't work."
With a need that clearly wasn't being met by established products, Winkowski began researching the cause of her dog's tear stains and realized that treating the problem with topicals was simply the wrong approach. "I saw that it couldn't just be something in the air that was causing [the tear stains]," she explains. "It had to be coming from the inside."
Working closely with veterinarians, Winkowski set out to find an ingestible solution that would tackle the issue internally. She eventually found a mix of ingredients that was effective but "tasted nasty," so improving palatability was the next challenge. Once that was accomplished, the Angels' Eyes tear stain solution was ready to go to market.
With help from her husband Henry, Winkowski began introducing Angels' Eyes to the industry at the GroomExpo trade show in Hershey, Pa., and quickly realized that she had a winning product on her hands. "We had a great response at our booth," she remembers. "In fact, a buyer from one of the big chains came by and said our packaging and marketing was wonderful."
Building on that first successful outing, Angels' Eyes continued on to other pet industry trade shows and got the same positive reception each time. The response from retailers and grooming professionals was so good, in fact, that Winkowski had to quickly evolve her production capabilities to keep up with the demand for her product.
"It became overwhelming within a few months," she says. "We picked up some big catalogs and stores, but we really were not ready to go to distributors at that time."
One of the key moves that Winkowski made in that formative period was to enlist the help of her daughter, Jaime Knochel, to head up the company's sales and marketing efforts. "She still works with me and has just done a wonderful job all these years," she says.
In addition to making this valuable addition to the team, Angels' Eyes also had to enhance its production facilities to keep up with its booming business. That is why Winkowski ended up moving the company out of a small space in the back of the pet store she operated with Henry and into a 5,000-sq.-ft. production/office/warehouse space. Even this space became cramped before too long, leading to the addition of another 5,000 sq. ft. of space located next door, and now Winkowski says that Angels' Eyes could use even more room to accommodate its continued growth.
Growing the Brand
Another important early step in growing the Angels' Eyes brand was expanding the product lineup to appeal to a wider variety of pet owners and grooming professionals. "We added 75- and 150-gram sizes to our original 30-gram product, and then we started introducing different flavors," says Winkowski. "After we introduced beef and chicken flavors, we realized that some dogs were allergic to those, so we added sweet potato."
Having expanded upon the original Angels' Eyes formula with new sizes and flavors, Winkowski decided to get in on the natural trend that she saw sweeping the pet care category by creating a new mix of ingredients that is just as effective as the original. Unsurprisingly, Angels' Eyes Natural formula quickly became a best-seller for the company, which now offers the natural tear stain powder in chicken and sweet potato flavors, as well as natural tear stain soft chews. 
"After that, we came out with a little more enhanced natural formula that we use in our Angels' Eyes Plus line, which is doing very well," says Winkowski, noting that this line is available in chicken- and beef-flavored powders, as well as soft chews.
At the same time Angels' Eyes has grown its lineup of tear stain solutions, it has also diversified its product lineup into other areas of skin and coat care. Over the years, the company has introduced several shampoos, Heavenly Chews skin and coat support chews, Soft Paw and Nose Glow moisturizers, Coastal Breeze Ear Rinse, and a rinse and wipes that soothe the irritation that is often caused by tear staining.
"They're all about making the skin and coat look and feel as good as possible," says Winkowski, noting that the overriding priority for Angels' Eyes when developing new products is "doing it the right way."
It is this approach that has earned the company the right to display the National Animal Supplement Council (NASC) seal on its tear stain powders and soft chews. "They come in to our facility every two years and make sure we are doing everything exactly right and that everything that's in our products matches what's on our labels," Winkowski explains. "There are many products out there that don't even list their ingredients. It's important for consumers to know that they can trust the products they're giving their pets."
And while only the company's tear stain products carry the NASC seal, Angels' Eyes takes great pains to ensure that all of its products live up to the highest possible standards. "All of our ingredient vendors are audited so we can ensure that we know what's going into our products," says Winkowski.
Supporting Retail Partners
Beyond providing a growing lineup of effective and reliable products, Angels' Eyes puts a lot of effort into helping retailers—particularly independent pet stores—drive sales. For example, the company has strict MAP policies in place to keep a level playing field between brick-and-mortar and e-commerce retailers, and it is stepping up its MAP enforcement capabilities. 
In addition, Angels' Eyes offers pet stores a variety of marketing materials to help these retailers not only merchandise its products, but also educate their staff and customers about tear staining, as well as skin and coat care in general. "We're coming out with flip cards that provide information about our products and suggest questions that staff members can ask consumers when their shopping in the store," says Winkowski, noting the company is developing shelf talkers to engage customers directly at the point of sale. "We can provide any marketing and merchandising materials they need—posters, brochures, door signage, shipper displays and more. We are more than happy to send them to retailers."  PB