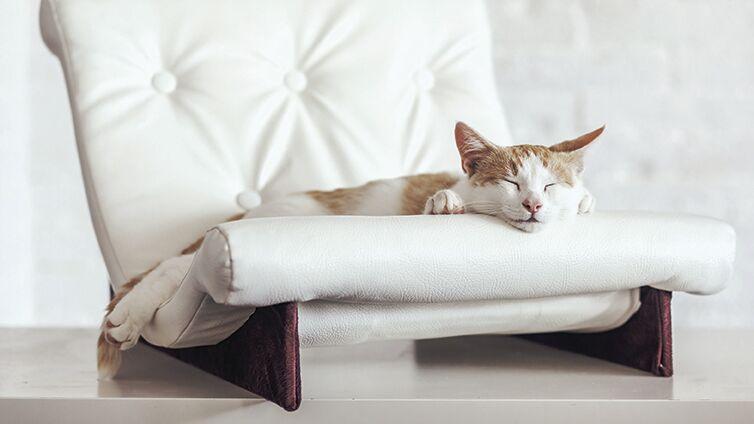 The changes over the past two years have made one thing clear: Pets, their needs and their luxuries are incredibly top-of-mind for new and seasoned pet owners who've been working from home and forging closer bonds with their pets. 
As such, they're no longer opting for awkwardly shaped lumpy beds that they throw behind a locked door when company shows up. Instead, they're choosing functional pieces that benefit their pets well-being while also blending seamlessly into their home décor. 
"With the COVID-19 pandemic, people started spending more time at home and pet adoptions increased during the period," says Wonjung Song, director of product development and procurement for P.L.A.Y Pet Lifestyle & You. "New pet owners want their pets not only to settle comfortably in their new homes, but also their pet furniture to look nice in their home. Competition amongst brands and consumer awareness also means the ones that stand out are not just focused on singular value proposition like price, but an ever-improving standard and balance across design, function, practicality and sustainability."
Lucky for them, manufacturers are armed and ready with high-quality furniture pieces that seem to keep getting better, as "competition and upgraded manufacturing are forcing the industry to be more unique and complex in their designs," according to Steven Sun, Petpals.
The Hottest Trends
A common mistake most pet parents make is thinking that these high-quality and functional furniture pieces are a newer development. In reality, these pieces that balance fashion with practicality have been around for years; they're just more mainstream now as consumers understand the value of investing in their pets' well-being while keeping their houses stylish.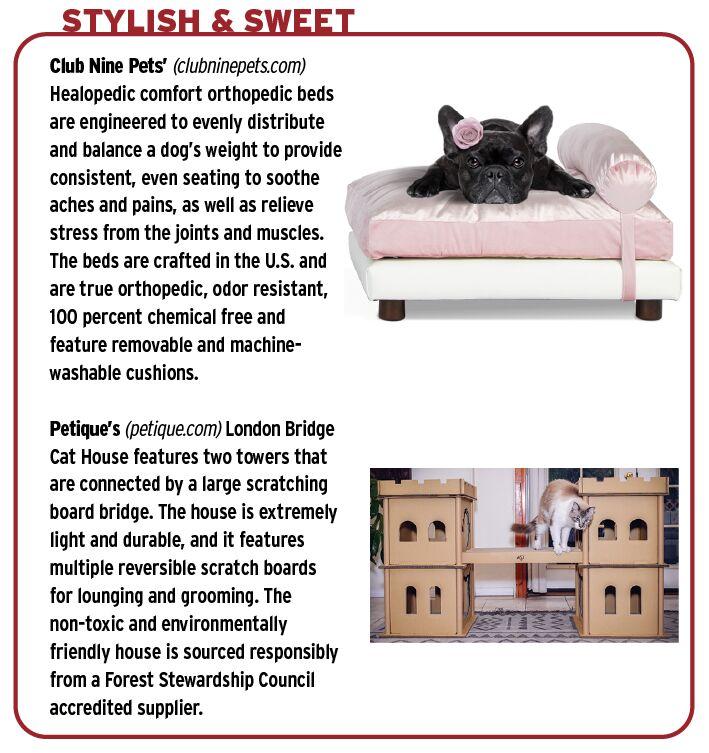 "Functionality is important, but as pet furniture has become part of house décor, people do not want outdated furniture that only meets a functionality standard," says Song. "Depending on the type of furniture, colors and fabrics are being updated or re-done to incorporate to current home décor trends. As an example, miniature versions of trendy couches can be turned into dog furniture with a proper height added and washability fabric change."
While fashionable pet furniture was a previously niche category, it's slowly become more mainstream as the popularity grows. Think of it like a cycle: As more people seek out higher end, sleeker pieces, more manufacturers are evolving their offerings to meet the increased demand—providing seemingly endless options for retailers and pet parents to select the piece that best fits their needs.
"As pet furniture is becoming more popular, there are more options out there in pet specialty stores, retail outlets and online globally," says Song. "Some of the big trends we are seeing is customization geared towards specific needs and décor style. Sustainability in the form of environmental and/or social impact is also seeing a lot of momentum in the marketplace right now."
Of course, the fashion of pieces doesn't negate the obvious fact—pets are dirty creatures. They run outside and then get into their beds, take the occasional dunk in a mud puddle and jump up on the couch…
"Cleaning is one of key features that consumers are looking for," continues Song. "Just like when people are shopping for their own furniture, an easy cleaning solution is a big value-add, and many of our customers have repeatedly told us they come back and buy more of our pet furniture because our bedding collections are machine washable and dryer friendly, making cleaning a breeze."
However, with that being said, it's important to take a step back and consider the sheer number of options available to pet parents these days. Each manufacturer values different features—some may opt to prioritize eco-friendliness and sustainability while others spotlight durability.
"There will never be a reckless rigid standard for all the products, as manufacturers value different things," says Sun. "We always value the balance of every single product based on their own situations, such as sizes, weights, materials, shapes, colors and positions. We see the quality of life of animals as our design priority. Based on those criteria, we're trying our best to present pet furniture as fashion as possible."
So Much Furniture, So Little Time
All of that brings us to the biggest challenge: Merchandising these pieces. Pet furniture is large and cumbersome, which is why the floppy beds of yesteryear were so easy to throw and stack on wide-shelving units in the back of the store. While retailers are at an advantage of being able to physically display furniture pet parents can touch and feel, they're operating at a significant space disadvantage. 
"I'm afraid to say that the biggest advantages of retailing business are the possibilities to physically present the product to their customer, which could be a huge help in increasing the conversion rate," says Sun. "However, we do understand the difficulty of a store space limitation. That's why we are putting our effort into the packaging design to help retailers seal more deals by a space-saving and attractive appearance package design instead of assembling everything and occupying a spot in the store."
Song echoes Sun's thoughts, explaining that P.L.A.Y. offers various options to pet parents and retailers to help merchandise displays and promote more pieces while conserving space for retailers.
"Space is certainly one of the most crucial concerns for some pet stores and traditionally, we have seen many bed stacks in shops to make good use of vertical space," says Song. "The important consideration is to do it in a stylistic and organized way and not haphazardly so shoppers can still get a curated experience. 
"We also offer a plethora of tools, such as a set of laminated showcase sheets, swatch book, retailer signage, QR code and the option to dropship bedding to customers—all of which help our retailers to essentially 'carry' our entire bedding line without overburdening themselves with in-store inventory."
Ultimately, it's up to pet retailers to determine the perfect balance of fashion, function and display units in their stores. With so many options currently available, it's imperative that retailers know their market and tailor the products they carry accordingly. At the end of the day, all pet furniture pieces are designed to make pets feel warm, cozy and safe.
"The future of pet furniture will [continue to focus on] creating more home feelings for pets," explains Sun. "Helping pet parents adapt to a more convenient pet-parenting lifestyle were, are and always will be the two most important core values for the entire industry going forward."  PB