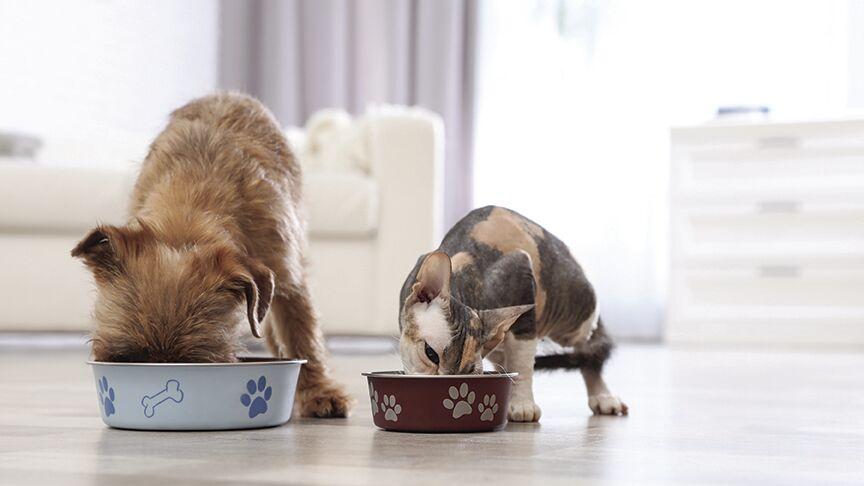 Being a pet parent means wanting what's best for your pet—and that includes feeding them a healthy, high-quality diet. That desire is one of the primary drivers behind the transition of raw products from an unconventional trend to a mainstay of the pet food category.
"The raw pet food category is booming; in 2021, it grew over 20 percent," says Gordon Dumesich, chief growth and marketing officer at Instinct Pet Food. "With the growth of the raw category, pet parents have proven that raw nutrition is much more than a food trend – it's a movement. Just as humans are looking for higher-quality foods with more transparency, they're looking for the same in the food they feed their pets, who are like family."
It's a movement that offers big opportunities specifically for independent and specialty pet retailers, according to Andrea Bourne, senior marketing specialist at PureBites.
"Pet specialty retailers have always been at the forefront of nutrition for pets, so it only makes sense that they offer raw food and treats due to all the nutritional benefits they offer," she explains. "It's a category that pet specialty retailers currently dominate. According to Nielsen, 94 percent of the sales in this category take place in the pet specialty channel."
Category Challenges
Despite this steady rise in popularity, raw pet foods still have plenty of room for growth to catch up to traditional kibbles. One of the biggest challenges is overcoming customer concerns surrounding the safety of raw foods and treats.  
"There are many misunderstandings when it comes to raw diets, often because people don't realize there are different ways to feed raw – and some are safer than others," says Dumesich. "Some pet parents make their own raw diets, combining raw meat, organs, vegetables and more. This method can be time consuming, and it has its risks. Calculating proper nutrition for pets is no easy task. Also, there's pathogen risk […] because there's not a pathogen-reduction step in place."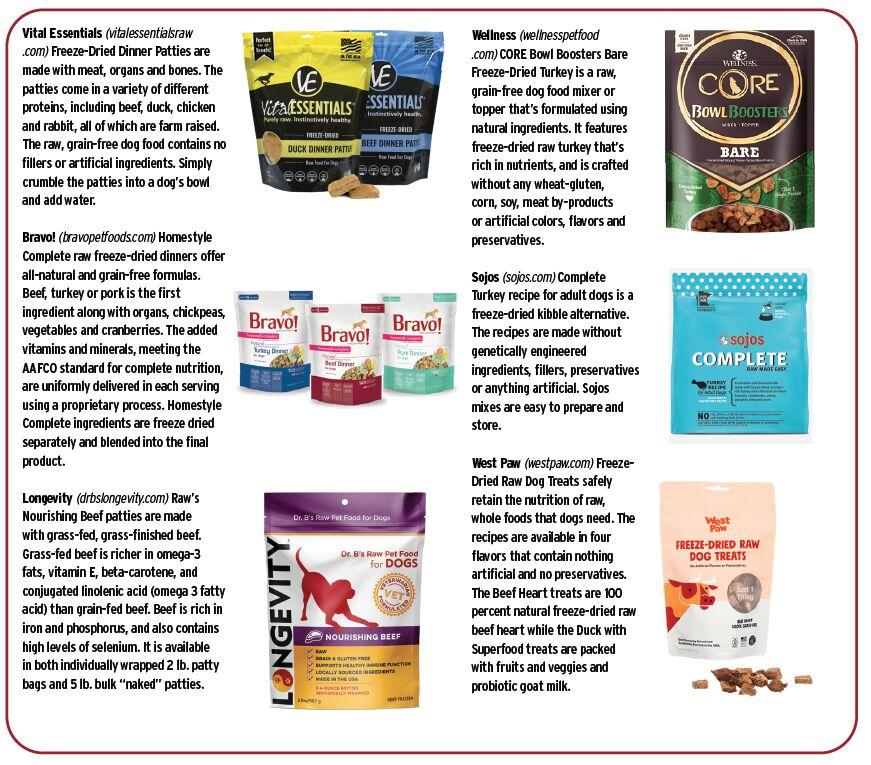 Luckily, retailers can help assuage these worries by raising awareness about the high standards of industry safety practices. 
"The raw pet food industry is held to an entirely different standard than that of meat or raw foods at the human grocery store," explains Emma Kumbier, veterinary outreach coordinator at Primal Pet Foods. "Pet foods have a zero-tolerance policy for things like salmonella, E. coli or listeria." 
It's also important to ensure you're choosing to stock raw pet food products from reputable brands that are transparent about their sourcing and manufacturing procedures.
"It's important for retailers to remember that not all raw pet food is created equal," adds Dumesich. "Retailers should ensure that any commercial raw pet food they carry is made by a team of pet nutrition experts, has a pathogen-reduction step in place, and has extensive safety and quality protocols." 
Retailers can also suggest a middle ground in the form of freeze-dried raw products, advises Amy Kerr, key account manager at BrightPet Nutrition Group.
"If pet parents are concerned about the bacteria in raw meat, or if they have concerns about whole bones possibly choking their pet – freeze dried raw diets would be a perfect path for them," she says. "Freeze drying locks in freshness and makes a diet so palatable your pet will love it! With freeze dried and dehydrated options, the pet parent will not have to handle raw meats."
Making the Switch
Convincing pet parents to change from conventional dry kibble to a raw diet can also be a big challenge for retailers. That's why Kumbier advises against telling owners to make the switch.
"Changing your pet food can be stressful for both the pet and the pet parent," she says. "It's much easier, and more approachable, to start by making a small addition of frozen fresh, raw or freeze-dried food to a pet's diet." 
Starting small could mean trying out a new raw treat, pouring goat milk over a wet meal for a feline with urinary tract issues or even topping one meal a day with a raw mix in. 
"Seeing successful results of an add-on product, consumers may be more receptive to the possibility of upgrading their base from kibble to raw feeding over time," Kumbier adds. 
Education, too, can go a long way in convincing customers to take the plunge and try out a raw diet for their dog or cat. One of the most powerful pieces of persuasion at retailers' disposal is the potential health benefits of a raw diet.
"Raw food is more nutrient-dense and nutritionally complex than traditional, cooked pet food," says Dumesich. "Because some nutrients are heat sensitive, they can be destroyed when cooked, which would occur with kibble or non-raw pet food. Pets eating cooked pet food are missing out on beneficial heat-sensitive nutrients."  
Raw diets have been linked to several health benefits, including better digestion, healthier skin, shinier coats, more energy and help with food sensitivities. Plus, raw foods come in a variety of forms, such as refrigerated/frozen, dehydrated and freeze-dried, so even the pickiest pets can find a raw food to love.
"Freeze-dried food and treats are especially great for dogs and cats that are overweight, diabetic, have allergies, gastrointestinal disorders or are on restricted diets (i.e., low carb, low sodium, low calorie, no wheat or raw)," says Bourne. "In addition to its health benefits, the gentle freeze-drying process preserves the natural aromas, taste and texture that dogs and cats crave."
Another great attribute to highlight is the limited number of ingredients in raw food recipes. Many customers feel less intimidated by new products when they recognize all the ingredients on the list.
"Retailers should challenge pet parents to really read the ingredient labels on pet food and treats," says Bourne. "PureBites is constantly asking pet parents to 'go ahead, turn the bag around and look at our ingredients.'" 
While there's certainly no substitute for talking directly with customers, retailers should also leverage in-store merchandising to encourage customers to give raw products a shot.
Since "between 48 percent – 66 percent of pet owners are looking for pet products with natural and fresh ingredients," Bourne suggests creating an entire "fresh and natural" section of the store to showcase raw diets. 
Another display idea: instead of keeping refrigerated and frozen raw products all the way in the back of the store, "put a freezer in the kibble isle or the endcap," says Kumbier. "Get those shelf stable shoppers thinking about fresh food additions and watch your frozen sales grow exponentially."  PB