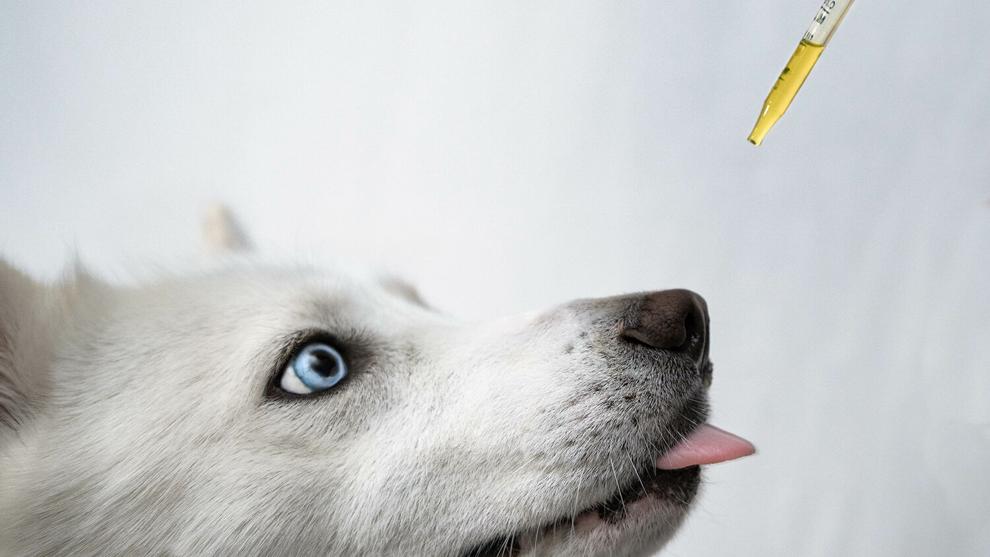 Just as CBD products have found widespread acceptance in the human arenas, they're now finding a receptive audience among pet owners who have become increasingly sold on the benefits these can provide for their dogs and cats. In fact, according to figures provided by Dr. Robert Menardi, DVM, director veterinary technical and educational services for the Canopy Growth Corporation, 74 percent of pet owners are "CBD acceptors," and are either currently giving their dog CBD products, or have given them in the past, or would do so, making this category a potentially lucrative one for pet specialty retailers. Consider; according to Menardi, in 2021 the CBD market for pets is projected to reach $133 million, amounting to seven percent of the entire CBD category.
"The CBD category has exploded in the last several years," he says. "The overall market is anticipated to be a $10 billion industry by 2023, with capsules, beverages, topical and pet products leading the category growth," he says adding that there are 90 million dogs in the U.S., with 67 percent of U.S. households owning at least one. 
Menardi says Canopy Growth spent the last five years generating data on CBD in dogs and cats, focusing primarily on safety and how it behaves in the pet's body. The company focuses on cannabis and hemp clinical research, product development and testing. Its current product line, SurityPro, includes CBD chews and drops in a variety of flavors for dogs of all sizes. Offerings include SurityPro Calm Soft Chews, SurityPro Active, SurityPro Multi and SurityPro Healthy Aging, all incorporating high-quality CBD derived from broad spectrum hemp. 
There's no doubt that CBD products have exploded in popularity—and that many brands have jumped at the chance to get on board with this trend. Scott Link, vice president of sales for Kadenwood, says when the very first CBD products for pets came out, there was a sort of "gold rush mentality," with startups jumping in at a frenetic pace, not giving much thought to retail, product development or consumer behavior.
"Some also took the simple path of taking their human formulas and adding a little bacon or chicken flavoring, then slapping a dog on the label and calling it a pet product," Link says. "We know this is a recipe for failure as the data clearly shows pet parents want CBD formulas that have been specifically developed for their dog or cat."
For its part, Kadenwood is a vertically integrated supplier of CBD, providing science-based products for pets and humans with proprietary formulas containing broad-spectrum CBD (with no THC) derived from company-owned farms, as well as functional ingredients such as krill oil, moringa oil and copaiba, among others. The company recently launched its Purity Preferred Pet line for dogs and cats, which includes CBD soft chews and oils for calming, and hip and joint pain relief. 
What Matters Most
Naturally, pet owners seeking out CBD products want them to be pet-specific, says Stephen Smith, co-founder and president of Pet Releaf, which creates products that support calmness, a healthy immune system, and hip/joint and digestive health. As for what pet owners are hoping to address with CBD products, Smith says relieving joint pain and reducing anxiety are primary concerns.
"When it comes to the different effects CBD can have on pets, dogs tend to experience more hip and joint discomfort as they age, whereas cats typically benefit from CBD as a mood enhancer," he explains. "Both can suffer from anxiety caused by a variety of situations and environmental disruptions."
According to Jeff Riman, founder of KING KANINE, anxiety issues are at the top of what they see people trying to resolve, closely followed by inflammation and arthritis, primarily in senior dogs. The natural pet wellness company offers CBD and grooming products. 
"Recently there have been some great studies on how CBD can help with digestive issues, seizures and just overall wellness," Riman says. "Although we have more dog-owning customers, there has been an uptick in cat owners using our products for pretty much the same reasons as dog owners."
It's also imperative that retailers don't overlook the humanization trend, which is very real and often not paid sufficient attention to, says Min S. Lee, president of brand development for Honest Paws, a company that offers health and wellness products for dogs and cats. 
"Along with humanization comes correlations with benefits and packaging," he explains. "In terms of price, the CBD category has certainly matured over the past two years and pricing has settled and somewhat standardized. Like anything, there are levels of quality justifying slightly higher pricing for premium products as well as lower pricing for more affordable options.
"As for what matters most to pet owners when it comes to CBD, it's results and nothing else," Lee added. "If the product doesn't work within a few days, not only had that brand lost a customer for life, the category has as well."
Overcoming Retailing Challenges
Although consumer awareness about CBD is high, there is still much education required at the point of purchase, says Link. This can be challenging at times because the FDA and the NASC limit what claims can be made on the packaging, he explains. The biggest confusion among consumers and retailers alike is around the differences between full-spectrum, broad-spectrum and isolate CBD, Link says, providing the following:
• Full-spectrum: This is the full hemp plant with all the natural compounds present, including THC, the psychoactive ingredient, at 0.3 percent.
• Broad-spectrum: Similar to full-spectrum, this has all the THC removed and will deliver no psychoactive effect.
• Isolate: This is the refined version of hemp containing only pure CBD, with all other cannabinoids (including THC), terpenes, plant materials, oil and chlorophyll removed.
A challenge for pet specialty retailers is making sense of all the CBD product streaming into the space so they don't overwhelm their customers with too many choices, some of which may be ineffective; this why carefully evaluating the brands they're considering is essential. Link suggests pet specialty retailers ask manufacturers about the science behind their formulas, and why they work. He also advises inquiring how committed the brand is to education, brand-building, marketing and how financially sound the company is.
Posing the right questions to pet owners is also integral to achieving a good result. Menardi says retailers should ask about the concerns the owner is hoping to address, the pet's weight, if there are any special considerations around the delivery method, and if the owner has consulted a vet about CBD use.
It's also helpful to take the pet's breed, age and general mood into account, says Smith, along with appetite and overall well being.
Of course, it's important to keep in mind there's a 'fine line" between making product suggestions and giving medical advice, cautions Riman.
"Understanding the basics should give a pet store retailer the right direction as to what products he or she should suggest," he says. "The concerns I would have as a pet owner is if I am buying a product that has been tested and manufactured to the highest standards. So store owners need to be comfortable that the products they're selling meet all the right criteria and compliances as well."
Pet owners are also likely to want to know where the hemp is grown, how much CBD is in the product and what kind (full-spectrum, broad-spectrum or isolate) and the extraction method used, says Smith, explaining all of these factors can impact quality, safety and effectiveness.
Stores have so many SKUs, and drawing attention to these products, so they don't languish on the shelves, is critical, says Riman. This is where digital marketing can provide a big assist, by getting people to come into the store with a specific product purchase in mind.
"With social media there's a lot of digital word-of-mouth that can drive a product or brand trust," he explains. "Good reviews, social media posts from certified purchasers and of course we can't forget about influencers."
Merchandising to Move
As for merchandising within the store, Smith says hemp-based/CBD products should always be placed in the supplements section. 
"AAFCO does not recognize CBD as used in animal feed or pet food so these should not be included with the feed or treats sections within one's store," he explains. "Having products behind the counter can facilitate conversations at the register when checking out. Don't be afraid to get creative in your endcaps too."
Additional traffic-drivers Menardi suggests include window and floor clings, shelf sets, educational brochures, sample kits, employee buttons to spark conversation, QR codes driving educational information, among others. It's important to not overlook the value of rigorous employee training, as well. 
"At Canopy, we believe the most important area of focus should be consumer education, specifically addressing the misinformation related to recommended amounts, ingredients, product testing and extraction methods," he says, adding that the company provides a variety of training tools such as videos in in-person training.
Commit to the category by having a dedicated CBD section or endcap, says Lee, saying those who do have incredible sell-through rates.
"Your store should be the place where pet owners can depend on finding the latest and greatest pet products, whether CBD or any other category," he says. 
Despite veterinarians still not being able to broadly recommend CBD pet products to their clients in most states, consumer interest in CBD products for themselves and for their pets is surging, says Link. 
"People are more aware than ever in CBD's existence, how it differs from hemp or hemp seed oil and how it can benefit their pets," he says. "Last year witnessed record adoption rates of dogs and cats. This, combined with a more interested pet parent population, is expected to help accelerate the adoption and use of pet CBD products. The key will be for retailers to play their part, only curating brands and products that meet the expectations of pet parents and that can help educate, drive awareness and foot traffic."  PB