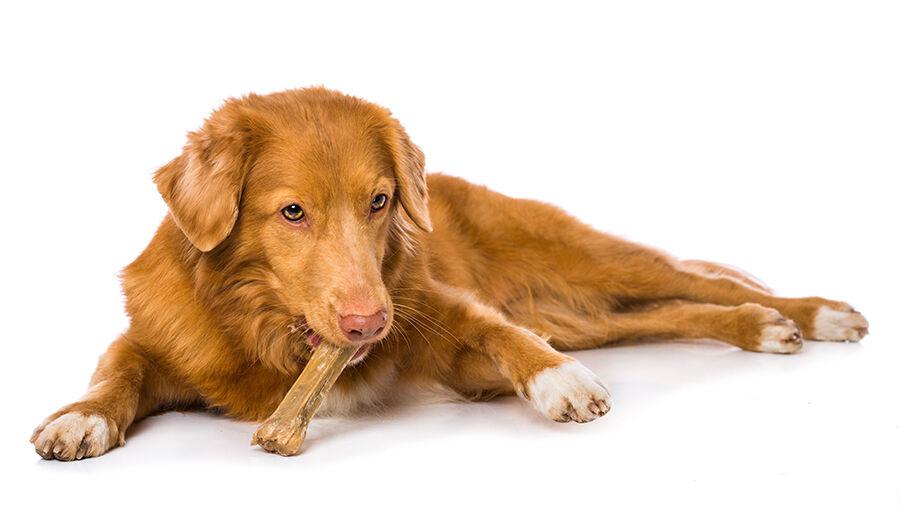 In today's world, customers continue to abandon products that were crafted from untraceable sources and unknown ingredients. With resources available to trace the contents and quality of a pet's food, pet parents are looking for healthful ingredients that are palatable and nutritious for dogs. 
When it comes to the natural chew category, fresh ideas for products in this space feature nutritious ingredients, short recipes and traceability along the supply chain to give retailers confidence in knowing that they're selling quality chews that will keep dogs excited and afford peace of mind to pet parents. 
At the heart of production for every natural-chew maker is a trusted supply chain, which ensures ingredient sourcing and processing will not compromise integrity. Through eliminating a long line of suppliers and working only with only the necessary steps in place, brands are able to keep a close watch on their chew production. 
"We also buy our raw materials directly from meat-packing plants and have bypassed brokers and tannery operations in our sourcing," says John Bosserman of the Great American Pet Treat Company. "This eliminates any chance of chemical or bacterial contamination by third-party suppliers."
On top of making sure products are free of chemical or bacterial contamination, resiliency of chew products is another major safety concern for pet parents. Products with the potential to become the most-trusted chews will be made from quality ingredients to withstand dog-chewing habits without deteriorating. By exploring different preparation techniques, manufacturers can ensure chews remain safe. 
"We love improving our chew experience," says Elena Kalogeropoulos, chief executive officer of Chasing Our Tails.  "Our smoked bones are raw shelf stable—not cooked—and have a completely intact marrow. The technique we use doesn't cause the bone to splinter. Retailers can call out important features of the chews like 'odorless' or 'U.S. made' to draw attention to chews and increase conversation and most importantly sales."
Before chews hit store shelves, brands must ensure that all of their efforts to produce a clean product are evident on their packaging. Concerned, loving pet parents are consumers who are increasingly becoming educated about their pets' food and treats—and many within the industry, such as Ken Wilks, vice president of sales and marketing for Superior Farms Pet Provisions (SFPP), are welcoming this trend.  
"The consumers we strive to earn at SFPP tend to be label readers that want to see a clean ingredient panel devoid of artificial flavors, preservatives and colors," Wilks explains. "Beyond the product itself, the same consumer group has expanded these criteria to their evaluation of the manufacturing company with regards to corporate culture, values and commitment to sustainability."
A New Chapter in Chews
In the past, chews had been used to shift a dog's attention from eating other household goods such as shoes, clothing, and furniture, or dangerous, toxic items. However, some chew products had their own histories of relying on unsafe ingredients. The new naturals for dogs are a testament to the efforts by manufacturers to go beyond simply creating products to quell an animal's boredom by producing goods that will engage and promote safe chew time.
"We know that dog-treat buyers prefer less-processed treats, which makes natural chews appealing to them," reveals Jilliann Smith, director of communications for Merrick Pet Care. "It's exciting to see how this category is starting to address the needs of pet parents with safe and long-lasting chews that will keep their dog occupied." 
Due to the popularity of natural ingredients, coupled with the transport and shipping shortages during the pandemic, there were some shortages. This led manufacturers to get creative in order to make their products and continue to innovate.   
"There's been a lot of disruption recently with the availability of raw material for natural body-part chews," said Wilks. "This situation is likely to be with us for at least six months to a year, if not longer. As a result, most of our focus at SFPP now is to introduce innovative new dog chews that are less reliant on the volatile commodities market."
Truly Natural
Of course, there's more to creating goods for the natural category than just sourcing clean ingredients. To be truly natural, chews must be manufactured using processes that safely preserve ingredients without transforming them too far from the original form. Brands have also recognized the connection between the value of respecting the environment while telling their natural-chew stories. As some manufacturers are shifting toward novel ingredients, others are discovering innovative methods for preparing their chew products. 
"We have pioneered a unique processing system that uses mechanical methods and natural enzymes to not only make our products ultra clean, but reduces our environmental footprint to almost zero," Bosserman says. "It's exciting that many natural chews and treats are being made in the U.S. with U.S.-sourced ingredients. Some chew and treat manufacturers are also seeing the value in reducing the number of preservatives and palatability enhancers in their products."
In the dog-chew category, seeing fewer ingredients on a label is often considered a good sign for pet parents. Reducing the number of items used to create a chew increases consumer trust, as there are fewer supply-chain players to consider, which means less time exhausted conducting research, worrying about sourcing, and asking questions regarding a long list of ingredients. 
"Natural chews at Barkworthies have always been about all natural, single or limited-ingredient chews that support dental health by satisfying your dog's natural desire to chew," explains Sandy Hobson, director of new products and sales at TDBBS. "Here at Barkworthies, we are evolving to natural chews that help supplement a healthy diet."
This single-ingredient trend has greatly influenced the dog-chew category, with manufacturers blending this type of offering with other alluring characteristics, such as relying on domestic production. Through sourcing and manufacturing in the U.S., brands are able to gain retailer and consumer trust, but also bypass any supply-chain difficulties that might occur when working with partners overseas. 
"At Chasing Our Tails, a major portion of our lineup consists of single-ingredient chews," says Kalogeropoulos. "Pet parents want U.S.-sourced products, easily identifiable proteins to meet dietary needs, and a variety of options to meet their unique pet. We source all of our raw materials in the U.S. and manufacture them using no preservatives or chemicals." 
The dog-chew category has experienced enormous growth with products created to suit dogs of every body type, nutritional need, and activity level, yet another important consideration is chewing frequency. Certain dogs require chews that are able to withstand frequent chewing and strong jaw grinding that could destroy other products. Other canines require a product for their less-aggressive chewing habits, or their delicate dental areas.  
"Since every pet is different, it's helpful for retailers to highlight the different sizes, flavors and textures available in the natural chews category," Smith explains. "We offer chews with a hard texture for tough chewers or a medium texture for dogs that have sensitive teeth." 
Lasting Trends
The smaller ingredient lists that are common within the natural-chew category mean fewer unnecessary components within products. When creating natural chews, brands will avoid ingredients that could potentially harm dogs, which affords greater comfort with supply-chain transparency. 
"Trends we see are a continued increase of healthy treats made by small producers, total transparency in the manufacturing process, and a reduction of unhealthy additives and palatability enhancers such as sugar, salt and various chemical additives," Bosserman says. 
While many conversations surrounding natural chews focus on the manufacturing side, the relationships between brands and their retailers are crucial. 
"Though some national chains seem to be turning their focus to health and quality, we find that the independent shops have the agility to be early adopters and to communicate that value to consumers," explains Wilks. "Raising the bar in the areas of quality, innovation and corporate responsibility is, for me, the most rewarding part of working in the natural chews category. Everybody wins, including retail stores, consumers, and dogs!"  PB