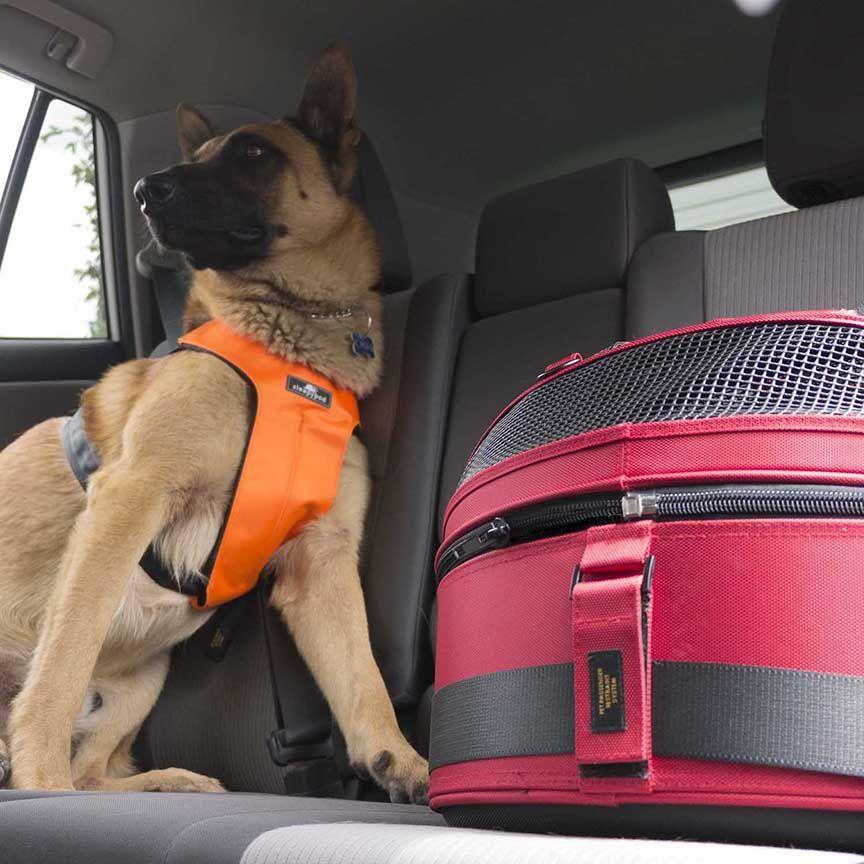 Tell us about Sleepypod. What types of products does the company offer? What makes it stand out in the pet travel category?
Sleepypod is the maker of innovative products designed for safer pet travel. We believe you shouldn't have to guess about the safety of your pet's products, so testing is a critical part of the design process for each and every Sleepypod product. 
In 2008, we launched the Sleepypod Safety Test Program when Sleepypod's first product, the Sleepypod mobile pet bed, was crash-tested for the first time at the Japan Automotive Research Institute (JARI). Testing our products provides important data for further improvement. Poorly designed products can cause more harm than good, so Sleepypod incorporates testing throughout each product's design phase. Sleepypod will not offer a product to the consumer until it meets our high safety standards. No other pet products company performs safety tests like we do. 
Our products have not only been proven in the lab, but they have been put to the test in real life. Customers reach out to us regularly to share personal stories using our products. We are particularly gratified by the life-saving stories. One story that stands out is about a customer whose dog survived a car crash when the owner hit a deer while driving 67 mph. The dog was restrained in the back seat of the car by a Sleepypod Clickit car harness and walked away from the accident shaken but unharmed.
As part of Sleepypod's commitment to safety, we created the Crash Replacement Program to extend pet safety, even after an accident. Sleepypod will replace or provide a replacement discount on any pet carrier or safety harness damaged in an auto accident.  
Our research and design team will then analyze the information provided by our customers who survived accidents along with the products used in an accident. All the information collected, in combination with ongoing product design testing, helps Sleepypod to create better, more innovative future products. After all, without data pet safety is just a guess. 
What are Sleepypod's newest and most popular products?
While Sleepypod is most known for safe carriers and car harness designs, the newest Everyday Collection of products, launched in 2020, includes leashes, collars and walking harnesses that are safety-tested and have innovative features with a modern design aesthetic consistent with the Sleepypod carrier and car harness lines. All of this comes with a head-turning smaller price tag. Let's be clear though—a lower price point does not mean less quality. 
Features like the high tensile strength of the collar and leash lines, with many of the items capable of withstanding more than 1,000 pounds of force, are huge selling factors alone. However, it's the attention to small details that set the products apart in their categories. Sleepypod customers are proffering rave reviews for features like the incorporation of a traffic handle for better handling and training or even the push-on snap hook that is not only safer, but is a beneficial design for those having hand mobility issues. 
Earlier this year, Subaru of America, Inc. launched a pet accessories line that includes several Sleepypod products. What led to this partnership?
Subaru became acquainted with the Sleepypod brand through its collaborative initiative with the Center for Pet Safety in a Harness Crashworthiness Study and subsequent Carrier Crashworthiness Study. From those eye-opening studies that tested pet products for crash safety, Sleepypod products outperformed the other brands and were designated Top Performers in each product category. 
The Subaru edition Sleepypod products included in the automaker's Pet-friendly Accessories line further demonstrates the automaker's commitment to protecting pets. Online at the Subaru of America site and in person at Subaru retailers across the country, human and furry Subaru customers can become acquainted with the products. This important recognition by Subaru further emphasizes that pets are important members of the household and have a seat in the car when it comes to making decisions. 
How does Sleepypod help drive sales in pet stores? 
A strong brand strategy will yield return for our retail partners. Our map is a secret sauce. Thirteen years ago, when we started crash-testing products, many people in the industry thought we were crazy. Now that buckling up a pet for safety is endorsed by key organizations outside of the pet space, who's crazy now?  PB