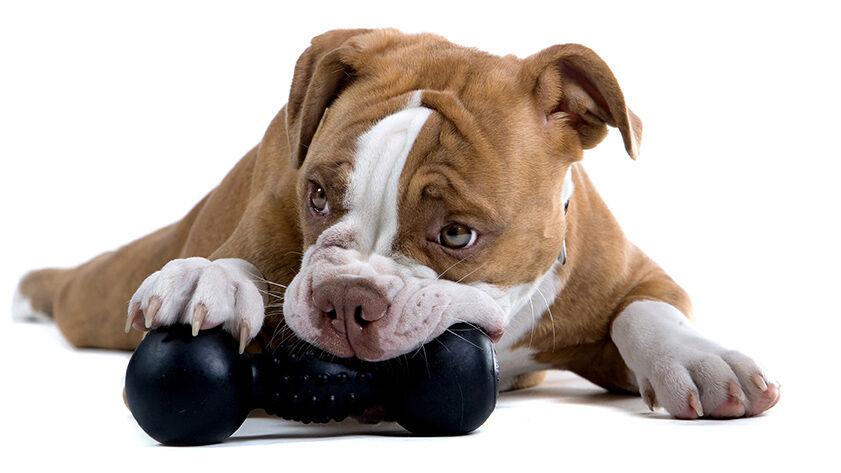 Within the dog-goods segment of the pet products industry, canine chews occupy an important place. Used to satisfy the animals' natural chewing needs, chews provide an experience for dogs, in addition to aiding in dental hygiene, providing an activity to occupy pets, and—with some products—supplying nourishment. 
Benefits of Chews
Two key benefits chews provide are that they help keep animals engaged and can be used as a reward for good behavior. Ultimately, the main goal of chew purchases is to ensure a dog is satisfied. 
"Since chewing is a natural behavior, providing appropriate items to chew is a great way to prevent boredom and provide mental stimulation," says Emma Kumbier, veterinary outreach coordinator for Primal Pet Foods. "Most pet parents select chews since they're generally long lasting and often have added benefits (like scent and texture) that are especially enticing to the pet."  
Retailers that carry a selection of chews, which check all the boxes for satisfying dogs, will become a valuable resource for customers who want to invest in chews that suit their individual pets.
"Chews should be selected based on the individual dog's needs and physical characteristics—breed, age, weight, chewing style," says Elena Kalogeropoulos, chief executive officer of Chasing Our Tails, Inc. 
On top of the preference for need-specific chews, the products that offer additional benefits, such as certain nutrients or dental care, are gaining traction among pet parents. When retailers are able to serve as the trusted resources for these goods, they will likely see repeat customers visiting their stores, according to Eric Abbey, president and founder of Loving Pets. 
"Pet parents are looking for treats that they can easily relate to, and understand the ingredients and benefits," Abbey says. "In addition, retailers seek products that keep customers coming in and keep them coming back again and again, and chews are driving a large portion of that repeat-purchase growth." 
Transparency remains a priority for consumers who are purchasing products for their beloved pets and investing in natural chews is now common. Laura Jones, chief operating officer of Jones Natural Chews, notes that natural chews afford a well-rounded product for dogs. 
"Dogs have chewing urges and a bone, or other chew, can meet that demand, while offering an array of other benefits like promoting dental health, adding protein to a diet and generally tasting delicious," Jones says. "Bones and other natural chews appeal to the five senses and are a classic dog treat that help meet dogs' nutritional needs, taste preferences and provide needed mental stimulation."
When it comes to supporting a pet's dental health, Ken Wilks, vice president of sales and marketing for Superior Farms Pet Provisions, explains the natural solution chews provide to meet canine dental-health needs. 
"Since most dogs don't have to worry about crushing bone and cartilage for nutrition, or tearing into a piece of meat, their teeth can accumulate deposits," Wilks explains. "Those deposits can lead to decay, gum disease and even tooth loss. Savvy pet parents often feed a natural pet chew to mimic the cleaning method that dogs would otherwise employ when hunting in the wild."
Making a Confident Decision

 
While today's pet parents are more knowledgeable than previous generations, having input from a sales associate who is well versed in the different characteristics of chew products remains important. Kumbier notes that retailers should seek information from brands that will allow associates to remain informed.
"Retailers can start by asking manufacturers about the chews that they carry—it may be beneficial to use the same discretion that they use when discussing feed products," Kumbier says. "Where are they sourced? What kind of pet would benefit from this chew? Is this chew suitable for an aggressive chew style? Is it designed to be fully consumed or not?"
The knowledge that retailers' gain from working closely with their brands is beneficial for customers, but can also support store promotions. Leveraging a brand's story to create campaigns around chews will resonate with pet parents.
"Retailers, ask the brands you are selling to tell their story—or provide some key points about how their processes set them apart," says Kalogeropoulos. "That information could create marketing opportunities in digital, print, or store-display formats. For example, promoting made in U.S., or locally made, promoting isolated or novel proteins for dogs with dietary needs, or promoting natural or chemical/preservative-free brands."
Valuable Connections
Within a brand story, responsible manufacturing is increasingly becoming more important, as pet parents investigate the origins of their animals' products more closely. The willingness of a company to share its practices with retailers and pet parents establishes a valuable relationship of trust. 
According to Wilks, "Consumers increasingly expect manufacturer transparency regarding sustainability efforts, product sourcing and trustworthines." 
When shopping for the perfect chew, the primary objective for pet parents—above all other goals—is the safety of their animals. According to Jones, a primary factor at the core of decision making for these customers is transparency of supply chain.
"Quality and safety are important to pet parents…consumers have become accustomed to having access to more product info than ever—merging that with a real-time shopping experience will become more important for retailers and manufacturers," Jones explains. "We're seeing an increased awareness of country of origin and ingredients used. Consumers do want to understand what their pets are consuming."
While establishing solid relationships based on strong communication with retailers is crucial for manufacturers to reach consumers, supporting associate education promotes the common goal of stores and producers—to engage pet parents. Educational tools that grab customer attention and can provide support for a sales discussion could make a large impact.
"We rely on education of both the retailer and consumer to stay transparent. But in addition to educating our retailers (who, in turn, educate pet parents), we also help to build awareness through a variety of selling tools that we offer," Abbey explains. "For example, special displays like clip-strips or floor displays, as well as sampling programs."  PB