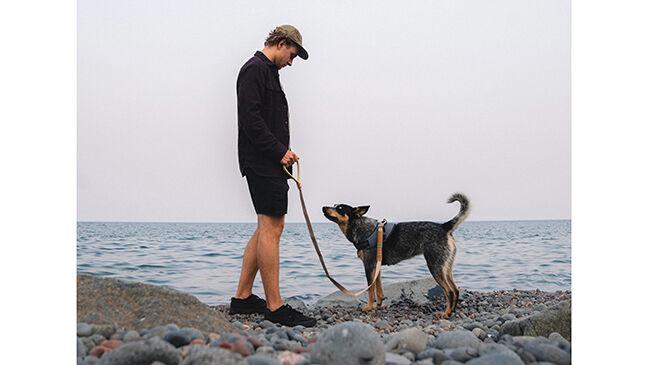 At the heart of most pet businesses are, of course, the animals. Zee.Dog strives to take that one step further by focusing on how to strengthen that connection between dogs and their owners, and their undeniable bond.
Two brothers, Felipe and Thadeu Diz, founded Zee.Dog in 2012 after struggling to find products that they could identify with that were an extension of their lifestyle, according to Karishma Patel, director of ecommerce. They have since built a large following in Brazil, where they are based.
"The fans are really passionate about the products," Patel says. "It's really grown from that little idea that popped up."
The mission that Zee.Dog focuses on has always been connecting dogs and people, Patel says.
"It's a simple mission statement, but it drives everything that we do," explains Patel. "We are a lifestyle brand, and every product is developed with our mission in mind. Our teams have a deep understanding of what people want and they take into account style trends around us to design high quality products. Everything starts and ends with connecting dogs and people."
Customer Connections
One way to build that connection is to be able to reach out to the customer. 
"We can't do that on our own," she says. "Having a website with images and content can only get you so far, but seeing the product in person, being able to touch it and having an actual conversation about it at a pet store, is a completely different experience, and our products really lend well to that."
The company consistently pushes out new products, and launched last year hands-free leashes, which has quickly become a bestseller.
"It has a super simple design but is really versatile and it can be worn three ways," Patel says. "We are coming out with a reflective version of it, which we'll be showcasing at SuperZoo this year."
Now Including Cats

 
Now, the company is turning its focus toward cats and that relationship with owners.
"We've had a lot of interest from our customers to do what we did for dogs, with cats," Patel says. "And that's why we have launched a large number of new products under the Zee.Cat brand this year."
The Zee.Cat brand includes collars, scratchers, beds, toys, airline-friendly carrier bags, harnesses, leashes and bowls.
Expanding Worldwide
Currently, Zee.Dog can be bought in more than 55 countries, and Patel says it has been successful working with international retailers. 
As it continues to expand in the United States, Zee.Dog has also launched a wholesale program that is designed to help the company build relationships with retailers.
"Our goal is to get our brand out there," she says. "And we really believe in the independent retailers. We know that they take the time to understand the brand and products and can communicate product features and functionalities to their customers. This is important because we want people to know who we are and understand our products. Partnering with retailers that are also focused on the customer is something that we are looking forward to."
As for the future, Patel says Zee.Dog hopes to keep growing its mission and fan base worldwide.
"We are continuing to introduce new products and making them easily available to people all over the world." Patel says. "We have a worldwide community of dog lovers who are looking for products that are an extension of their lifestyle and our goal is to continue connecting dogs and people through new products and experiences with the brand. PB